Things seem to be shaping up nicely for Real Madrid in the summer transfer window. For once, they are not being blamed for trying to tip the market over the edge. That seems to fall to Manchester City this year.
For once, they are not hounding another club to release their star player. That's Barcelona's job this summer. And for once, Florentino Perez is being sensible. He won't have to put up accusations of trying to sell merchandise rather than assemble a football team. He can thank Raul for that as Cristiano Ronaldo now looks certain to inherit the famous No. 7. Expect another €100 million in CR7 shirt sales by Christmas.
But more importantly, Madrid seem to be making all the right moves in the market this year, not just financially, but also in terms of necessity. Youth is very much the focus in Phase II of Perez's galactic project. Madridistas can read this revised transfer policy in two ways: either the 'White House' are expecting their transfer funds to dry up over the next five years and they are stocking up on young talent now, or the big-wigs have finally realised that spending €200 million on galactic superstars every year is simply not sustainable. That and the club will have to adjust to new squad rules at home and in Europe pretty soon.
The latest young star who is edging closer to a dream move to the Santiago Bernabeu is Sami Khedira. The German international defensive midfielder will be another player for the future – much like Sergio Canales, Pedro Leon and Angel Di Maria – provided he avoids being a debut season flop. The 23-year-old is a smart, if not shrewd buy. His contract with VfB Stuttgart is due to expire in 2011 and has declined to sign an extension. His German employers have been cornered into a 'sell now or lose everything' situation, and that alone will give Madrid the upper hand when it comes time to negotiate a transfer fee.
Khedira was one of the key players for Germany at the 2010 World Cup and if reports are to be believed, anywhere between €12 and €15 million could be enough to close the deal. And Madrid even managed to get the midfielder to lower his wage demands.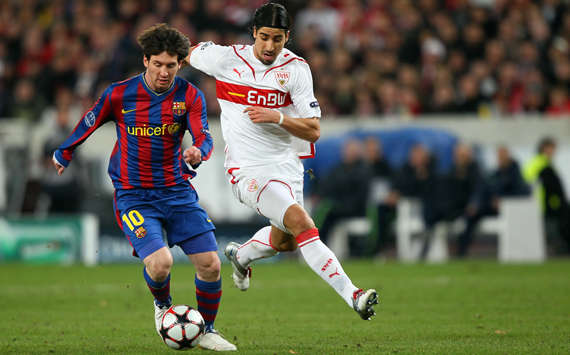 Will this be a familiar scene in La Liga next season?
One player whose galactic salary requests appear to be hindering a transfer is Douglas Maicon. His club Inter are believed to be ready to part company with their star right-back, with some reports even hinting that a €28 million fee has been agreed between the Nerazzurri and Los Blancos. But the player's €7m per annum demands isn't sitting well with the bosses in the Spanish capital.
To be fair, the Brazilian has every right to demand €7m a year, considering how he has established himself as one of the best right-backs in the world. But nowadays, Perez knows better than to entertain extravagant pay packages for fear of inciting resentment in the squad, and unless Jose Mourinho can cajole Dougie – who earns only €4m a year at Inter – to lower his demands, the deal could be dead.
News that Madrid have now kicked off talks with Milan to sign Thiago Silva could yet be the first indication that signals the end of the Maicon merry-go-round. That the Special One keeps singing the praises of Ricardo Carvalho could be the second.
Silva, ofcourse, is not a like-for-like substitute purchase for Maicon. The Rossoneri defender is a centre-back, which is really the position in the rearguard that Mourinho wants to strengthen.
The idea of recruiting the Inter Maicon was to push Sergio Ramos into the heart of defence, and occasionally utilise him as cover at right-back whenever the Brazilian is unavailable. But Madridistas might find it a blessing in disguise if Maicon ends up deciding to stay at Inter. Not only would the fans get to see the more adventurous Ramos keeping his favourite position out on the wings, but in Thiago Silva, Mou could very well have at his disposal a younger, slicker albeit less experienced version of Lucio at the Bernabeu, someone who is capable of bringing the ball out of defence and help out in attack.
If there's one position there's causing consternation amongst the Bernabeu faithful, it's the other side of the flank.
There is a bit of a mystery as to why Mourinho and Madrid do not seem to be showing much interest in signing a new left-back, eventhough it was pin-pointed as one of the team's weak links last season. Does Jose know something about Marcelo that we don't? Is he waiting to see how his current left-backs perform in pre-season? Or do the 'Casa Blanca' chiefs have a surprise bonus signing in store?
There's still a bit over a month to go for the Spanish press to whip up a few fantasy rumours.