You'd never thought this day would ever come. Raul Gonzalez Blanco is no longer a Real Madrid player.
The Angel of Madrid, The Golden Boy of Spain, The Legend, El Capitan, El Siete, or just Raul, has left the Santiago Bernabeu after 16 incredible years. In that time, he has gone from being the babyface hotshot to the iconic, emblematic face of Real Madrid in the new millennium.
Raul's rise to global superstardom has become the stuff of legend in its own right. Discarded by neighbouring rivals Atletico Madrid after they closed down their youth academy, the then 15-year-old travelled across town to the Bernabeu to continue his youth career. Within two years, he had broken into Los Merengues' first team.
It was Jorge Valdano, Madrid's coach at the time, director-general today, who promoted Raul from the C-team and thrusted him into his first La Liga game at just 17 years old against Real Zaragoza when Martin Velazquez was injured in the previous match. Raul's debut ended in a 3-2 defeat, but kept his place in the starting XI in the next game when he scored once and made two in a 4-2 victory over who else, but Atletico Madrid.
The rest - or 322 goals and 549 league games later - as they say, is history.
But Raul became more than just another footballer or just another goalscorer for Los Blancos. Contrary to the club's extravagant branding and high-flying image, the media-shy 33-year-old prefers to keep a low profile off the pitch. On it, he wasn't the most dazzling or flamboyant, choosing instead to captivate his fans with a few simple flicks and quite a few goals.
He hated the 'Galacticos' term conjured up by the Spanish media to herald Florentino Perez's first presidential stint at the club. It was incidentally during this period that the iconic No. 7 began to lose his form. Regular changes in the player and coaching roster led to the forward struggling for stability and consistency, and while the likes of Luis Figo, Zinedine Zidane, Ronaldo, Roberto Carlos and David Beckham all came and went and left their mark, Raul remained to carry the torch from one era to another.
He has also seen a benchful of coaches come and go... 17 in all. Jorge Valdano has gone from being his trainer to being his boss, he has worked under Fabio Capello twice, Jose Antonio Camacho has been his coach for club and country, and he has seen Vicente del Bosque gone from winning eight titles with Madrid to one World Cup trophy with Spain.
Raul's most prolific partnership in attack was alongside Fernando Morientes. The duo struck up an instant bond and an almost telepathic understanding. In the six seasons they spent playing together, they notched up a combined total of 245 goals in all competitions.
Then came Ronaldo. Playing with the Brazilian, Raul had to stand aside and let the most famous of famous strikers strut his stuff; while he never did hit it off with Michael Owen, the one player who took away his best shot of winning the Ballon d'Or in 2001.
Raul slowly rediscovered his midas touch playing side by side with Morientes-like target striker Ruud van Nistelrooy, and his new collaboration with Gonzalo Higuain was just starting to blossom before, like déjà vu, he had to make way for another Ronaldo... Cristiano Ronaldo.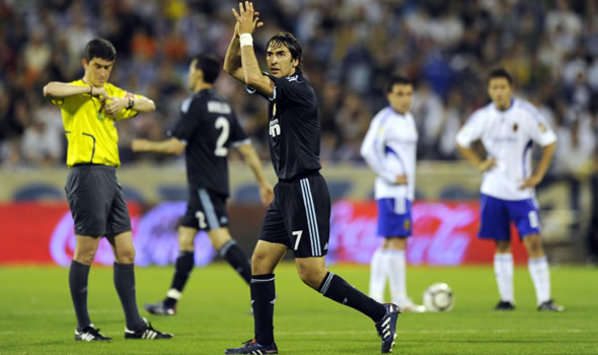 The final applause | Raul celebrating his last Real Madrid goal in his last Real Madrid game
Raul's fairytale at Real Madrid could've ended as early as 2003 when reports of Florentino Perez trying to nudge him towards the exit door culminated in Chelsea making an audacious £71.4 million bid with a wage offer of £8.4m per season, which El Capitan turned down in a blink of an eye.
Despite the influx of more and more attacking superstars subsequently, Raul remained the contsant, the benchmark for all in-coming or young players at the club to look up to. But even for the Golden Boy who became King, he wasn't immortal and all things must come to an end.
Raul's adventure at the Santiago Bernabeu has been a long journey. His fans never imagined that he would leave Madrid to play for another team, either in Spain or abroad. He was the ultimate one-man club, the one-man record breaker. It's a bittersweet moment that Raul's final competitive game and goal for Madrid would be against Real Zaragoza, the team he made his senior debut against.
It's a bittersweet moment for fans, too; sad to see him leave the beloved club that he made his own, but happy to see that he has chosen to carry on playing, to carry on enchanting the football world.
From his early days playing alongside already established stars such as Ivan Zamorano, Michael Laudrup, Davor Suker, and Predrag Mijatovic, to the formative years when he was groomed by Manolo Sanchis, Fernando Hierro and Fernando Redondo, to the final chapters when he would become the leader of the band, captaining greats from Zidane to Cristiano Ronaldo, the memories will be treasured forever.
Somehow, you just get the feeling that we haven't seen the last of Raul walking around at the Estadio Santiago Bernabeu.
Raul Madrid in numbers:
| | |
| --- | --- |
| 16 | years - and 15 full seasons - with Real Madrid's senior side |
| | |
| --- | --- |
| 17 | years and four months... the youngest ever player to debut for Real Madrid's first team |
| | |
| --- | --- |
| 228 | league goals... third highest all-time goalscorer in La Liga |
| | |
| --- | --- |
| 323 | competitive goals... Real Madrid's all-time top scorer |
| | |
| --- | --- |
| 66 | Champions League goals... all-time top scorer in the competition. He's also the first player to hit the 50-goal mark |
| | |
| --- | --- |
| 68 | goals in all UEFA club competition... joint all-time top scorer |
| | |
| --- | --- |
| 550 | appearances in La Liga... a Real Madrid record and the second highest in the league's history |
| | |
| --- | --- |
| 132 | Champions League appearances... second highest in the competition's history |
Our

provides the best breaking news online and our

football fan community is unmatched worldwide. Never miss a thing again!