That the signing of
Thierry Henry
is a coup for the
New York Red Bulls
- and the
MLS
- is undeniable. But which Henry will arrive on the east coast? The wily cog of
Barcelona
's 2009 history-making, sextuple-scooping machine or the wan, would-be protagonist of
France
's South African
World Cup
nightmare?
It is instructive of the manner and rapidity of Henry's recent decline that, at just 32, his move to a perceived semi-retirement in NYC has been telegraphed for months. He has spent most of the past season at the Camp Nou as an outcast — pressed into service from the start of just 15 league games, for a return of four goals.
If France's record scorer had hoped for an ego boost in the bosom of the national side, he was rudely corrected when Raymond Domenech informed him he was no longer first-choice, or captain, before May's pre-tournament friendly with Costa Rica. A spare part for his club, he was given a meagre two substitute run-outs for a desperate French side, no longer trusted to make a difference.
If it's a little financial consolation he's after, Henry is unlikely to be disappointed. David Beckham's reported five-year, US$250m (£128m, at 2007 exchange rates) contract proves that for the right combination of footballing clout, Hollywood looks and sprinkling of stardust, the finance is there for the right figure.
It is inconceivable to think that Henry is unaware of this. Even if some elements of mainstream American media are ambivalent to France as a nation, Henry can surmount that. He is a bona-fide superstar and, in stark football terms, an infinitely bigger draw than Becks.
Like his former Premier League rival, Henry is a keen follower of NBA, and sensitive to what pushes the US's sporting buttons.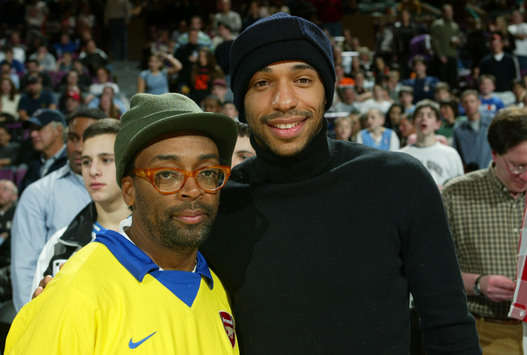 Spike Lee & me | Has Henry got one eye on commercial opportunities with MLS move?
Maybe the MLS is simply somewhere where Henry can return to being adored. He didn't take the backlash from the Ireland handball controversy last November at all well, and admitted that he even considered quitting the France team in the aftermath.
Some may argue that that wouldn't have made any difference when judged against his minimal contribution for Les Bleus in South Africa, but the affair torpedoed Henry's season just at the point when he was starting to find rhythm for Barcelona. Despite his deteriorating physical condition - a crucial aspect for a player so built on pace and strength - Henry should retain the power to be a key player in the MLS.
In short, the US will be a clean slate for Henry. He doesn't go there with a mission to change the world, like Beckham, but he will get the chance to recover superstar status in a sympathetic environment.
Any journalist who has spent time with Henry will tell you that there is no grey area as far as the Frenchman is concerned - you're either with him, or against him. He is likely to find renewed support Stateside after a traumatic year.