Group H winners Spain versus Group G runners-up Portugal promises to be a match with plenty of passion as these European rivals resume pleasantries. There are several key match-ups to be highlighted ahead of the higly anticipated Round of 16 clash.

Xavi v Tiago
Barcelona's Xavi is labeled by many as the best passer in the world, but the truth is he's had a quite underwhelming World Cup thus far. The man who should be pulling the strings for his side has taken a back seat to David Villa, Xabi Alonso, and Andres Iniesta as the difference-maker for La Furia Roja. Spain may be able to get out of the group stage without much help from the playmaker, but against a Portugal defence that has yet to concede in the tournament, the 30-year-old will need to step up to unlock their back-line.
Tiago has been a pleasant surprise for Portugal in South Africa, after his career looked dead and buried with Juventus he took his chance at Atletico Madrid to shine and the World Cup is the perfect stage for him to do so again. If Quieroz can coax out the Tiago that appeared in the match against North Korea, he will be very pleased.
Gerard Pique v Cristiano Ronaldo
Few people doubt that the hopes of Portugal rest on the shoulders of one Cristiano Ronaldo. His performances at club level have always eclipsed his rather hapless showings at international level. On Tuesday, he will come up against someone he will be quite familiar with in Pique. The Barcelona man defending the Real Madrid superstar, interestingly both former Manchester United players, promises to be one of the more intriguing matchups as Ronaldo drifts central to give
Os Navegadores
more of a goal-scoring threat.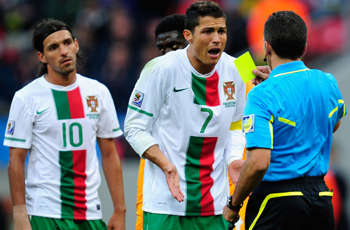 Sergio Ramos v Fabio Coentrao
In this era of murauding full-backs, you could hardly ask for a better match-up than this. Sergio Ramos on the right has been part of the Spain team since 2005, earning over 60 caps, it's easy to forget he's only 24. His opposition is "the new kid on the block" in Fabio Coentrao who has been a revelation at this World Cup, even though he has less than 10 caps to his name.
Both are capable of getting well forward and both will be wary that the other poses a real threat. That's not to say either would neglect their defensive duties of course.

David Villa v Bruno AlvesGoal.com's
Subhankar Mondal suggests that
Villa has become Spain's most important player
- it's hard to dismiss that based on his performances at the 2010 World Cup thus far. He is, arguably, the best goal-scorer in the world and his goals against Honduras and Chile have demonstrated just how adept he is at finding the back of the net.
Porto centre-back Bruno Alves will definitely have his hands full, but if any centre-back pairing can keep Villa under lock and key it could be he and his partner, veteran Ricardo Carvalho. With Fernando Torres struggling to for sharpness, Villa will once again be the main threat and Alves has the chance to prove he's a top level defender.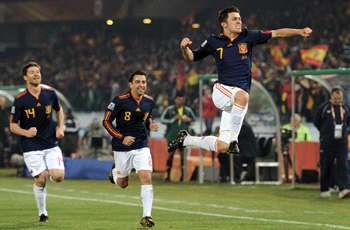 Vicente del Bosque v Carlos Quieroz
Last, but certainly not least, we can't forget the tacticians. Del Bosque will live or die by his decisions on Tuesday night. Among his most difficult is does he start the rusty Fernando Torres or will Cesc Fabregas or even one of the other strikers step in? Spain haven't looked at their imperious best since the tounament began, can he find the magic formula?
You may look at Portugal's goal difference and see + 7, but it's a tad misleading. Defensively they have been among the best in the tournament, but they only have scored in one of their group matches, a 7-0 win over minnows North Korea. However, Brazil and Cote D'Ivoire kept them quiet rather easily. For Quieroz, the equation is simple, find a way to score.
Become a fan of Goal.com International on Facebook! Just click onto
Facebook.com/Goal
to join the beautiful game's leading fan community...