Just before the final whistle, with their team heading out of Europe, Chelsea fans turned against their old hero by singing in unison "F**k Off Mourinho". Deep down, though, they probably wanted to sing "Come back".
The architect of this impressive victory was undoubtedly the Portuguese master, who proved just why he is the best coach in world football. The Italian media were sharpening their knives for him following his controversial decision to leave Mario Balotelli at home for disciplinary reasons, and the consensus was that if Inter were eliminated, Mourinho would be looking for a new job at the end of the season.
Eyebrows were further raised when Mou unleashed an ultra-attacking 4-2-1-3 system with three attackers and offensive midfielder Wesley Sneijder supporting. But, it proved to be a masterstroke from The Special One. Aside for a spell either side of half-time, Inter were the bosses on the pitch.
In every department, Inter were superior. Julio Cesar barely had to make a save all game, with the only time Chelsea really threatening his goal when Nicolas Anelka attempted to flick past the Brazilian just before the break.
Inter created five clear opportunities before they eventually hit the back of the net through Samuel Eto'o on 79 minutes. The Cameroonian, who again showed that he really is Mr. Decisive in the Champions League having previously scored key goals in two finals, could have had a poker tonight, while Diego Milito and Goran Pandev also squandered one-on-ones.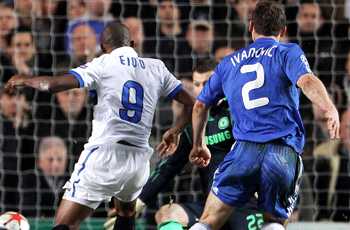 Didier Drogba had another miserable evening against the indomitable centre back partnership of Lucio and Walter Samuel – clearly under the orders of Mourinho to double up on the Ivorian every time he touched the ball. The ex-Marseille man didn't even get a kick in the second period until he was sent off in the closing stages. How do you stop the beast that is Drogba? Inter wrote the teaching manual at San Siro and Stamford Bridge.
In midfield, the Chelsea players had no answer to the movement and tactical intelligence of their foes. Esteban Cambiasso made countless interceptions, while Wesley Sneijder's passing was magnificent and looked like splitting open the Chelsea defence every time he touched the ball. The Inter attack was wasteful and should have killed off the game long before they did, but their movement and interchange troubled John Terry and Alex time and again.
It must be acknowledged that Chelsea looked like a really ageing side tonight – something we will analyse in more detail tomorrow morning – and the club looks to be moving in exactly the same direction as their coach Carlo Ancelotti's previous club Milan. Full of slow players over the age of 30 whose best days are behind them. Unless Roman Abramovich starts investing very soon, there is only one way Chelsea are going and that is down.
Like at Milan in 2007-08 and 08-09, there is only so much Ancelotti can do at Chelsea with an old team. But at the same time, Ancelotti looked like a coach short on ideas. There were no tactical adjustments when things were clearly going against his team, and the introduction of Joe Cole in the second half was a big mistake. Inter took complete control following his arrival, and the Englishman really does look like a shadow of the player he was before his long-term injury. If Ancelotti has Sir Alex Ferguson's number, then Mourinho definitely has Ancelotti's.
Mourinho was the Special One at Stamford Bridge yet again, as Inter finally show their Champions League pedigree after years of disappointment.
Become a fan of Goal.com International on Facebook! Just click onto Facebook.com/Goal to join the beautiful game's leading fan community...