---

EXCLUSIVE
---
Zenit full-back Domenico Criscito believes that Barcelona's "extra-terrestrials" will fire the Catalans to a second successive Champions League title this term.
The
Blaugrana
lifted the trophy last year, defeating Juventus 3-1 in the final in Berlin, but no side has retained the European Cup since it was rebranded in 1992.
And Criscito believes Barca have what it takes to make history, although he is hoping Zenit - who face Benfica in the first leg of their round of 16 tie on Tuesday - can go all the way this season, not least because such an achievement would undoubtedly boost his hopes of forcing his way into Italy's Euro 2016 squad.
The left-back, who missed Euro 2012 due to his alleged involvement in the
Scommessopoli
betting scandal, only to then be completely cleared of all charges, has not represented his country since 2014.
Criscito will therefore be hoping to catch Antonio Conte's eye with his performances for Zenit, although the defender admits that neither the Russians nor any other team in Europe can prevent Barca from becoming the first side since AC Milan in 1990 to successfully defend the European Cup.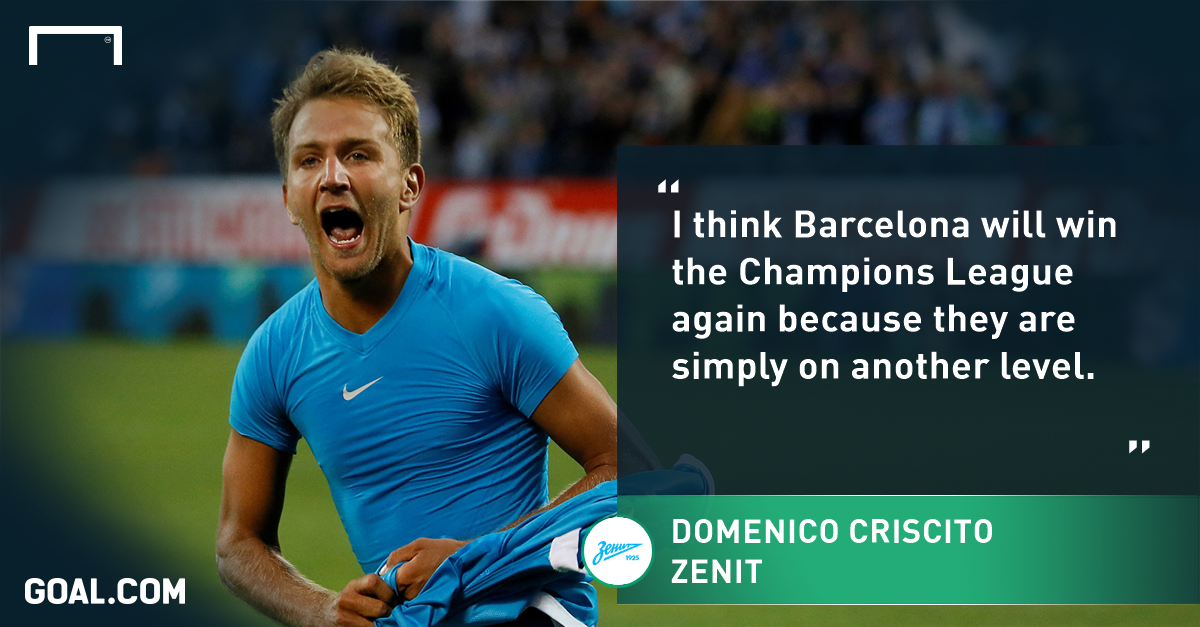 "I hope to go forward in this competition and that this visibility can help me to get back into the national team," Criscito told
Goal
.
"It's one of the main targets I set myself at the start of the season and I hope to be able to do it because I care so much about the
Azzurri
jersey.
"I would like to put the misunderstandings of the past behind me and start over again, experiencing once more the feeling that only this jersey can give you.
"However, in the Champions League, there are great teams, really great teams and then the extra-terrestrials. For me, I think Barcelona will win it again, because they are simply on another level."
Criscito has the utmost respect for former clubs Juventus and Roma, particularly from a tactical perspective, but he fears for Italy's remaining Champions League representatives, who take on Bayern Munich and Real Madrid, respectively.
"Certainly, the draw could have been kinder to the Italian teams," the 29-year-old acknowledged. "But in football, anything is possible.
"As an Italian, I obviously hope they manage to go through. They certainly won't start as favourites but Juve weren't last year either yet they reached the final, even beating Madrid along the way.
"I would certainly like to face Juve and Roma later in the tournament because, as an Italian, I'd love to play on home soil again.
"However, as an opponent, I wouldn't like to play an Italian team because I know how well prepared they always are, tactically and psychologically.
"Juve, particularly, have an extraordinary mentality; they would go into any game very concentrated and very fired up."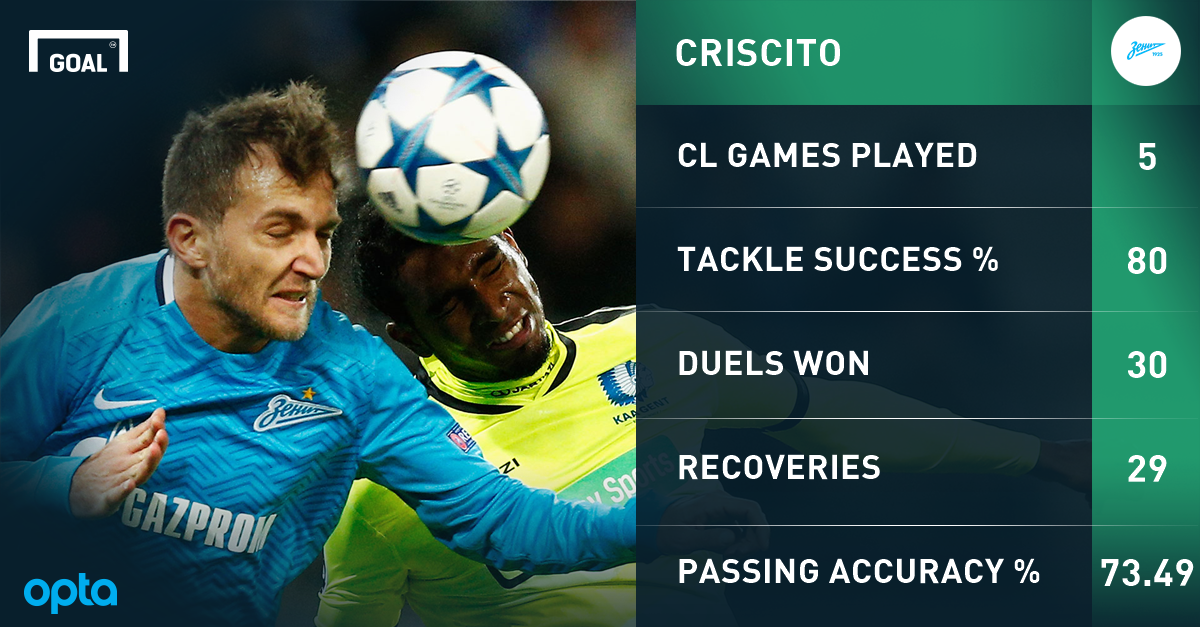 Roma are being written off ahead of their clash with Real Madrid, with the
Giallorossi
having scraped into the last 16 after amassing just six points in the group stage and suffering a humiliating 6-1 defeat at Barcelona.
They have since changed coach, however, replacing Rudi Garcia with Luciano Spalletti, the man who brought Criscito to Zenit in 2011 and who is now overseeing something of a revival in what is his second stint at the Stadio Olimpico.
"I know that he will prepare for the game in minute detail," the defender mused. "I know how meticulous he is.
"Did I expect him to have such an impact at Roma? Yeah, I would say so.
"First of all, because he knew the environment very well and he knew what to expect. He arrived ready.
"Then, in January, they signed good players and, finally, a team always gets a lift when a new coach arrives. And anyway, Spalletti is a sledgehammer!"
Criscito says that he is still enjoying life in St. Petersburg, where he penned a contract extension that binds him to Zenit until 2018 last March.
He is nevertheless open about the fact that he does not intend to finish his career in Russia, revealing that he would be interested in playing in MLS before he retires.
"I often speak about [my next move] with my wife," Criscito explained. "In the future, I wouldn't mind playing in the United States, a country that fascinates me.
"However, we're happy in Russia, so I cannot rule out staying here. If an opportunity to return to Italy presents itself, though, I would consider it because Italy is still Italy for me.
"But I'm still young, we'll see what happens and what destiny has in store for me."