Jerome Champagne's bid to become the next president of Fifa is gathering pace, with the Frenchman continuing to travel to all corners of the world in his attempts to collect the support he will need to win the 2015 election for the world governing body's leading figure.
While current incumbent Sepp Blatter is yet to state his intentions over a potential fifth term, Champagne remains the only person to have announced his candidacy.
And the 55-year-old recently sat down with
Goal
's Kris Voakes to discuss a huge range of issues affecting the modern game as well as his vision for the future of Fifa.
In the second of our three-part interview series, Champagne talks of his fears regarding the excessive growth of parts of European football.
Are we in an age where we will never again see an Ajax win a Champions League, or are Atletico Madrid proof that there will always be hope for underdogs?
By chance, football is still about chemistry. It is still about having 11 players getting along. However, I would love Ajax or Rosenborg or Videoton or Ferencvaros to compete, but I am not very optimistic because the gap is too huge.
And if you look at clubs like Ajax, they train players up but then sell them at the age of 22 or 23. That is the new economic model, selling away their sporting chances in order to receive money to survive right now.
I often wonder where Sporting Lisbon would be had they been able to keep Cristiano Ronaldo and Nani for a few more years. If my club Saint-Etienne had kept Pierre-Emerick Aubameyang or Balise Matuidi a few more years, it would have been completely different. So it's a real issue, but by chance we still have surprises.
As for the current results, we have a fantastic club in Real Madrid, the club of the century searching a 10th European title, but with a debt of €500m. In Atletico Madrid we have the surprise of the year, a club who was nearly bankrupt, but a club with one of the highest debt levels in Spain. So something is wrong.
Financial Fair Play is a good concept because no one can spend what they earn, whether it is a family, a principality, a country or a company. But the real issue is not that, and FFP is not meant to tackle the real issue. The real issue is about an imbalance in the way money is distributed.
Your recent release claimed that the Uefa Champions League has cannibalised all competitions. How can that imbalance be corrected without upsetting major stakeholders in the game?
I love big clubs and I like the competition. It is not about inverting the globalisation, it is about trying to find a way to rebalance things. England has been a generous country throughout history. People understand that English football is loved, but know that to be loved you have to be more welcoming and understanding of local needs.
I travel extensively around the world, and people in India and other such countries love the English league, but they would like also for the English league to be giving something back. In a lot of places, European countries are seen to be raking in the money without reinvesting.
Being the maker brings with it some responsibility, and that is why I want to reconcile Fifa and English football. We have the same objectives and also the same responsibilities.
I have no problem in somebody from English football joining Fifa by going out to India and making recommendations. It is about working together and changing the mentality of parochialism, of institutions, and making better results.
Maybe I am naive and I am a dreamer, but this is a mentality I would like to instil in the game.
How far away do you think we are from a very serious discussion regarding a European Super League, and is such a proposal in the best interests of football?
I think it would clearly be negative. European football is definitely the best in terms of club football, but we have to be extremely humble. First, where would European football be without African, South American, Central American, Caribbean and the growing number of Asian players?
What we have observed in this evolution of elitism is that we are taking the best players to Europe and looting local leagues. They have fewer and fewer fans in their stadiums because all of their best players are going abroad. They then have less money and it is a vicious circle of decline. These are phenomena of concentration, phenomena of polarisation, and phenomena of cannibalisation.
There is more money in African football today than 20 years ago. There is more money today in South American football than 20 years ago. But the gap between them and Europe has increased.
Take Africa, for example. If you buy a kilo of Ethiopian coffee in Africa from the producer, it costs one dollar. If you buy it in a Starbucks in Liverpool or Zurich, it is 13 dollars. Africa loses 12 dollars of improvement, and of transformation. It is the same in football.
We are ripping their talents away, but Africa and South America remain in their traditional positions, despite us having organised a World Cup in Africa, of footballing producers of raw materials.
The vision of the world is to go even further, because what we have observed now is that the way the Champions League is formatted, because of the Bosman case, because of the mechanism of the redistribution of money, football has been polarised.
And now we have substituted a political iron curtain and the Berlin Wall, which never stopped us from playing together, for a financial curtain which separates Europe… not in the middle, but sometimes even within countries.
For instance, in France we have a Qatari club, Paris Saint-Germain, and a Russian club in Monaco, and then 18 French clubs vying for third position. A Super League would just take the best clubs from these leagues and leave the rest behind.
I think we have to have the courage to tackle this issue. Of course, it is not possible to put Aladdin back in the lamp, but we need to do something to correct this.
I am not the only one saying this. In Spain, we have read about a bill in national law to sell the TV rights of the Spanish league in the centralised way instead of individually, because the inequality is too big in Spain. Look at Christian Seifert in the Bundesliga, who asked Uefa to redistribute the Champions League money differently because it creates too much distortion in the Bundesliga.
In England this year, we have seen two clubs in Liverpool and Everton who do not have the money of Sheikh Mansour's Manchester City or Roman Abramovich's Chelsea, but they are competitive. This shows there is the possibility that by keeping the tradition, by investing, and in Liverpool's case by having a British manager with plenty of fantastic players eligible for the England team, clubs don't need to only use a chequebook as a strategic policy.
Will Fifa come across issues in terms of breaking competition law set by the EU?
We have to do this. We have to. The EU is an economic structure I know well as a diplomat, and my country was a founding member, so I know well that the EU is a chance for all of us.
The problem we have is that the EU decided to intervene in sport because they consider sport to be an economic activity like any other. The have a position which says that every sports rule is submitted to EU law if it has an economic consequence, but a red card has an economic consequence … do we have to submit that to ordinary EU law?!
Quite frankly, if the African union or the Asian or South East Asian nations had done exactly what the EU commission has done, we would have reacted and refused it.
Incidentally, because of the lobby of the IOC and Fifa, we have managed to introduce in the Lisbon Treaty, in Article 165, the clause on the specific characteristics of sport. This means clearly that sport is not above the laws, but it is not like any other economic activity. That is why we have to define the specificity.
I am sure you have a severance clause in your contract. That is normal, and is acceptable. But if we had this clause in football, allowing players to change clubs all the time, it would kill the philosophy of the game.
If African or Asian nations had done what the EU commission has done, we would have reacted and refused it
- Jerome Champagne

Also, there is ordinary justice versus sporting justice. Ordinary justice is very slow, so we need to have the sports justice which is faster because, for instance, football competitions are organised on a yearly basis. There is also the protection of the national teams. If you are a journalist or a doctor, we don't have to protect the national team of journalists or doctors. But in football, we have to protect the national team.
So that is why we have this specificity clause, and it is Fifa's responsibility at world level, at continental level and at national level to protect that. That is why we have a Fifa. And that is why I support the necessity to create a system where we would have a minimum number of local players starting in club competitions. Because it is about balance. The wealthiest clubs are the ones that don't have local players.
What do you make of practices like the one for which Barcelona were recently charged, and what can be done to ensure there is no exploitation of starry-eyed youngsters by the top 1% of clubs?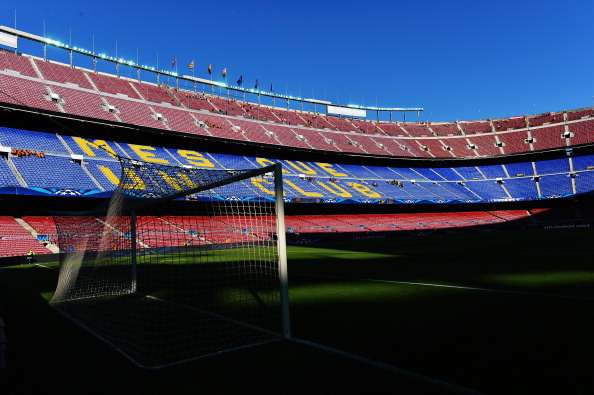 We know that the disciplinary decision can be appealed, and we have seen that they have appealed it and there is a suspension on the punishment, so let's see how that is resolved as everyone is innocent until proven guilty.
But generally, child trafficking is something that has to stop, not only for the child, but also to protect the clubs training them up.
I was the Fifa representative at negotiations at the European Commission in 1999-2001 from which we signed an agreement between Fifa and the EC on March 5, 2001. Why did we do that? Because child trafficking is a problem.
For every one kid that comes from a non-European country and arrive at a European club's academy and be treated correctly, you could have 99 kids who would have been abandoned on the streets. So to some extent we need to sacrifice one to protect the other 99.
There are some clubs in South Africa who are doing a good job, so too Brazil and the rest of Europe. Hungary, for example, will come back, as what I have seen there is incredible. They have invested money in the youth and, at the age category of 12 to 15, they have a great setup.
But if a young Maradona appears tomorrow on the bank of the River Danube, then at the age of 16 a rich European club will come. If the boy's mother earns €250 a month they will give her €50,000 and the boy would go to a bigger academy. He would be around 50 other kids from Ghana and wherever, and he would improve because if you play at a better club you do improve. But at the same time, he won't have the environment to develop.
And if after that he plays maybe 15 minutes at the age of 19 in a League Cup quarter-final, he would then be on loan to a Dorchester. Then he would be transferred to a Port Vale for six months, and after that he would be back on the continent and at the age of 22 he would be back at Ferencvaros having lost his youth and also his potential.
I am not against the big clubs and against success, but we need to give possibilities to more Scottish kids, to more English kids to have the chance to grow. Few managers in the Premier League now are able to put an 18-year-old English kid into the first team because it is too risky. But I think we can reconstruct that in protecting the children but also protecting the clubs that invest.
Being one of the best in the world does not give you the right to do anything you want.
Look at the example of Aspire. They have opened many academies in Africa, and they are doing for footballers what has been done for runners in Kenya. Aspire has opened centres and bought a club in Belgium which is currently playing in the promotion play-off. The club is full of Senegalese kids who are given passports, and we have to make sure that it is done correctly. We have to ensure that these kids remain African citizens.
We have the duty to monitor the naturalisation process, because we talk about medicine doping and financial doping, but there are also some countries who are guilty of naturalisation doping. That is something that Fifa has the responsibility to control.