Spaniard believes winning the European Cup would be "one of the greatest moments" of his life and insists he has nothing to prove against Barcelona
Chelsea striker Fernando Torres has admitted that it is his burning ambition to lift the Champions League trophy as he prepares to face Barcelona in the semi-final first leg at Stamford Bridge.
The 28-year-old says despite winning the World Cup in 2010, being crowned world champion was never his aim, as he thought it was "impossible", yet he says he has always dreamt of being crowned European champion.
"I know the ambitions this club have in terms of winning the Champions League, but it's the same as what I have myself," Torres told the club's official website.
HOW TO BEAT BARCELONA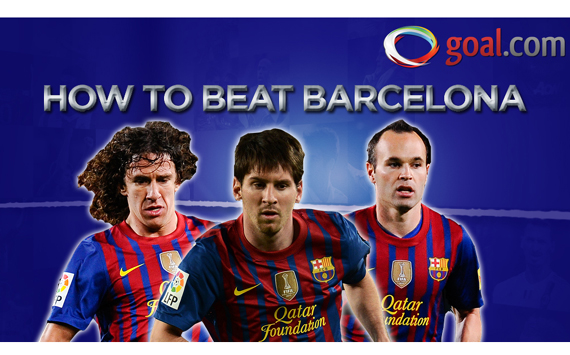 Click on the image to watch the feature on our official
YouTube channel
"It's something I dreamt about as a youngster growing up.
"I never really thought about winning the World Cup as I thought it was impossible.
"But now I have achieved that and I know what it feels like, so to win the Champions League would be a dream come true.
"It was the only trophy I wanted as a kid, to hold it in my arms.
"If we do manage to win it, I'm sure it will be one of the greatest moments of my life."
Despite a rocky season at Stamford Bridge, Torres says he is delighted with the position the club are in at the moment.
"There isn't one single club in the world that can guarantee trophies, but top teams like Chelsea are always fighting for them, so now it's time to be patient, build a great team and it's good for me to be involved with such a good side, like the one we have now," he added.
"There's still one month left in the season, we're in the final of the FA Cup, the semi-finals of the Champions League and this is what I want.
"Whether you win or not, that is down to football, but we are there and that's the main thing."
The Spaniard has an impressive record against Chelsea's semi-final opponents.
During his six years in the Atletico Madrid senior team, Torres scored seven times in 10 games against the Catalan giants and he is looking forward to the game.
"I have a good record against Barcelona," he added.
"They are the type of team you have to defend well against and play on the counter-attack, which is the type of game I enjoy. When I was at Atletico Madrid, we won at the Camp Nou two or three times.
"I certainly don't feel as if I have anything to prove against Spanish opposition."
Goal.com will be running a dedicated LIVE! on Wednesday from 16.00-00.00BST to keep you up to date with all the latest about the Champions League semi-finals, looking back on Bayern Munich's victory over Real Madrid on Tuesday, while offering you the chance to discuss with our team of experts what Chelsea must do to shut out Lionel Messi and stop Barcelona.