Supporters from all over the world are gathering at Wembley ahead of a Champions League final that has captured the imagination of fans everywhere.
While tonight's clash is principally an occasion to determine the best club side in Europe, fans have flocked from as far afield as Mexico, Israel and Singapore to watch a fixture that has resonated globally.
Phillipe, a Barcelona
socio
from Belgium, told
Goal.com
that the Catalan side's unique ownership structure – as much as the quality of their football – inspires their dedicated global following.
"The fact that anyone can become a member of Barcelona, and take a stake in the club, helps make them special," he said.
"It makes you feel more attached to the club, more emotionally involved, and that is why I have come all this way today."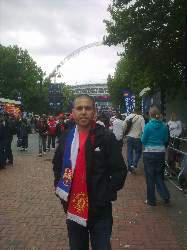 Ilan, from Israel, has travelled even further to support Barcelona on a night when his team might settle a debate as to whether they are not only the best side in Europe, but the best collective world football has ever seen.
According to Ilan, Pep Guardiola's side have already proved that. "Did you see the 5-0 against Real? That was the greatest football performance there's ever been."
Barcelona's magical display in the first Clasico of the season added thousands to their already enormous international supporter base, but Manchester United have also won many new fans this season.
The 20-goal success of Javier Hernandez in his first campaign in English football has seen millions of Mexicans take United to their hearts, and there were dozens of sombreros on show outside Wembley this afternoon.
Mancunians, such as United season ticket holder Jason, have embraced him also.
"I think United are going to win 2-1 and Hernandez will score both. He's done the job for us all season, popped up with some big goals against the likes of Chelsea, and I don't see why he can't do it tonight."
For Shariffe, a fellow red from Singapore, Park Ji Sung holds the key to United's chances against the Spanish champions.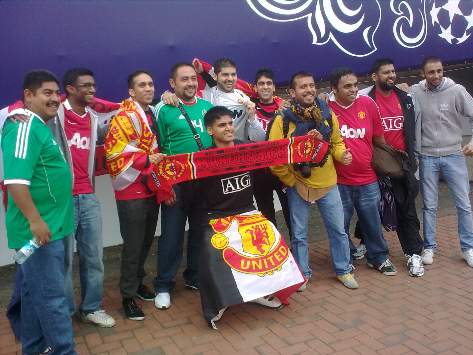 "The success of Ji Sung means everything for Asia because he has shown that anyone can play football at the highest level, whatever race or nationality you are. I think United will win 1-0 and Ji Sung will score the winner."
3,000 security staff have been deployed to keep emotions under control outside the national stadium, but they have hardly been needed down a cosmopolitan Wembley Way.
Watch the Champions League final with Goal.com's 24 million-strong community on

. Use#watchwithgoal to sign off all your Barcelona v Manchester United related tweets and watch out for all of Goal.com's Champions League content on your

feed!