After a rapid rise through the levels, Kassai tonight takes charge of the Champions League final, becoming the first Hungarian since Sandor Puhl to officiate on Europe's big night
FEATURE
By Tom Mortimer
Since first setting his heart on refereeing, Viktor Kassai has broken numerous records due to the speed of his rise to the top, and tonight he will become the youngest man ever to take charge of a Champions League final when Barcelona face Manchester United at Wembley.
His selection for this evening's showpiece clash, which was announced on Thursday, comes after a serious of lauded displays both in the Champions League this season and in last summer's World Cup finals. And he has beaten off the challenge of other more noted and more experienced officials off the back of some excellent performances.
"A Champions League final is an absolutely top match, so we can expect a celebration of football," Kassai said to
UEFA.com
. "I hope all the spectators in the stadium and watching on TV will enjoy the match, and I hope it'll be a nice game."
Kassai passed his refereeing exams in June 1990 at the age of just 14, and less than three years later he was officiating in Hungarian football's fourth tier. It wasn't long before his qualities were being utilised at the highest domestic level either, as he became the youngest man to take charge of an NB1 match at the age of just 23 in a game between Zalaegerszeg and BVSC.
By 25, the sales manager refereed his first international match in the UEFA Regions Cup in Eastern Slovakia and by 2005 he was being selected by higher profile international tournaments. In 2008 he was on the reserve list for the European Championships, and his biggest achievement to date came later that year when he was given the chance to lead out the sides in the Olympic final between Argentina and Nigeria. His reputation continued to flourish, and last year he was chosen to officiate at the World Cup in South Africa, where he oversaw four fixtures, including the semi-final between Germany and Spain.
In the Hungarian League, the showpiece game of the season between Ujpest and Ferencvaros, dubbed as the 'Hungarian Derby', is always officiated by Kassai nowadays as his ability is considered to be far in advance of anything else on offer in the country. The Hungarian Derby is always a tasty affair, but with Kassai's calm and assurance, the games always seem to run freely, with things very rarely getting tipped over the edge.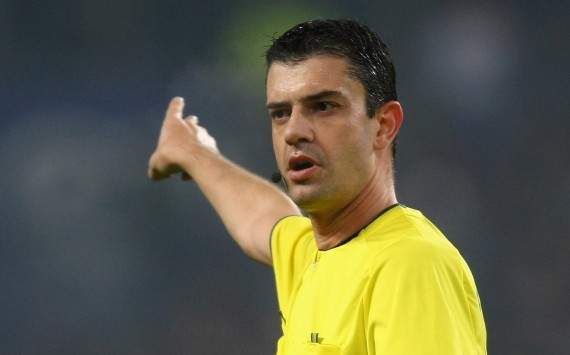 Kassai | Tonight's assignment continues his meteoric rise to the top
His only controversy of note so far came earlier in this season's Champions League, when he refused to give a stone-wall penalty to Arsenal against Braga for what looked to have been a foul on Carlos Vela. Instead of awarding a penalty he issued Vela with a booking and was lambasted by Gunners boss Arsene Wenger, who called the decision "a complete mystery".
The Hungarian, who likes to the let the game run and is pretty lenient, has issued 19 yellow cards in his four games in the season's Champions League and hasn't sent a single player off. The last red card he issued was back in April, but before that Kassai went a whole year without sending a player off.
Tonight's match at Wembley brings arguably his finest moment - and his greatest task - to date. Kassai, who is fluent in English and German, but not Spanish, has refereed at Wembley before, taking charge of England's 4-0 victory of Bulgaria last September, and says he is very much looking forward to the occasion.
"It's a very big honour for me and for my team, because it's very important that the referee is not alone in officiating the match. We have a team of seven officials and we'll do our best.
"Of course we're proud; after Karoly Palotai did the final twice, the last [Hungarian], Sandor Puhl, was 14 years ago. It's a very, very big honour and a pleasure for us to continue this legendary level of Hungarian referees. All of us are very very proud, but it's also a responsibility to continue their good work."
Kassai will be assisted by fellow countrymen Gabor Eros and Gyorgy Ring. The fourth official will be Istvan Vad.
Tom Mortimer is the editor of www.hungarianfootball.com; the best site on the web for news, comment and analysis on the Hungarian game.


Watch the Champions League final with Goal.com's 24 million-strong community on

. Use#watchwithgoal to sign off all your Barcelona v Manchester United related tweets and watch out for all of Goal.com's Champions League content on your

feed!