ANALYSIS
By Amar Singh
June 13 1956 - the date of the very first European Cup final. Roared on by the 38,000 almost exclusively French supporters inside the Parc de Princes, Stade de Reims raced to a 2-0 lead.
Unfortunately for the footballers from Champagne they were facing legends in the making - the Real Madrid of De Stefano, Rial and Gento. The game was to end 4-3 to the Spanish giants but members of that side would later remark about the effect the partisan atmosphere had on the game.
Francisco Gento admitted: "When Reims went in front again after half-time we were worried because they had the crowd behind them and they were a super team."
More than half a century later, Manchester United face Barcelona at Wembley, a stadium where they have lifted several major trophies - many of which have been held aloft by their current manager Sir Alex Ferguson. Surely the familiar surroundings and scene of so many victories for the Red Devils will give them an edge?
Barcelona's manager Pep Guardiola certainly seems to think so. "It's always comfortable when you play at home. I don't know the distance between Manchester and London, but it's about an hour, hour and a half. It's more comfortable for the fans, the team, everything, but it's no problem for us," he insisted this week.
Guardiola's geography may be a little off but his history isn't bad - teams playing in their home nations tend to win more than those that have to cross borders.
Manchester United can take comfort from the record books, which show that seven out of ten European Cup finalists playing in their home country have emerged victorious.
The first of which were Real Madrid. A year after lifting the inaugural European Cup, they repeated the feat in their own stadium which had been recently renamed in honour of club president Santiago Bernabeu. More than 124,000 spectators crammed into the stadium, including General Franco, as Real Madrid beat Fiorentina 2-0.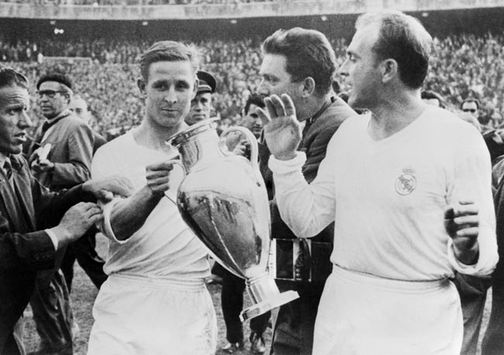 No place like home | Real Madrid lifted their second European Cup at the Bernabeu in 1957
With hordes of fans chanting 'Hala Madrid' and waving white handkerchiefs in unison in addition to the country's imposing Generalissimo looming over the game, Fiorentina could not have faced a more intimidating atmosphere.
When Real Madrid were awarded a controversial penalty after 69 minutes leading to Di Stefano breaking the deadlock, the Italians were furious. To this day Fiorentina fans old enough to recall the match insist that the Dutch referee Leo Horn wrongly awarded the penalty when the offending tackle was outside the penalty area, because he didn't want to be the most unpopular man in Spain.
In 1965 Inter would have the same advantage Real Madrid enjoyed years earlier - defending their title in their home stadium.
Prior to the match Benfica had demanded that Uefa move the venue and even threatened to send out a youth team at one point but the governing body would not budge.
When Inter beat Benfica 1-0 in a game to forget on a rain-sodden San Siro pitch there were few complaints from the Portuguese outfit who had to play much of the game with their centre-back Germano in goal after Costa Pereira went off injured. This was not before he had allowed Jair's weak effort slip through his hands in the game's only goal.
Benfica were unfortunate that their next European Cup final berth was against a Phoenix-like Manchester United team galvanised by the support of almost the whole country willing on Matt Busby's team to become England's first European Cup winners 10 years after the Munich air disaster.
HOME COMFORTS | Finalists

1956 Parc des Princes, France
Stade Reims lost to Real Madrid 4-3

1957 Santiago Bernabeu, Spain
Real Madrid beat Fiorentina 2-0

1965 San Siro, Italy
Inter beat Benfica 1-0

1968 Wembley, England
Manchester Utd beat Benfica 4-1

1972 De Kuip, Netherlands
Ajax beat Inter 2-0

1978 Wembley, England
Liverpool beat Brugge 1-0

1984 Stadio Olimpico, Italy
Roma lost to Liverpool on penalties

1986 Estadio Pizjuan, Spain
Barcelona lost to Steaua Bucharest on penalties

1996 Stadio Olimpico, Italy
Juventus beat Ajax on penalties

1997 Olympiastadion, Germany
Borussia Dortmund beat Juventus 3-1

HOME TEAMS IN EUROPEAN CUP FINALS: Played 10, Won 7, Lost 3

More than 100,000 red and white scarf-wearing supporters drowned out the tiny cluster of Portuguese fans inside Wembley Stadium on a balmy English summer's day.
Brian Hughes, a Manchester United fan who was there to see the Red Devils win 4-1, recalled in a recent interview: "There was a joyful atmosphere and you could see the Portuguese fans but they were completely drowned out by our fans."
Wembley would be the setting once more when, in 1978, a Liverpool side in their pomp reached the European Cup final against the minnows of Bruges.
The famous venue was dubbed 'Anfield South' by Liverpool players and fans due to club's frequent visits during this golden era.
In his autobiography
My Liverpool Home,
Dalglish wrote of how seeing so many joyous scousers as he made his way to the stadium on the team bus had galvanised Liverpool. "I was stunned by the number of fans heading to Wembley.
"Liverpool fans knew all the short cuts and all the pubs because Wembley was a second home, I watched them laughing and joking, standing on the pavements, enjoying a pint before striding up the Twin Towers. I heard them chanting 'Liverpool', their voices revealing complete faith in our mission against Bruges. It would be horrible to lose, I thought."
Six years later Liverpool found themselves facing Roma - at the Italians' home itself, the Stadio Olimpico. It was the first time since Inter in 1965 that a team were able to contest the final at their home stadium and Liverpool were furious at what they perceived to be a truly unfair situation. "Uefa should have shifted the final because why should one team enjoy home advantage? This surely trampled on Uefa's principle of fair play?' Dalglish wrote. "If the final had been scheduled for Anfield, Roma would have screamed to the high heavens...no club should have been given an advantage as Roma were in 1984."
Despite this Liverpool emerged as winners following a penalty shoot-out. How Roma could lose to Liverpool in their own stadium was deemed incredulous and the contentious nature of the win sparked anger and resentment which tragically led to violence outside the stadium.
Something akin to home advantage would count for nothing when, two years later, Barcelona, managed by Terry Venables, were castigated for losing to the unfancied Romanians Steaua Bucharest in Seville.
In front of more than 50,000 Barcelona supporters, the Catalans were seen to have blown their best chance of breaking their European Cup curse, losing on penalties in a stunned Estadio Sanchez Pizjuán.
Two more finals were played in which the victors lifted the trophy in their home country; Juventus beat Ajax in Rome in 1996, whilst a year later the Turin club lost to Borussia Dortmund at the Olympic Stadium in Berlin.
Which brings us back to Wembley this weekend and whether Manchester United will capitalise on playing in familiar surroundings like seven of their predecessors - or will they blow it like Barcelona in 1986?
Will the expected 35,000 Manchester United fans at the stadium make their voices heard above their Barcelona-supporting counterparts, making it feel like a home game for Sir Alex and his men?
Cheap air travel, improved facilities at stadiums and the global following of clubs means the days of a partizan crowds at an event of this profile are in the past.
Barcelona can expect to see more than 20,000 of their own supporters at Wembley and it might not seem like the imposing cauldron that the Parc de Princes did for Real Madrid back in 1956.
But Sir Alex Ferguson will certainly be quietly imbued with that extra measure of confidence. Short of playing this match at Old Trafford itself, Wembley Stadium is guaranteed to bring a little home comfort to Manchester United and that can be no bad thing against a team as good as Barcelona.
Follow Amar Singh on