COMMENT
By Paul Macdonald
Not even Jose Mourinho gives his Real Madrid side any chance of producing the mother of Camp Nou miracles and turning round their Champions League semi-final against Barcelona. The Portuguese dismissed any notion of a comeback during his incendiary press conference in the wake of Lionel Messi's two goals in the Battle of the Bernabeu, and statistics suggest he is correct in his analysis - no team in the history of the tournament has reversed a 2-0 first-leg deficit in the knockout stages.
No one seems particularly concerned with tactics, or line-ups, at the moment, however. Indeed, football seems the furthest thing from the minds of anyone connected to Barca or Real Madrid. Verbal one-upmanship and infantile point-scoring has become the order of the day, as both behemoths, in their own considered way, lambast their rivals while pleading that they too are victims in some convoluted conspiracy.
Mourinho's startling accusations represented the tipping point for a situation that had simmered menacingly until Pepe's second-half red card last week, and the aftermath has reached farcical levels of claim and counter-claim. No effort has been made by either club to extinguish the volatility, and even on Monday night, with a full five days of reflection behind them, they were at it again.
Aitor Karanka - hours after Madrid's unsuccessful plea to Uefa to have six Barca players suspended - did Mourinho's bidding by barely mentioning the contest, instead indicating a level of dishonesty and "double standards" in Uefa's decision.
Guardiola responded to calls for disciplinary action against his players, stating that "Madrid cannot decide who plays", even making reference to "109 years of history" between the sides. The fact is, the final comment should resonate more than the perpetual baiting that will likely extend far beyond Tuesday's final match at Camp Nou.
A century of rich heritage, political undertones, passionate rivalry and a collection of some of the greatest players ever to have played the game have helped solidify El Clasico as the finest club fixture in world football. It is revered, respected, and anticipated for months in advance. It represents something special; a clash of cultures in more ways than one.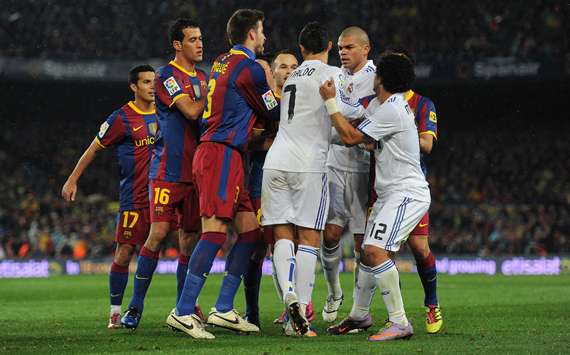 Verbal volleys |
Spanish giants must produce a match to remember - for the right reasons
Yet in the past 18 days, individuals claiming to represent the best interests of both these institutions have done their utmost to obliterate the mystique, and have allowed what should have been a memorable month to become the subject of ridicule from all quarters.
Luis Figo and the infamous pig's head in 2002 represents a particularly ugly modern-day moment in the Clasico chronicles, but that unsavoury episode arose at the will of incensed supporters. Here, we have players, coaches, and even senior officials behaving so inappropriately that their nefarious conduct is impacting on the overall reputation of
REAL MADRID VS BARCELONA:
ALL YOU NEED ON GOAL.COM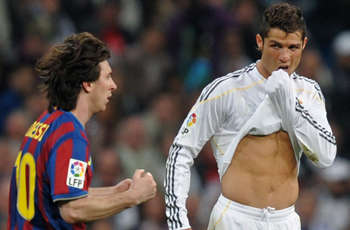 Four Clasicos in 18 days - and you can follow them all with Goal.com:

Apr 16: La Liga
Real Madrid 1-1 Barcelona

Apr 20: Copa Del Rey final
Barcelona 0-1 Real Madrid

Apr 27: Champions League semi, 1st leg
Real Madrid 0-2 Barcelona

May 3: Champions League semi 2nd leg
7.45 BST - Nou Camp


the game in Spain.
A lasting legacy, formulated by giants such as Alfredo di Stefano, Ferenc Puskas, Johan Cruyff and Laszlo Kubala, has been undermined by the current generation, and the world was far from impressed.
A line must be drawn. As difficult as it is when a mere game of football polarises opinion so ferociously, it is surely now time to move back to matters on the pitch. Madridistas are unlikely to ever forget how they were allegedly wronged in the Bernabeu last week - supporters never do. The club itself, however, should be more adept at channelling its anger, and remember that there is still a fifth encounter to be endured before Clasico overkill can be laid to rest.
As for Barcelona, any attempt to take a moral high ground is futile given their equal involvement in the distateful scenes. One of the most despondent aspects of Wednesday was the hounding of the referee from the Catalan giants, imploring Pepe be sent off while doing everything possible to make it so.
One man, it seemed, wasn't interested. It was Lionel Messi, after all, who did what only he can to provide the global viewing audience with something to remember besides petulance, simulation, and venom. His wonderful goal in the dying embers of the match will be remembered as one of the finest ever scored in the competition, and was another example of the Argentine defying logic in this season of almost-immeasurable achievement.
It is Messi who reminded those watching that Barcelona and Real Madrid, actually, are packed with thrilling players, and if they really wanted to could treat us all to the scintillating spectacle we hoped for but to a certain extent have been denied.
On Tuesday, Madrid should flex their attacking muscle. They have more than enough quality to hurt Barca if they see fit, and with the tie beyond them, containment is barely worthwhile. Another humiliation, in the style of November 2010, would clearly plunge Madrid into the depths of hell, but they performed mechanically, and arguably negatively, across the last three matches, and contribution to an open contest is a necessity in order to dismiss, even briefly, the nonsense of the past week.
Nothing can be said in front of a gathering of microphones that can reaffirm the belief of some who might have become disillusioned with what the Clasico represented last Wednesday. The language of football must be expressed in as optimistic a manner as possible in order to provide some kind of salvageable conclusion to the monotonous tit-for-tat that has dominated the press room.
Barcelona and Real Madrid are the best two teams in Europe. Shhhhh - if everyone is quiet long enough, they might just prove it to us, and restore some battered pride in the process.