By Richard Parry
When referee Felix Brych blew for full-time at the Bernebeu eight days ago,
Tottenham
's travelling fans will have left feeling sick as dogs in the immediate minutes which followed their 4-0 defeat to
Jose Mourinho
's
Real Madrid
.
But in hindsight, a journey which may well come to an end at White Hart Lane after 240 days of thrills and spills is an achievement which shall leave the Spurs faithful purring in appreciation, and perhaps more importantly, looking ahead to a promising future rather than reminiscing a glorious, albeit distant, past.
Speaking to
Goal.com
, Bernie Kingsley, chairman of the Tottenham Hotspur Supporters Trust, reflected on his trip to Madrid.
"Two glorious days in Spanish sunshine, a superb atmosphere both in the city and in the stadium and arguably one of the best stadiums we've ever seen to boot," he said.
"All a little spoilt by 90 minutes of being taken apart by a very good Real side, not helped by Crouch's rash dismissal - though I still think the second yellow was harsh.
"Walking outside the Bernabeu before the game it felt Tottenham had really arrived in the Champions League and even the result couldn't take that away."
And it's on that refreshing note, where achievement can still shine through the ashes of defeat that we look back on Spurs' exploits in this season's elite club competition, ahead of the momentous challenge of overturning a four-goal deficit at home to Mourinho's Madrid.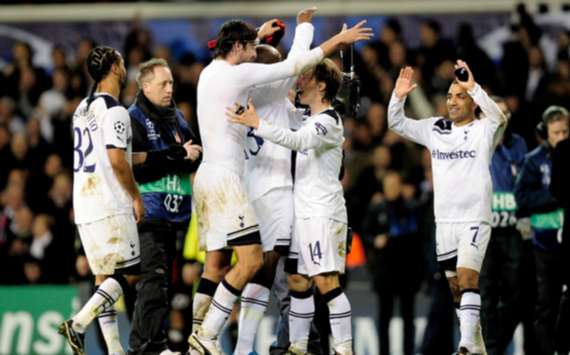 All white on the night | Spurs celebrate their two-legged victory over AC Milan
Spurs' lost boys at Berne
Embarking on their first appearance since the 1962-63 season, Spurs faced the seemingly innocuous challenge of BSC Young Boys in the final play-off round. Or so they thought.
Trailing 3-0 after 28 minutes on the Astroturf in Berne, Spurs' European dreams looked over with the ink still running on their passports. Sebastien Bassong's thundered header before half-time offered some encouragement, but Redknapp's side looked set to follow Everton's lead from 2005 and fail to make the group stages.
They stemmed the tide in the second half, and a ferocious strike from Roman Pavlyuchenko in the 83rd minute handed Spurs a lifeline.
| | |
| --- | --- |
| FIRST LEG | SECOND LEG |
| | |
Peter Crouch would net his first, second, and third Champions League goals for the club in the return leg, as Spurs progressed to the group stages after a blistering 4-0 victory, to the relief of the Tottenham faithful.
That night in Milan
The draw for the group stages saw Spurs bunched in Group A alongside Werder Bremen, Dutch champions FC Twente, and Champions League holders Inter.
Following a 2-2 draw in Bremen, in which Spurs squandered a two-goal lead, Redknapp's side defeated FC Twente 4-1 at White Hart Lane in the next match – despite seeing all-action Dutchman Rafael van der Vaart dismissed on the hour mark.
Then came the glamour tie that all Spurs fans had been waiting for, champions Inter in San Siro.
"After years of striving to reach the Champions League, playing mighty Inter, the holders, in the group stage meant demand for tickets was phenomenal," said Kingsley.
"Although the official allocation was only 5000 it seemed like large swathes of White Hart Lane had decamped to Milan."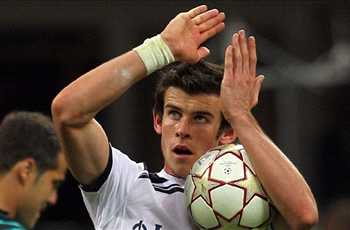 The first half would see Spurs handed a Champions League lesson – one sterner than anything experienced in the Premier League, and more demoralising than anything experienced in Berne. On what was the biggest night in the club's recent history, Spurs found themselves 4-0 down after 35 minutes, with keeper Heurelho Gomes sent off after only seven minutes.
"Starting disastrously and getting worse, four down at half-time led to some disgruntled fans leaving early," Kingsley added.
But then, Gareth Bale took it upon himself to shake his side back into life – scoring the infamous hat-trick to put both his club, and his own blossoming talent, on the world map. Spurs, miraculously, had transformed a devastating defeat into a moral boosting 4-3 classic.
Kingsley, sat in the stands of the cultured arena, reflected: "At the end only two minutes stoppage time seemed designed to save the home side total embarrassment and Tottenham supporters left the San Siro with heads held very high despite defeat."
White Hot Lane





FINAL GROUP A TABLE



P
W
D
L
F
A
Pts
6
3
2
1
18
11
11
6
3
1
2
12
11
10
6
1
3
2
9
11
6
6
1
2
3
6
12
5
The fixture schedule would see Rafa Benitez's Inter travel to White Hart Lane a month later, in a match where Spurs outshone their October heroics.
Taking the game to their prestigious opponents from the offset, Redknapp's Bale-inspired Spurs recorded a 3-1 victory over the Serie A giants, putting themselves in the driving seat to secure qualification to the last 16.
"The three-goal comeback in the first leg gave supporters confidence that a crack Italian side could be there for the beating, and so they were," said Kingsley.
"Everyone now knew about Gareth Bale but that didn't stop him turning it on again and giving Maicon and Co. another roasting to stoke the atmosphere inside the Lane up to fever pitch all night.
"Inevitably there were some nervy moments when Eto'o pulled one back – how we could do with him in our side – but Bale and Pav's [Pavlyuchenko] closing flourish ultimately gave us the group leadership."
A 3-0 victory over Bremen at the Lane secured their progression, and another barnstorming away trip – this time a 3-3 draw in Twente – saw Spurs win their group outright.
That night in Milan – take two
If one trip to San Siro wasn't enough to get the juices flowing for the Spurs fan, another glamour tie - this time against AC Milan – would.
The odds were once again stacked against Tottenham, as they took on the Serie A league leaders. Boasting the formidable Zlatan Ibrahimovic in attack – Redknapp's side showed a resolute and defensive nous which seemed forgotten in their last visit to Italy, as Crouch's 81st minute strike saw the north London side take an impressive 1-0 lead back to the Lane.
Although Bernie was unable to attend this spectacle, he recalls the match fondly.
"Thousands did make it and the rest of us were glued to Sky and cheering every bit as loudly as those in the stadium when Crouch finished off the move to make it one of our best ever nights in Europe.
"A truly wonderful performance all round, we were starting to get delusions of winning the trophy."
With an away-goal lead secured, many expected Spurs to take Massimiliano Allegri's side to the cleaners in the second leg. But with everything to play for, the Italians were quick to put Spurs on the backfoot, with William Gallas rolling back the years with an agile goal-line clearance to deny former Manchester City man Robinho.
But just like the ties with Inter, another star was born for Spurs, having already starred in the first leg.
"There are 0-0 draws and there are 0-0 draws," Kingsley recalled. "Against Milan it was backs against the wall for much of the night when we'd hoped for the free flowing mauling we'd given Inter, but new star Sandro was immense and another white hot night at the Lane consolidated the magnificent win in the first leg.
"Tottenham have bettered the neighbours [Arsenal – who had been eliminated the night before by Barcelona at Camp Nou] in this season's Champions League and we left eagerly awaiting the quarter final draw."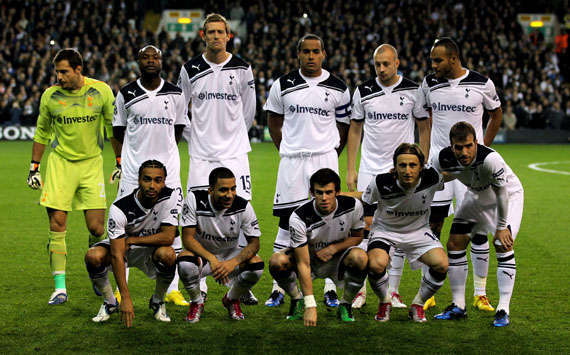 White Hot Lane | The Spurs team which started the 3-1 victory over Inter
The curtain call
And of course, the next stage presented Real, and that potentially fateful night in Madrid. Speaking ahead of their second leg tie, Kingsley admits that while an overhaul of the visitors' impressive four-goal lead is unlikely, Spurs have already won the hearts and minds of not only their loyal faithful, but many neutrals along the way.
"Miracles do happen, but it seems unlikely," he conceded. "The British way is to achieve glorious failure, so maybe 3-0 on the night, or worse, five up and concede a late goal to lose on away goals.
"More realistically, Mourinho's side will nick an early away goal, we'll throw everything at it but come up short.
"Who cares, a win, any win, would be great for the pride but whatever happens the team has over achieved and the important thing now is to do it again next season. Come on you Spurs!"
And that is exactly how Spurs' European exploits should be remembered, if indeed they end at White Hart Lane on Wednesday night. For Redknapp's side have already reached the bonus round – further than any fan could ever have envisaged at the start of the season.
The defeat in Madrid will have hushed the naturally eager-eyed follower back to reality – Spurs are not ready to compete at the business end of the competition, against such a powerhouse as Real, but who is, other that perhaps Barcelona and Manchester United?
The club has taken massive steps this season, and elimination will allow Tottenham to concentrate on returning to Europe's Premier club competition next season, as well as looking back on this campaign with the pride it deserves.
The Tottenham Hotspur Supporters Trust aims to help the club achieve constant and sustained success, and unite and represent all Spurs' fans and to exercise their collective power, in order to improve communication and understanding between the Club and its supporters.

To find out more about the work Bernie and his colleagues do, click here.

Follow Richard Parry on