The Red Devils' star striker was at his marauding best at Stamford Bridge in a week where he made the headlines for all the wrong reasons, whilst Torres' goal woes continue...
As a cameraman ran towards him at the final whistle,
Wayne Rooney
very deliberately kept his eyes focused straight ahead and declined to deliver a message to the world.
His point had been made in a language far more colourful than the expletives launched on live television last weekend. Against the background of a turbulent week and some sickening abuse from the Chelsea fans, Rooney delivered a virtuoso performance and a crucial goal in this Champions League quarter-final tie.
On Thursday, Rooney will find out if his two-game ban for swearing at a television camera last weekend has been upheld by the Football Association. Just a day after it emerged that Coca-Cola cancelled his lucrative sponsorship deal, the 24-year-old's public image is at its lowest ebb.
But you would never have known from the childish grin and playful tumble on the Stamford Bridge turf after his 24th minute goal.
It was a joyful celebration that reflected the freedom with which the striker played on the pitch, a constant threat to the Chelsea defence as he roamed the pitch, clearly 'in the mood' as he set the tone for a generally dominant performance from Sir Alex Ferguson's side.
Whether he was popping up on the wings, dropping into midfield or tracking back with a 60-yard run – as he did on one occasion – Rooney looked like a man whose competitive instincts had been streamlined by his manager.
It was as though the Scot had told his star man to remind the public what he is really about, to re-write the hostile headlines that have filled the sports pages in recent days and prove that he ought to be respected simply as a wonderful footballer.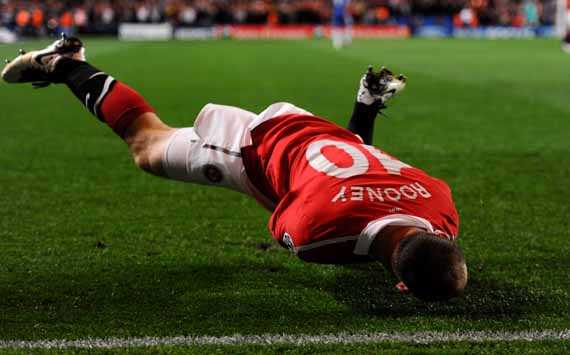 Head over heels | Wayne Rooney celebrates his goal at Stamford Bridge
It was a display that showed why United smashed their wage structure to hand him a new contract, that made the watching public forget about those awful, clumsy performances earlier in this season. Rooney looks like a man on a mission as we enter the crucial final six weeks of the season.
It was not just Rooney's display that helped United win at Stamford Bridge for the first time since 2002. Michael Carrick dominated the midfield with his intelligent positioning and accurate passing, while Ryan Giggs slotted in perfectly in the role usually occupied by Paul Scholes as he continues to defy logic with his improving performances at the age of 37.
Ferguson got his tactics absolutely right as Park Ji-Sung worked tirelessly on the left and two genuine wingers – Antonio Valencia and then Nani – pinned back Ashley Cole on the other side and looked a real danger on the counter-attack.
Chelsea supporters will argue about their side's penalty claims but few could challenge the assertion that United were vastly superior to their hosts, who were disjointed and lacked the ideas to create chances.
In fact, it played out how one might expect from a match between one team that is top of the Premier League and the one which is fourth and struggling to even qualify for next season's Champions League.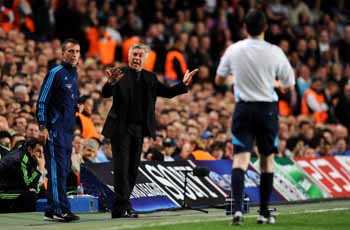 "It might have been different for the Blues but the footballing Gods simply do not smile down on Chelsea in this competition. Ancelotti, fighting for his job, turned to his bench with a look of sheer horror
when he realised that the referee had not awarded a penalty"
It might have been different for the Blues but the footballing Gods simply do not smile down on Chelsea in this competition.
Carlo Ancelotti, fighting for his job, turned to his bench with a look of sheer horror when he realised that the Spanish referee, Alberto Mallenco, had not awarded a penalty after Patrice Evra hacked down Ramires deep into added time.
It was a dreadful decision, reminiscent of the continual non-award of penalties in their tumultuous semi-final clash against Barcelona two years ago.
"Swings and roundabouts" was the cliche wheeled out by United defender Rio Ferdinand after the game but, in knockout football, these decisions do not even themselves out like they may do over a 38-game league campaign.
Even when Chelsea were not denied by the referee, there was a United player there to somehow stop the ball from hitting the back of the net.
While Evra's challenge on Ramires was clearly a foul – and should also have resulted in a red card – the Frenchman's other important intervention in the game was perfectly legal. After Didier Drogba's cross in the final seconds of the first half evaded everyone and bounced off the post, Frank Lampard volleyed the rebound towards goal from six yards only to see Evra on hand to clear the danger.
In the second half, the magnificent Edwin van der Sar hung in the air to save Fernando Torres' accurate header with his fingertips.
The Blues will feel they will need, for once, the benefit of fortune to progress to the semi-final at Old Trafford next Tuesday.
But to do so, Ancelotti must address his own mistakes on Wednesday night, not least the decision to haul off Didier Drogba with just under 20 minutes to play and his team needing a goal to get back in the tie.
Drogba was not at his best against United's indomitable central defensive partnership of Ferdinand and Nemanja Vidic, but the Ivorian had shown in glimpses what he was capable and he is a proven goal threat.
Some are now starting to wonder if the same can be said of Torres, who started brightly but will most probably be remembered for the dive that earned him a yellow card as he tried to win a penalty under a challenge from Ferdinand.
As Drogba took his seat on the bench with a disbelieving smile on his face, there was a sense that he was perplexed that Torres had not been substituted instead. The £50 million Spaniard has now played nine games for Chelsea and is still waiting for his first goal for the club.
In reality, either striker could have been taken off because they were equally ineffective, equally isolated and individualistic in their approach to the game. There was not even glimmer of the pair forming some sort of partnership and without quality service from midfield neither could find space to trouble United.
The real menace on the pitch was wearing red, donning the No.10 shirt and making sure his feet – not his mouth – were the subject of attention from the cameras.
Follow Greg Stobart on

Our

provides the best breaking news online and our

football fan community is unmatched worldwide. Never miss a thing again!