TUNISIA

Kasraoui,
Boussaidi, Jemal, Boulabi, Gharbi
Saihi, Ben Yahia, Hammami
Allagui, Harbaoui, Khelifa



RWANDA
Kagere,
Albert, Nshutiyamagara, Nahimana, Gasana, Niyonzima, Mugiraneza, Claude, Sibomana,
Bokota, Karekezi
Though he selected a 25-man squad for 2014 World Cup qualifying, Tunisia coach Sami Trabelsi will not have all of them at his disposal on Sunday when the Carthage Eagles face off against Rwanda. A poorly thought out domestic league delayed fixture list means that the players of Esperance, Etoile, Club Africain and CA Bizertin will be busy with club commitments, leaving only 15 players available.
Thus, Trabelsi will have to patch together a starting 11 composed primarily of European based players and some locals who are not sure to feature prominently once qualifiers begin. In addition, influential central defenders Karim Haggui and Aymen Abdennour will both miss out as the former has announced an early international retirement while the latter remains suspended for a red card he received at the 2012 Africa Cup of Nations (Afcon)
Nevertheless, the north Africans will seek to ascertain the competitiveness of some of their back-ups and the readiness of some new recruits such as Hamdi Harbaoui, Bassem Boulabi and Bilel Ben Messaoud.
On the other hand, Rwanda coach Milutin Sredojevic will continue to search for a way to get his misfiring strikers to find the back of the net. The Wasps are goalless in their last two matches, one of which was a draw in 2013 Afcon qualifying against Nigeria and the second was a recent 2-0 loss to Libya.
Like Tunisia, Rwanda are preparing for the beginning of their 2014 World Cup qualifying campaign that begins with a trip to Algeria, hence the choice of two away tests against north African sides. Meddie Kagere, who received a recall from his Serbian coach, will hope to reproduce his fine domestic form in a Wasps jersey and lift his team prior to their confrontation with the Fennecs on June 2.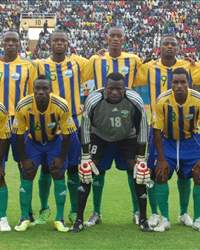 The first match between Tunisia and Rwanda was played in Tunis and won 5-0 by the hosts in 1983.
Rwanda have never beaten or drawn with the Carthage Eagles. In five matches, the closest they got to a positive result was during the 2004 Africa Cup of Nations when they went into half time of a group stage match tied at 1-1. Tunisia ended up winning the game 2-1.
Lille are rumoured to have offered €5 million for the services of Youssef Msakni in a bid to replace the outgoing Eden Hazard.
Lokeren striker Hamdi Harbaoui hasn't been invited to a Tunisia national team setup since his days representing the north African country at youth level. This is his first senior side call-up.
Aside from the 2014 World Cup qualifiers, Rwanda have an opportunity to get closer to their second ever Afcon qualification. Scoring a valuable away goal in Abuja could create an upset.
The Amavubi met with Protais Mitali, the Minister for Sports and Culture prior to their trip north and the politician handed team captain Olivier Karekezi a Rwandan flag during the send-off.
Tunisia will be expecting a good fan turnout in Monastir given that it is the first time that the national team has played there in many years.