COMMENT

By Carl Worswick
After just 96 days and three competitive matches in the job, five in total including two friendly victories, the Colombian Football Federation has swung the axe on coach Leonel Alvarez.
The 48-year-old, who was a key member of Colombia's 90s golden generation, was shown the door following an executive meeting in which president of the Colombia Football Federation (Colfutbol) Luis Bedoya declared "corrective action" had been taken. With four votes to three, Alvarez's fate was sealed. The men in suits, hungry to reach the World Cup finals for the first time since 1998, had had enough.
Four points on the board in the race to qualify for Brazil 2014 was deemed unsatisfactory and, with a knee-jerk reaction, Alvarez was cast aside. For those who'd long besmirched South American football culture as having a fickle disposition, Bedoya's impatience enhanced that tattered reputation.
In fact, and as Alvarez will no doubt later confirm, the decision had been made weeks prior.
November 15 to be precise, and as a sweaty, dishevelled Alvarez pushed his way out of the baking Caribbean sun and past a baying orgy of journalists an ache of agony creased the trainer's face.
He'd just witnessed a capitulation. In Barranquilla, Alvarez was exposed as he failed to respond to a tactical reshuffle by Argentina, which changed the face of a key World Cup qualifier. Colombia had led 1-0 at half-time, but goals from Lionel Messi and Sergio Aguero handed an impotent Alvarez his first loss. From then on the writing was on the wall.
Four weeks later, he was gone.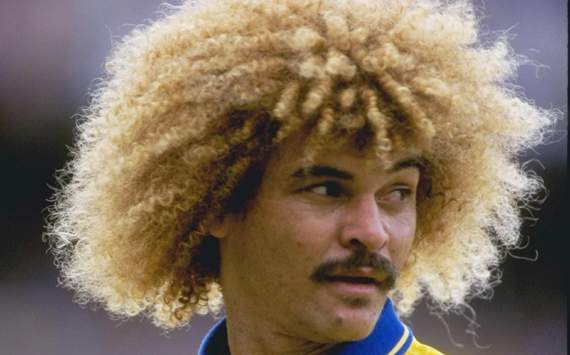 El Pibe Ignored | Valderrama's pleas for patience were unheeded by the powers-that-be
But Alvarez, the second-most capped Colombian player of all-time with 101 appearances, started on the back foot. When Hernan Dario 'Bolillo' Gomez was forced to resign amid scandal for beating a woman on a boozy Saturday night four months ago, the FCF scrambled for names.
After a humiliating and unsuccessful chase of ex-Paraguay boss Gerardo Martino and with the start of the World Cup qualifying campaign only a few weeks away, they opted for the man who had been Gomez's assistant. It was the stop-gap approach.
Whispers from the corridors of power cite Alvarez's lack of experience as a crucial factor in his downfall. Just a few hours after his sacking, El Tiempo reported that there was "distrust with the work of Alvarez who had demonstrated his experience in the games he was in charge of."
His reign began in dream-like fashion. Colombia had never won a World Cup qualifier in Bolivia's mountain-top fortress of La Paz, but Alvarez masterminded an historic victory, boldly leaving out star striker Radamel Falcao only to introduce the Atletico Madrid frontman late on. It was a gamble that paid off as Falcao struck an injury-time winner. The new coach was an instant national hero.
But the euphoria soon subsided. A day before Colombia's second qualifier at home to Venezuela, Falcao limped out of both that game and the Argentina clash five days later.
To lose a striker who'd averaged almost a goal a game with Porto and Atletico Madrid, was a bitter blow. But the profligate finishing of replacements Teo Gutierrez and Jackson Martinez hurt even harder. Colombia dominated the clash, took the lead and had ample chances to put it to bed. But a single defensive slip meant it was one, rather than the deserved three points.
Worse still, an injury to Fredy Guarin and the suspension of Luis Amaranto Perea left Alvarez without yet more key players. Argentina awaited.
Alvarez will no doubt curse his bad luck and surely deserved more patience than the 270 minutes he was given. While results may not have been up to expectations – one home point out of six is a miserable record – it is the scrutiny of Colfutbol chief Bedoya's trigger-happy policy that is dominating Alvarez's post-mortem.
In four years, Bedoya has presided over five coaches, each dismissed at the first glimmers of trouble. Before the news was announced, Colombian legend Carlos Valderrama had called for Alvarez to be backed, not sacked. Soon after the chief's press conference, "FueraBedoya" (Bedoya Out) was trending on Twitter.
THE CAFETERO CANDIDATES
It's with this background of distrust and disorganisation that the federation now go in search of a replacement.
For months, ex-boss Bolillo was rumoured to be in line for a return. Bedoya moved quickly to scotch those rumours but still they refuse to subside. It is common knowledge that only when team sponsor Bavaria pull the financial plug, did the president and friends reluctantly accept his resignation.
Another leading candidate is Luiz Felipe Scolari, the Palmeiras boss and close personal friend of former star striker Tino Asprilla. The former Newcastle marksman insists that he only needs the authorisation from above for him "to make it happen".
A high-profile foreign coach doesn't come cheap however, especially one with World Cup-winning experience and it is thought that this consideration was one of the crucial factors in Martino rejecting the post three months ago. Ex-Chelsea manager Scolari would surely demand even more than the Argentine, but Bedoya and his colleagues at Colfutbol might be a bit more desperate to save face this time around.
Other names bandied around include Velez Sarsfield boss Ricardo Gareca, who has experience of the Colombian game. In the mid-80s he played in the America de Cali team that reached three Copa Libertadores finals, before later managing them.
Boca Juniors boss Julio Cesar Falcioni, who played with Gareca at America during the 80s, is another possibility, while Ricardo Paez's achievements for Millonarios this season – two games away from a league and cup double - make him the pick of the domestic-based coaches. He also, crucially, has international experience from his time at the helm of Venezuela.
With five coaches in four years, the last of which lasted three months, the job is somewhat of a poisoned chalice. But with an exciting mix of experience and youth, many of whom grace some of the top sides in the world, the rich rewards for guiding Colombia to Brazil 2014 are obvious to see ... that is, if Bedoya and the other trigger-happy committee men would apply a bit of time and patience.