It's that time of year again. La Liga's first Clasico of the season invariably arrives in the lead-up to Christmas, and 2011-12 has paired Spain's big two together this Saturday in a game which is set to capture the imagination of football fans both here and throughout the world.
But who will come out on top this time around?
Goal.com
wants you to get involved and let us know in our poll below.
The rivalry between these two sides is well-known; it's historical, geographical, political, even ideological. But it's also personal. The ill-feeling has intensified over the last two seasons, partly because of the constant controversies from Madrid's polemic Portuguese, Jose Mourinho. And also because Barca have been getting the better of their fierce foes for some time now.
Statistics show that in recent times, whoever wins the winter Clasico also claims the title. That has happened in each of the last seven seasons, with Barca coming out on top in five of the seven meetings and losing out twice to Madrid. All five of those successes (in 2004-05, 2005-06, 2008-09, 2009-10 and 2010-11) led to title triumphs for the Catalans; Madrid, meanwhile, beat Barca in 2006-07 and 2007-08 in victories that paved the way to Primera Division glory at the end of those campaigns.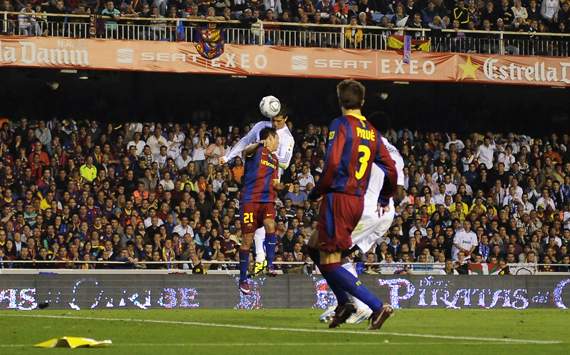 Heading for a win? |
Cristiano Ronaldo scored the winner at Mestalla last season
Last term, the first Liga Clasico was a memorable match for Pep Guardiola's men as they trounced their eternal enemies 5-0, although the late-season series of games between the sides proved far more even as the the two teams tied in the league fixture at the Santiago Bernabeu before Madrid prevailed in the final of the Copa del Rey and the Catalans gained revenge with victory in the capital en route to the Champions League final.
Then came the Spanish Supercopa in August, with a 2-2 draw in Madrid and a 3-2 victory for Barca in an ill-tempered match at Camp Nou.
Back at the Bernabeu, the two teams are now ready to renew their rivalry once again on Saturday as the opening Liga Clasico heads back to the capital for the first time since 2006-07. But who will win it? Have your say in the poll below. The results will be posted ahead of the big game, on Saturday morning.

Starting last month and continuing every Friday through to January, Goal.com will publish extracts from Graham Hunter's highly-anticipated book, Barca: The Making of the Greatest Team in the World. Ahead of Saturday's Clasico, tune in on Friday for an exciting extract on how Jose Mourinho's Real Madrid are closing the gap on Barca following a period of Catalan dominance. Don't miss it!