Will Benfica's European curse finally be broken in 2014? Yet another true skippers' performance from Luisao gave the Portuguese more than just a glimmer of hope that their last win in 1962 under Bela Guttmann can be repeated at the eighth final attempt since.

Juventus were undoubtedly the tentative favourites heading into the Europa League semi-final second leg, despite Jorge Jesus' men having won the opener 2-1 last week.
LUISAO'S KEY MATCH STATS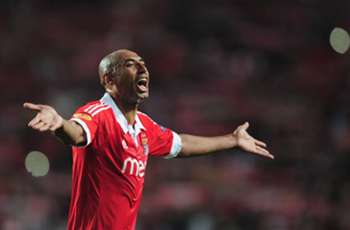 DUELS WON
INTERCEPTIONS
CLEARANCES
5
3
11
PLAYER RATING

4.0

A rock at the back as he won his battle with Llorente with relative ease and made a number of crucial interventions. Got back well to nod Vidal's first-half header over the bar with Oblak beaten.
And the Bianconeri certainly played like they were the ones expected to qualify, taking the game to Turin's visitors and putting pressure of Benfica's defenders.

Luisao has been a constant presence at the back for last year's runners up in the competition ever since their demotion from the Champions League and earned Goal's Europa League Player of the Week tag for his goalscoring performance at Tottenham in March.

The 33-year-old once again pulled out all the stops to help Benfica grasp European glory once again, though this time it was his impact at the back which will have infuriated the opposition.

Arturo Vidal's header just before half-time looked set to finally break the deadlock but Luisao was on the line to somehow keep Jesus' side on level terms with the Scudetto holders.
When Benfica were reduced to 10 men, the Brazilian continued to keep a calm head and hold the defensive line. Likewise, when they went down to nine men following centre-back partner Ezequiel Garay's injury after all substitutions had been made, he helped to ensure the crucial clean sheet.

Benfica are already Portuguese champions in 2013-14 but it is European success they have craved for 52 years now and Luisao, brandishing the captain's armband, will have more than earned the right to lift that trophy aloft if they do defeat Sevilla in the final.