The Spaniard was not impressed by the MLS All-Stars aggressive approach as the Bundesliga champions had to endure some tough tackling
Bayern Munich
coach
Pep Guardiola
feels MLS All-Stars boss Caleb Porter did not do enough to stop his players from making reckless tackles in the wake of Wednesday's 2-1 friendly defeat.
The Bayern trainer was incensed by a couple of challenges in the second half of the match in Portland, with Osvaldo Alonso and Will Johnson clattering into Xherdan Shaqiri and Bastian Schweinsteiger respectively.
Guardiola was seen shouting at Porter a number of times and refused to shake hands with the Portland Timbers coach after the exhibition match, before unleashing a verbal volley at the referee.
The former Barcelona coach claimed he did not shake hands with Porter because he did not see him, but he was seen wagging his finger in a dismissive manner at Porter as the All-Stars boss approached Guardiola.

"I didn't see him," Guardiola said.

"We tried to respect the rules of the game. We came here to play the best ways possible. We came here to respect the football for the fans, to respect our opponents. We came with some of our players having traveled 12 hours just to play 15 minutes to respect this game, to respect MLS and we did it. I appreciate the effort of my players.

"Tough tackling? It doesn't matter. It's happened the way it is. It's not my job to be concerned with their tackles. That is another person's job. I don't know if he did it.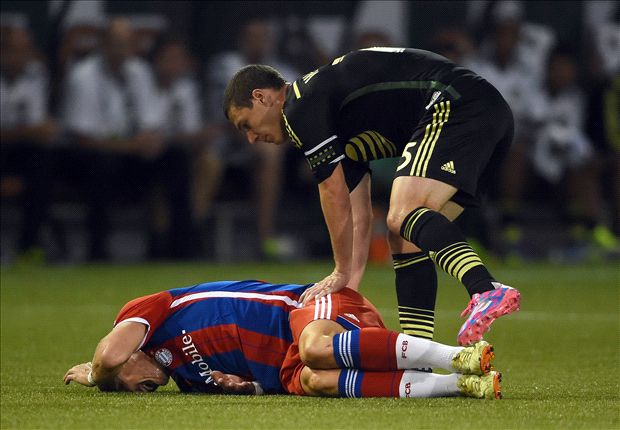 Man down | Schweinsteiger was on the receiving end of some tough tackling
"Congratulations to MLS for this victory. I hope they are going to invite us next year to try and make revenge and I hope to prepare a little bit better. We will be sure about what was going on. I hope our invitation is coming."

Meanwhile, Thierry Henry - who worked with Pep Guardiola at Barcelona between 2008 and 2010 - did receive a handshake and a hug from his former coach and he expressed no surprise at the Bayern boss' reaction toward Porter after the match.

"That's Guardiola. He doesn't like to lose," the Frenchman stated.

"No one does at the end of the day, and that's why he is who he is."

Porter had admitted before the game that Guardiola was one of his idols and the 39-year-old did appear disappointed by his opposite number's antics, but he readily downplayed Guardiola's reaction after the match.

"That's such a small part of tonight that, for me, there's no reason for me to even talk about it. Coaches get heated and certainly you guys have seen me in games. Like I said, there was so much good to talk about tonight during the game that, for me, there's no reason to make that a story.

"We have the utmost respect for Bayern, their players, Pep. I mean the guy is an idol of mine. I think there were a couple of tackles that went wrong. I thought the tackles that happened were unfortunate. It wasn't like I was happy about them, but they're things that happen in a football game. There was no ill intent in those plays.


"I understand the frustration completely because they're in preseason. I understand completely why there was some emotion there, but we certainly didn't mean to do anything negative in the game. "