COMMENT
By Enis Koylu
After spending over €100 million on new players and bringing in a coach with a proven track record of getting teams to overperform in the Champions League over the summer, Manchester City could have expected to give a good account of themselves against the competition's reigning champions, Bayern Munich. They were wrong.
While their Bundesliga performances have been inconsistent this term, Bayern have shown that they remain the team to beat in Europe. The 3-0 home win against CSKA Moscow a fortnight ago was, arguably, the best they had played under Pep Guardiola at the time. At the Etihad on Wednesday, they bettered it.
It was as though they were trying to show City, a team with Champions League pretensions, how they had to perform to challenge Europe's big guns. From the off, they were at them, pressing Manuel Pellegrini's side into submission.
When the breakthrough arrived, via a fantastic long-range effort from Franck Ribery after a matter of minutes, it was no less than they deserved and they only got better from there.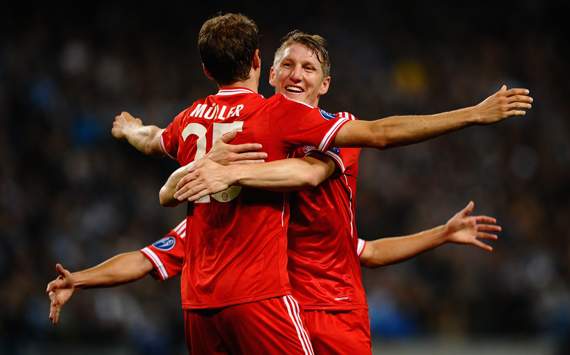 Easy | Bayern showed what they were capable of on Wednesday
Indeed, when the two teams went into the changing rooms at half-time with just one goal separating them, it was flattering to City, who had not lost a European game on home soil until Wednesday.
The second half brought more of the same. Oddly reminiscent of their brilliant 7-0 aggregate victory over Barcelona back in May, Bayern toyed with their opponents. In the end, two further strikes were all they needed and Alvaro Negredo's fine consolation meant nothing.
Truth be told, it was simple for Bayern. As goalscorer Arjen Robben admitted after the game: "It was fun, especially against an opponent like this. We would not have imagined it being so easy. Of course, you can say that City were not that good today, but we played well."
As their team has developed over recent years, they have claimed some of Europe's biggest scalps over two legs - Real Madrid, Barca, Juventus, and Manchester United - and, having produced the sort of performance they did on Wednesday, they will be supremely confident of continuing that trend.
MATCH FACTS | Man City 1-3 Bayern


Shots
On Target
Possession
Corners
Bookings
Red cards

CITY
9
3
34%
6
3
0
BAYERN
20
8
66%
4
1
1
Crucially, Bayern's biggest players are performing well, too. In Germany, they have shipped a paltry two goals against useful attacking units like Schalke, Borussia Monchengladbach and Hannover, with David Alaba establishing himself as one of Europe's finest full-backs and Jerome Boateng performing to such a level that he has ousted Mats Hummels from the Germany line-up.
After a stop-start beginning to the season, Bastian Schweinsteiger has slotted seamlessly into the midfield, and Toni Kroos has risen to the challenge of added competition from Thiago Alcantara, orchestrating proceedings brilliantly.
It is on the flanks, though, where they have been most impressive. As they initially struggled to create chances in their domestic matches, it was often Robben and Ribery who would rise to the occasion and Thomas Muller has shown signs of getting back to his usual form following a barren spell of six weeks. The trio all scored on Wednesday, and all looked impressive.
One dreads to think how they can perform when Javi Martinez is back to full fitness and Philipp Lahm can return to his rightful position at full-back - even though the skipper has performed admirably as a midfield anchor in the Spaniard's stead.
It's been a summer of change around Europe. The Premier League's top three have all replaced their managers, while Barcelona and Real Madrid have ushered in new coaches. But it's Bayern's transformation which, at present, promises to be the most impressive.
There have been teething problems with the new formation under Pep Guardiola, but results did not suffer - a 1-1 draw with Freiburg aside. And now, with the Bavarians back firing on all cylinders, they are ready to launch a firm challenge to become the first side in history to defend the Champions League.
Follow
Enis Koylu on