Pep Guardiola
is back in business. The former
Barcelona
coach will take over at
Bayern Munich
next season, the German club announced on Wednesday, thereby snubbing a move to the Premier League in the foreseeable future.
After Pep's summer switch was announced, illustrious figures from the game gave their opinions on the 41-year-old's next step. Here are some of the most interesting quotes following the news on Wednesday.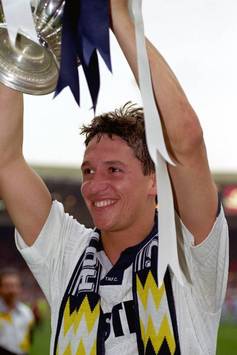 "Interesting but not particularly surprising choice of club for Pep Guardiola. Bayern Munich one of very few viable options."
Former
Barcelona
striker
Gary Lineker
(pictured, right) gave his pundit's view on Twitter.
"I was expecting Mou and Guardiola to both be managing in the PL next year."
Another former England forward,
Michael Owen
, is surprised by the Catalan coach's Premier League snub.
"Pep Guardiola Bayern Munich manager next season - didn't see that coming, was certain he'd end up in the Premiership!"
Everton
skipper
Phil Neville
also thought the former Barca boss would be coaching in the Premier League next term.
"

[Bayern] are a great club, a stable project, the decision doesn't surprise me. Pep has found what he was looking for.

"
Guardiola's former Barcelona and Spain team-mate, and current sporting director at the Catalan club
Andoni Zubizarreta
, believes his friend has made a wise choice.
"If Pep is happy, we are happy."
Barcelona
captain
Carles Puyol
sums up the mood in the Catalan camp.
"We are pleased for him because he wants to come back. But we may meet him in the Champions League."
Barcelona
goalkeeper
Jose Pinto
looks ahead to what would be an emotional tie for his former coach.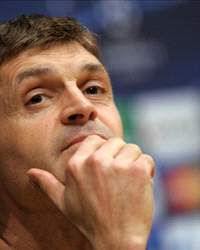 "I didn't know which team Pep was going to sign for. He didn't tell me. I've read that he had a confidentiality clause."
Barcelona
boss
Tito Vilanova
(pictured, left) admits even he was in the dark, despite the fact the two friends met for a few hours in New York last Thursday.
"My best wishes to the great Pep Guardiola in his new stage with Bayern Munich. I have no doubts that he will do a good job. He is one of the best!"
Spain
's basketball star
Pau Gasol
sent his best wishes to his fellow Catalan on Twitter.
"I am surprised knowing his philosophy of the game and what he said recently about England. He has six months to prepare himself to the customs of German football and to know how to apply the tiki-taka of Barca to Bayern."
Guardiola's former
Barcelona
team-mate
Sonny Anderson
sees a possible culture shock for Pep.
"

I speak to former Bayern coach Louis van Gaal and he always says it is a very professional club, a well-run club, with the same kind of philosophy as Barcelona. So they will understand what Pep will be trying to do.

"
Ajax
coach
Frank de Boer
played alongside Guardiola at
Barcelona
under Van Gaal and told the
BBC
he sees similarities between the two FCBs.
"

It's an interesting choice, a real sporting decision. He looked at all the aspects, the sporting and the politic ones. Bayern is an extremly stable club. It is reassuring to see that the club has been governed by the same people for 20 or 30 years.

"
Former
France
and
Bayern
defender
Bixente Lizarazu
backs Pep's Munich move.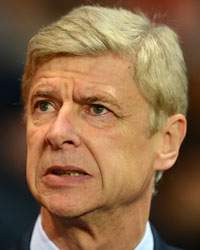 "I think it is a smart move from Guardiola. Not many clubs have the stability and structure of Bayern. They are the Manchester United of Germany."
Owen Hargreaves
played for
Manchester United
and
Bayern Munich
, so he should know...


"For Germany it's a luxury to have Guardiola. Bayern is a club that demands a lot but also take good care of their players and coaches."
Former
Barcelona
and
Real Madrid
midfielder
Bernd Schuster
is proud to see Pep in his homeland.
"The match against Bayern will be even harder as they have two coaches now."
Arsenal
boss
Arsene Wenger
(pictured, right) just loves facing Guardiola in the Champions League.