Germany
coach
Joachim Low
has hailed the progress of Bundesliga youth academies in recent years, but insists management must not become complacent as they look to create a perpetual stream of qualified talents.
Speaking to youngsters at the Freiburg youth academy, Low and several others, including current SC defender Johannes Flum, addressed the theme: 'Talent without end - how important are youth training centres for the recovery of German football?'
"We have much more talent than some years ago," Low said according to the official Freiburg website. "The excellent work done by the clubs in the training centres have paid off. The young players are trained a lot better.
"We have world-class players in Germany once again. But we do not have talent without end. I have problems at one position or another, even if my standards are probably pretty high."
Specifically, Low praised the improvement in technique among academy graduates, and cited skill as a key factor in the modern game.
"We clearly have better training in technical aspects. But the space on the pitch has become smaller, the time to act scarce. Individual skill is therefore the most important factor in training, more important than the system.
The trainer then elaborated on the value of each player's proficiency.
"We need to make the simple into the very special: the passing game, the timing, the pressing and trapping, the game without the ball, how we deal with one-on-one situations, how we quickly find solutions in small spaces.
"But if you want to win titles at the highest level, other important factors play a role."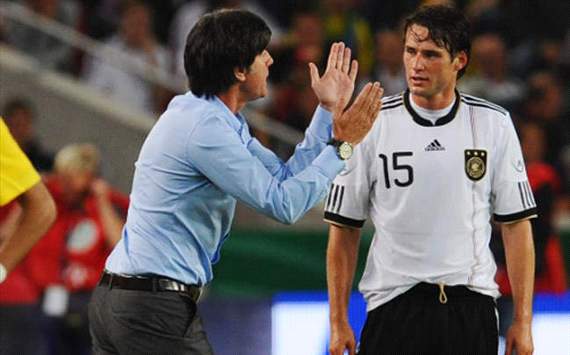 Slow & steady | Germany's best-ever Euro qualifying record comes in Low's fifth year as coach
The national team coach urged academy members to continue to strive for the very top, and emphasised mentality as a critical component towards their ascent to the elite stage.
"You must get better in all areas. We have made great progress, but we must not be complacent. The cognitive development of the players is enormously important, as well as social competence and character values such as discipline and team-work.
"Cognitive development is extremely important. The development of the mind, I think, is now more important than ever. Intelligent players are receptive and capable of implementation.
"A Mesut Ozil, a Mario Gotze, a Mats Hummels, a Holger Badstuber, and so on - they are very mature even in their younger years. A couple years ago I had a different picture."
Low joined the German national team set-up in 2004 as then-trainer Jurgen Klinsmann's assistant. He took the helm as head coach following the DFB team's third-placed finish at the 2006 World Cup, and has since led his side to second and third-place at Euro 2008 and the 2010 World Cup, respectively.
Low's Germany recently became the first team to qualify for Euro 2012, and ended their campaign with a perfect 10 wins from as many games.