Speaking to Goal.com, Hans Gehrlein offered his views on the Germany No. 1's signing. Though he initially questioned the move, he - like many fans - has come to accept the newcomer
EXCLUSIVE
By Clark Whitney & Maximilian Bensinger
When Manuel Neuer completed his move from Schalke last month, Bayern Munich fans celebrated with restrained joy. Ideally, for many, FCB academy graduate Thomas Kraft would have come of age in the spring, becoming the long-awaited successor to Oliver Kahn. He did not, and the Bayern board made a sensational swoop for Neuer, a Gelsenkirchen native and 20-year veteran of the Schalke system.
There was a buzz in the Munich media when Bayern resumed training last week, as Neuer underwent his first session. The player's reaction was positive, and in an interview, he even suggested that he might end his career there. Though there were massive protests against him earlier in the calendar year, the vast majority of fans warmed up to the newcomer, welcoming him as one of their own.
Even so, a small faction of protesters remained defiant, and jeered Neuer during Bayern's first pre-season friendly last Wednesday. But they represent a very, very small portion of the German record champions' fan base, and following an official statement from the club, are now
"persona non grata.
"


"You may catch as many balls as you like, but we will never accept you in this shirt"



- Anti-Neuer banner

Needless to say, in terms of public relations, the signing of Neuer was a very tricky situation for Bayern. To discuss the outlook of local fans on Neuer's signing,
Goal.com
caught up with Hans Gehrlein, president of "Die 13 Hoslwanger", a Bayern fan club that boasts 3500 members.
"I was a little surprised," Gehrlein said in response to the decision to sign the Germany international. "After all, at Schalke, Manuel Neuer was so deeply rooted.
"But in sporting terms, it was the best solution. He is the best German goalkeeper, a great goalkeeper. In sporting terms, there is no argument. I can understand the club's perspective."
After further reflection, Gehrlein opined that instead of casting doubt over the extent of his commitment to Bayern, Neuer's previous devotion to Schalke may actually help him take root in Munich following his five-year contract.
"If a player knows how it feels to be a fan, to experience these feelings himself and can be this way towards a club, what more could we ask?"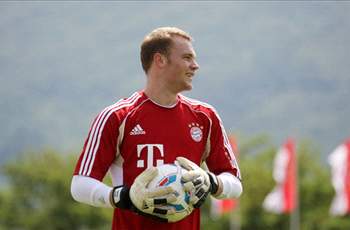 Neuer in his first training session
Indeed, while the sceptics may doubt Neuer's ability to put Schalke behind him, the very fact that the player actively sought a move to Bayern and penned a contract more than suggests that he is ready to give his best efforts to the club.
Nonetheless, all but a handful of supporters have come around to support Neuer, who Gehrlein sees as "A great guy."
"I like Manu. He has handled things very well during these difficult times," the fan club president added.
And, as viewers could see in Saturday's friendly match with Qatar, the fan opinion has changed from majority to unanimous in Neuer's support. Following the club's adamant condemnation of those against him, there were no derogatory banners in the crowd as Bayern earned a 4-2 victory. At last, the commitment of the fans fully reflects that of the player himself.
Follow Clark Whitney on


Follow Goal.com on