Goal.com's Stefan Coerts rounds up how the Bundesliga's most promising youngsters performed during the last seven days…
David Alaba (24-06-92 - Hoffenheim)
- Alaba was the absolute star of the show in Hoffenheim's scoreless draw against Hamburg, but was unable to help his side to the three points.
Sebastian Rudy (28-02-90 - Hoffenheim)
- The energetic midfielder always worked hard and made a few good runs. Nevertheless, he did lose possession too easily on several occasions.
Boris Vukcevic (16-03-90 - Hoffenheim)
- Played only 15 minutes before being withdrawn again.

Kyriakos Papadopoulos (23-02-92 - Schalke) -
The versatile youngster put in a strong performance in the 2-0 win over St Pauli and made some important interceptions.
Joel Matip (08-08-91 - Schalke)
- Got only 15 minutes of playing time.
Julian Draxler (20-09-93 - Schalke)
- Draxler scored his first ever Bundesliga goal to help the Koenigsblauen to the full three points against St Pauli.
Konstantin Rausch (15-03-90 - Hannover)
- The young winger did not have the best of games against Borussia Dortmund and was taken off after the interval.
Lars Bender (27-04-89 - Bayer Leverkusen)
- Came off the bench with 20 more minutes to go against Kaiserslautern and saw Leverkusen score the winner during his time on the pitch.
Stefan Reinartz (01-01-89 - Bayer Leverkusen)
- Reinartz put in a solid performance at the back and was never really troubled by the Kaiserslautern forwards. Strong game from the versatile youngster.
Heung Min Son (08-07-92 - Hamburg) -
The young attacker had a very disappointing game against Hoffenheim and was deservedly hooked at the hour mark.
Ilkay Guendogan (24-10-90 - Nuernberg)
- Guendogan was perhaps his side's best attacking player, but was unable to help Nuernberg to a good result in Koeln.
Mehmet Ekici
(25-03-90 - Nuernberg)
- The creative midfielder showed glimpses of class, but won't be too satisfied with his overall performance.
Julian Schieber (13-02-89 - Nuernberg)
- Did not play.
Shinji Kagawa (17-03-89 - Borussia Dortmund)
- Did not play.
Mario Goetze (03-06-92 - Borussia Dortmund)
- Goetze put in a man of the match performance to help Dortmund to a 4-1 win over Hannover. Scored a superb goal to level the score and set up another.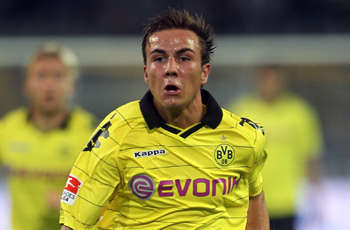 Sven Bender (27-04-89 - Borussia Dortmund)
- The Germany international showed some good passing and provided his back-four with excellent cover. Encouraging performance from Bender.
Simon Kjaer (26-03-89 - Wolfsburg)
- Kjaer hardly set a foot wrong against Eintracht Frankfurt and always looked comfortable at the ball. Made Gekas practically invisible.
Patrick Herrmann (12-02-91 - Borussia Moenchengladbach)
- The winger had a decent game and looked good on the ball although unfortunately this was limited due to Bayern being in control of the majority of possession.
Marco Reus (31-05-89 - Borussia Moenchengladbach)
- The highly-rated youngster looked lively when on the ball and created several half-chances for his team-mates. Would have hoped to have seen more of the ball.
Sebastian Jung (22-07-90 - Eintracht Frankfurt)
- The full-back was hardly troubled in his defensive duties against Wolfsburg and made a number of good runs forward.
Oliver Baumann (02-06-90 - Freiburg)
- Baumann had a pretty average game against Mainz as he wasn't too busy. Couldn't do anything about the Mainz goal.
Jan Moravek (01-11-89 - Kaiserslautern) -
Did not play.
Daniel Didavi (21-02-90 - Stuttgart)
- Did not play.


Timo Gebhart (12-04-89 - Stuttgart)
- Did not play.
Thomas Mueller (13-09-89 - Bayern Munich)
- Average game for the World Cup 2010 Golden Boot winner who did not see as much of the ball as he would have liked. A few nice touches here and there but failed to provide the trickery that is accustomed to his game.
Toni Kroos (04-01-90 - Bayern Munich)
- The young German struggled to dictate play in the centre of the park with Gladbach working well to close down space. Improved as the game went on.
Marko Marin (13-03-89 - Werder Bremen)
- Marin always looked lively against Stuttgart, but it was just not his match as most of his individual actions were without success.
Marko Arnautovic (19-04-89 - Werder Bremen)
-Couldn't make an impact on the match during his 30 minutes on the pitch.

Florian Trinks (11-03-92 - Werder Bremen)
- Did not play.
Lewis Holtby (18-09-90 - Mainz)
- Holtby impressed with Germany under-21's during the international break and again shone in the 1-1 draw against Freiburg. Was one of the few bright lights on the pitch.
Andre Schuerrle (06-11-90 - Mainz)
- The Germany international failed to impress against Freiburg and was understandably hauled off.
Christian Clemens (04-05-91 - Koeln)
- Clemens has been struggling to find his best form in recent weeks and wasn't too impressive in the 1-0 win over Nuernberg. Taken off after the break.
Adam Matuschyk (14-02-89 - Koeln)
- Did not play.

Richard Sukuta-Pasu (24-06-90 - St Pauli)
- Did not play.
Follow Goal.com on

. Get the latest football news direct... Check out Goal.com's

page; be part of the best football fan community in the world!