Schweini's decision to remain is a major boost to both the team and the league...
Bayern Munich fans were treated to an early Christmas present last Saturday when Bastian Schweinsteiger took it upon himself to announce that he had signed a new contract at the club. The central midfielder will remain at the Allianz Arena until at least 2016 after extending his current deal by four years. Schweinsteiger had been the subject of intense transfer speculation with Europe's elite teams being linked with his signature. Real Madrid, Inter and Manchester United are just three of the clubs which were thought to be in the running for the 26-year-old whose form over the past 18 months has placed him in the upper echelons of performers in the game.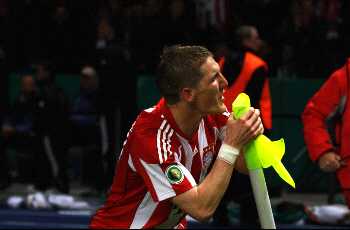 "I have extended my contract and will stay at FC Bayern until 2016. Long live Bayern!"
Schweinsteiger's decision to extend his contract is evidence of the player's long-term faith in the club's ability to compete at the top level of European football. He is ranked among the best in his position in Europe and would, arguably, walk into any club side, Barcelona aside, on the continent. Instead of regarding the Bundesliga as a stepping stone league in which to ply his domestic trade Schweinsteiger has confirmed that he is content to spend the peak of his career there. Whereas Michael Ballack, in a similar position at Bayern in 2006, decided to depart Germany for the riches on offer at England, Schweinsteiger will remain in his homeland. And he is not staying for the money; he has ambition to match the club's.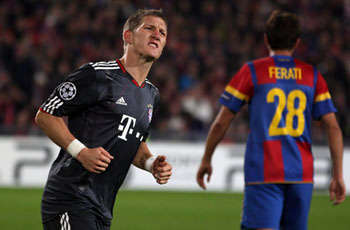 "I've said often enough that I want to win the Champions League. But the question for me is this: is that better with Real Madrid, Inter, some other club - or with Bayern Munich? I think I've answered that question clearly and unmistakably. We can achieve a lot here."
The 84-times capped international joins Thomas Mueller, Holger Badstuber, Philipp Lahm and Franck Ribery in pledging his long-term future to the Bavarians; Bayern may not be splashing a lot of cash around at the moment in the transfer market but they are making significant moves to ensure their squad remains stocked with some of the best talent in the world.
The full-back and replacement captain, Lahm, stated in the wake of 'Schweini's renewal: "Bastian and I both have come through the ranks at the club, which makes me even more pleased. Now, with Holger [Badstuber] and Thomas [Mueller], we have two further homegrown players, who are tied to the club for years to come. That Bayern Munich can keep such players ... we have big plans."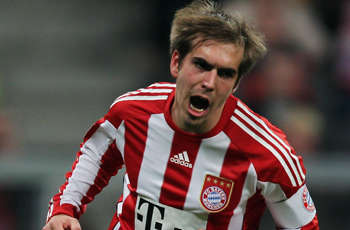 To an extent, this is evidence of the 'Barca-fication' ongoing at the Allianz; a marriage between several homegrown talents sewn into the very fabric of the club and some of the best and most suitable 'store-bought' talent available.
It is a long-term project and, at the helm of the playing side of things, they have a long term trainer. Of Schweinsteiger's decision to sign on, Van Gaal said: "I am a coach with long-term goals. Therefore, the signature of Bastian Schweinsteiger was most important. It is a very good sign that this world class player will stay with Bayern."
Bayern have tied half of their favoured starting XI to contracts which stretch well into the decade. By doing so, they lay the yardstick by which their Bundesliga peers must now be measured. The German top flight, with Bayern, Werder Bremen and Hamburg competing well in European competition last season, is rapidly recovering some of its previous lustre and can genuinely be seen as one of the continent's foremost leagues. Bayern have convinced their top earners to stay put in the Bundesliga and with good reason too.
It is a feather in the cap of Uli Hoeness too, the Bayern manager. He has long since been trying to convince the football world at large about Bayern's potential. Their league form may be inconsistent but they have legitimate claims to be, once again, one of Europe's super-heavyweights.
Praising his club and his player's perceived loyalty, Hoeness said on Saturday: "I am very pleased with this contract extension. It shows our considerable financial muscle. He is a player, who does not succumb to the first attempts of others to prise him away."
Ominously for FC Hollywood's Bundesliga rivals, he is not the only one.
Follow me on

.