This week's Bundesliga debate investigates whether surprise leaders Dortmund have enough squad depth to win the Bundesliga.
This year, Borussia Dortmund have taken the Bundesliga by storm. After a disappointing opening day loss, der BvB have won seven consecutive matches and shot to the top of the league table.
This is not the first time an unexpected team emerged as Bundesliga leaders: in recent years, Bayer Leverkusen, Hertha Berlin and Hoffenheim have all performed well in the fall campaign before ultimately failing to win the title. Though they all had a specific problem, injuries and suspensions played a major role in ending each side's bid for glory; they were all found to be a bit lacking in depth.
Already, Dortmund have had their share of injury woes: throughout most of their rise to the top, they have had to do without skipper Sebastian Kehl, as well as full-backs Patrick Owomoyela and Dede, and playmakers Mohamed Zidan and Tamas Hajnal. Whether their run will continue through May remains a hot topic of discussion.
In honour of Dortmund's ascent to the top of the Bundesliga for the first time in over 3,000 days, this week's Bundesliga debate prompt is:
Do Dortmund have enough depth to win the Bundesliga?
Affirmative
by Gary Niblock
Juergen Klopp and Michael Zorc have assembled a formidable squad, which may lack the superstars on show at the Allianz Arena or the VW-Arena but is perhaps the most balanced squad in the league.
The so far ever-present centre-back pairing of Neven Subotic and Mats Hummels have been responsible for the league's most miserly backline, which has been breached a mere six times in eight games. What they lack in outright years, they make up for in class and they are ably deputised by Felipe Santana. Either side there are the likes of Patrick Owomoyela and Dede with a wealth of experience, not to mention Lukas Piszczek, who can cover both full-back and wing positions.
Sebastian Kehl, a medium-term injury casualty in the heart of midfield has been seamlessly replaced in recent games by the industrious yet composed Sven Bender. Perhaps the greatest fear of the 22,000 fans who line the terraces of the Suedtribune is a long-term injury to Nuri Sahin, who this season has out-Schweinied the seemingly peerless Bastian Schweinsteiger. In such a scenario, Antonio Da Silva and Tamas Hajnal would be asked to operate in a deeper role than they are traditionally accustomed to.
In attack, there is no question of Dortmund having a triumvirate of strikers to match Amoroso, Jan Koller and Ewerthon but in Lucas Barrios they have a goal machine. 23 goals in 41 league games have come thanks to superb predatory skills and his almost frightening aerial ability. However, in Robert Lewandowski, they are able to carry a threat on the counter-attack with the Pole's pace, which was instrumental in penning back Bayern in Dortmund's 2-0 win a few weeks ago and Mohamed Zidan is still to return.
We then arrive at the jewel in Dortmund's crown in terms of depth, the attacking midfield slots, which is appropriate given the increased importance of the midfield in contemporary football. Mario Goetze, Kevin Grosskreutz and European football's biggest revelation Shinji Kagawa are tearing up defences and they are complemented by the directness and consistency of Kuba, a real unsung hero down the right flank.
Of course, possessing a plethora of talented and competent footballers means little if they cannot be harnessed in the most effective manner. Klopp has readily admitted his penchant for rotation, taking a pragmatic and modern view to squad management, as Dortmund fight on three fronts. He is well aware of the demands both the fixture schedule and his high-energy tactics place on the players and has already shuffled his pack without tinkering with the core of the side. Ominously, when one player has an off day, another readily steps up to the plate.
In Dede and Kehl they have two players who were around when Dortmund last won the Bundesliga eight years ago. The duo, with over 500 Dortmund league appearances between them (including 43 in Dortmund's title-winning season 2001-02), have yellow and black blood flowing through their veins. They know exactly what is required to last the distance, especially in a tense title race, as does Da Silva who triumphed with VfB Stuttgart in 2007. Dede recently said that he wants to write a new chapter in his Dortmund career. With such an array of talent around him, it may well be the most joyous of all.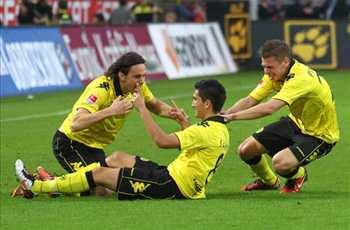 Negative
by Clark Whitney
Before I begin, I'll qualify my position. It would be a real stretch to claim that Dortmund don't have enough depth in any of the midfield or full-back positions. To be found too thin, BvB will need bitter injury blows in key areas of the pitch. However, as Murphy's Law states, anything that can happen will happen. Title-contending teams must be prepared for the worst, and at the moment, Dortmund are not.
Let's first look at central defence. As starters, Mats Hummels and Neven Subotic are as good a pairing as any in the Bundesliga. Their backup, however, is rather thin. Felipe Santana is a fairly reliable choice, but after him, Dortmund have 19-year-olds Lasse Sobeich and Marc Hornschuh, neither of whom has been capped in the Bundesliga. Should there be injuries or suspensions to any two of Hummels, Subotic and Santana, Dortmund could have some serious problems: there have to be questions of whether either Sobeich or Hornschuh is ready to play in the first tier, especially for a title-contending team.
The next position of concern is that of goalkeeper. Roman Weidenfeller is one of the most underrated goalkeepers in Germany, as demonstrated in his heroic performance in last week's victory over Koeln. Critically, he hasn't played a full 34-game season since 2006-07. In recent years, Weidenfeller has had an experienced option, Marc Ziegler, as his back-up. His deputy left for Stuttgart in the summer, however, leaving BvB with 22-year old Mitchell Langerak, and 20-year old Johannes Focher as reserves. Langerak is tipped to be the primary backup, but having only played 21 matches for Melbourne Victory in the Australian A-League, he doesn't exactly inspire a world of confidence.
Finally, and perhaps most vitally, Dortmund are thin in the striker position. True, Robert Lewandowski, Mohamed Zidan and Kevin Grosskreutz are all natural forwards. However, none of the above can expect to match the contribution of Lucas Barrios, who has been a revelation since signing from Colo Colo in 2009. The Paraguayan striker is simply unplayable in the air, and thrives as the focal point of Juergen Klopp's 4-2-3-1 formation. Of Barrios' potential replacements, only Lewandowski has performed in a consistent goalscorer in a one-striker system, and he has yet to prove himself in the Bundesliga. Dortmund must beat all their lesser opponents if they are to win the title, and the only way to win is to score goals. While Barrios is ideal for the job of primary goal scorer and has already netted nine goals in 13 appearances this season, none of his deputies can be expected to produce a similar output.
Dortmund have an outstanding first-choice line-up, and sufficient reserves in most positions. However, with just the right kind of misfortune, the Ruhr side could be revealed as lacking in depth. In yesteryear, it may not have been a problem. However, in the title race, even slight frailties are always exposed. Dortmund could yet do with a few improvements, a reality that just might cost them the title.