Friday
(all times local)
20:30 - Hoffenheim - Schalke
Saturday
15:30 - Borussia Dortmund - Wolfsburg
15:30 - Borussia Moenchengladbach - Eintracht Frankfurt
15:30 - Hamburg - Nuernberg
15:30 - Hannover - Bayer Leverkusen
15:30 - Freiburg - Stuttgart
18:30 - Bayern Munich - Werder Bremen

Sunday
15:30 - Mainz - Kaiserslautern
17:30 - Koeln - St Pauli
Hoffenheim - Schalke
Table-leading Hoffenheim look to continue their impressive streak to begin the campaign, but face perhaps their toughest challenge yet this weekend. The Sinsheim outfit face a hungry Schalke side who are desperate for a positive result in any capacity. As he prepares for this evening's clash, Ralf Rangnick will have to exclude injured pair Matthias Jaissle and Chinedu Obasi from his plans.
Schalke will hope to avoid a third consecutive loss to start the season, and will have their backs against the wall tonight. On the road, and facing possibly the hottest team in the Bundesliga at the moment, the Gelsenkirchen side will need a massive turnaround in quality in order to take points. Tim Hoogland, Christian Pander and Levan Kenia have all been ruled out, while Atsuto Uchida and Jefferson Farfan are doubtful.
Borussia Moenchengladbach - Eintracht Frankfurt
Following an emphatic 6-3 win away to Leverkusen, Moenchengladbach will look to continue their impressive start with a victory over currently winless Frankfurt. Roman Neustaedter is expected to replace Thorben Marx in midfield, while matchday two hero Patrick Herrmann will earn a starting berth on the right of midfield. Dorda, Igor Camargo, Karim Matmour and Bernhard Janeczek have been ruled out of contention for Saturday's match.
Still in search of their first point of the season, Eintracht Frankfurt face a difficult trip to Moenchengladbach. Depending on his fitness, Chris may replace Marco Russ in central defence, and several other changes may be made as coach Michael Skibbe continues to work on finding a winning combination. While Skibbe's line-up is still far from certain, definite absentees include injured trio Sebastian Rode, Ioannis Amantidis and Aleksandar Vasoski.
Borussia Dortmund - Wolfsburg
Dortmund rebounded from a disappointing opening day showing with a comfortable 3-1 victory away to Stuttgart in round two. Having lost their home opener, the Ruhr side will be keen to improve for their fans, but will have to do so against a talented and wounded Wolfsburg side. Dede, Kuba and Mohamed Zidan are unavailable for selection, leaving coach Juergen Klopp with a number of difficult decisions to make regarding his starting line-up.
Steve McClaren's introduction to the Bundesliga has been something of a rude awakening: the Wolfsburg coach has watched his talented team perform well in spurts, but ultimately fail to take a single point in two games. Arne Friedrich remains a definite absentee, but the English coach also has two serious question marks over the fitness of playmaker Diego and right back Sascha Riether.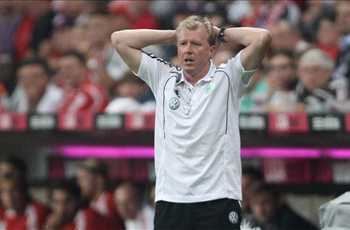 McClaren | Looking for points on the board
Hamburg - Nuernberg
A 3-1 win over Frankfurt kept Hamburg's perfect record alive in round two, and the northern side may well go top of the table should they beat Nuernberg at home. Armin Veh will have to do without injured trio Hueng-Min Son, Romeo Castelen and Miroslav Stepanek, but will have his entire first team available.
After drawing with Moenchengladbach on their opening day, Nuernberg slumped to a 2-1 loss against a Freiburg side that are expected to rival the Bavarians in the relegation battle. Nuernberg are now desperate for points, and will hope to put their troubles behind them with a positive result against Hamburg. Coach Dieter Hecking has nearly a full squad on hand, with only Rubin Rafael Okotie missing out due to a lack of fitness.
Hannover - Bayer Leverkusen
Despite losing playmaker Carlitos to a cruciate ligament injury early in round one, Hannover have enjoyed a marvellous start to their 2010-11 campaign. Having won both of their games, their most recent a 2-1 triumph over Schalke, Mirko Slomka's side appear more than capable of avoiding the relegation zone. Slomka, who is no stranger to long injury lists, will have to do without not only Carlitos, but rehabilitating trio Leon Andreasen, Altin Lala and Mario Eggimann.
The early season has been a mixed bag for Leverkusen, who have triumphed magnificently away to Dortmund and slumped dismally at home against Moenchengladbach. Patrick Helmes is back in contention for a role in the team, but will likely start on the bench alongside Michael Ballack. The pair could make appearances as substitutes, while Simon Rolfes remains not quite fit enough to play, and Tranquillo Barnetta will miss out with an infection.
Freiburg - Stuttgart
Freiburg were outplayed for most of their recent match against Nuernberg, but managed to scrape by with a 2-1 victory. Following the international break, the side once hailed for their attractive style of play will hope to edge further from the relegation zone as they face Stuttgart. Robin Dutt will have to make plans excluding Johannes Flum, Oemer Toprak and Tommy Bechmann.
Having lost both of their two games and accumulated a -4 goal difference, Stuttgart have suffered the worst start of any team in the Bundesliga. With a veritable mountain to climb in order to replicate their results from recent seasons, the Swabians are set for a real struggle. Skipper Matthieu Delpierre remains unavailable, as are Stefano Celozzi, Philipp Degen and Johan Audel. There are also question marks over whether Timo Gebhart and Ciprian Marica will be selected as starters.
Bayern Munich - Werder Bremen
Their 2-0 loss to Kaiserslautern two weeks ago underlined just how short of match sharpness Bayern were in the early season. Following the international break, however, several important squad members will be sharper, and looking forward to reaching their top form. Toni Kroos is likely to start in the playmaker's role, leaving Ivica Olic to compete with Miroslav Klose for a berth in attack. Fit-again defender Breno could make an appearance, although Arjen Robben will definitely miss the match with thigh muscle tears.
After being humiliated in their Bundesliga opener, Bremen rebounded with a comprehensive 4-2 victory over Koeln. New signing Wesley will likely make his debut, but Thomas Schaaf has major injury concerns: striker Claudio Pizarro and central defensive pairing Naldo and Per Mertesacker are all suffering from injuries and will be unable to feature. In addition to Wesley, Mikael Silvestre will make his debut as partner to central defender Sebastian Proedl.
Mainz - Kaiserslautern
Mainz's clash with Kaiserslautern marks not only the resumption of the Rhineland derby, but also a competition for first place in the Bundesliga. Currently level on points with their guests, Mainz will hope to keep their momentum going. Goalkeeper Heinz Mueller remains sidelined as he undergoes rehabilitation and Jan Simak will also miss out on the match.
Like their opponents, Kaiserslautern are unlikely Bundesliga leaders at this point in the season, having most recently triumphed over Bayern with a 2-0 victory. As they try to maintain a perfect record the promoted side have no injuries, but joint-Bundesliga top scorer Ivo Ilicevic will have to miss the match as he serves a one-match suspension.
Koeln - St Pauli
Along with Stuttgart, Koeln are without a point and on a -4 goal difference after two matches. On the plus side, Pedro Geromel will return for the struggling side. However, Youssef Mohamad remains sidelined due to suspension, and unfit pair Adil Chihi and Christopher Schorch will also miss the match.
Projected relegation battlers St Pauli fought to the bitter end against Hoffenheim in their second match of the season, but were ultimately undone in the closing minutes. As they attempt to pull further towards safety, the Hamburg side will still have to manage without the services of Gerald Asamoah and Davidson Drobo-Ampem.