After a disappointing weekend the Japanese platoon in Europe bounced back with a number of Samurai Blue players making the headlines, particularly in Spain and the Netherlands.
The prize for the most impressive performance of the week goes to
Yuto Nagatomo
of Inter, who inspired his team after two disastrous games. The full-back's dynamism against Chievo earned him the personal compliments of Inter's president Massimo Moratti.
Inter won 2-0 and kept up their title challenge, while Nagatomo was also picked as MVP over Wesley Snejder and Maicon by Gazzetta dello Sport, the rather demanding newspaper based in Milan.
In Catania,
Takayuki Morimoto
was asked to sit for yet another 90 minutes on the bench. After the game, he told the media explicitly that he is leaving Catania at the end of this season. He did not specify which club he will transfer to, even though it seems he already has made a deal.
There were more tales of benches and transfers from Russia as well, where
Keisuke Honda
was also sidelined for the entire game against Zenit. According to CSKA Moscow's manager Leonid Slutsky, the former Nagoya Grampus midfielder had an ankle injury and was judged not fit enough to play.
In the meantime, the "Liverpool saga" is back, with yet more rumours about Honda being unhappy at CSKA and ready to join the Merseyside club in the summer.
However his agent Kees Ploegsma explicitly denied the gossip, stating that "Honda was pleased to receive several offers, but after a meeting with the club, Keisuke has decided to stay in Moscow until the end of his contract." If true, this means the midfielder will remain at CSKA until the end of 2013, a scenario that most observers see as very unlikely.
Moving on to Germany, media attention in Saturday's Bundesliga focused on Felix Magath's return to Schalke and their 1-0 defeat of Wolfsburg. Right-back
Atsuto Uchida
started as usual for the home side and was again the winner of a clash between Japan internationals.
After getting the best of Yuto Nagatomo's Inter in the Champions League, he did the same to
Makoto Hasebe
, who played the full 90 minutes for Wolfsburg after sitting on the bench in the previous match.
Although Uchida pushed forward less than usual, he rarely had problems defending and showed his attacking qualities with a good long range attempt. Moreover, it was his quick throw-in which eventually led to the winning goal. Hasebe on the other hand remained anonymous throughout the game and his club are again in danger of relegation.
STAR OF THE WEEK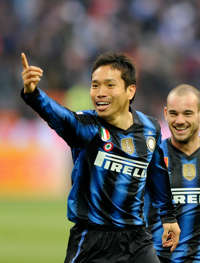 After crashing to back-to
-back defeats at the
hands of AC Milan and
Schalke in the Serie A
and Champions League
respectively, Inter
desperately needed a
boost against Chievo
and it was provided by
Yuto Nagatomo, who
turned in a man-of-the-
match display.

While forward
Kisho Yano
was left out of the squad in Freiburg's 3-2 home win against Hoffenheim,
Shinji Okazaki
started once again for Stuttgart. As left attacking midfielder, he had a good game against Kaiserslautern, with several good attempts, the best being a shot from just outside the box early in the second half.
After seven games he is yet to find the net for Stuttgart, as his team missed the chance to pull further away from the bottom-three with a 4-2 home loss.
In Sunday's game, the Bundesliga's bottom club Moenchengladbach taught visiting Koln a lesson.
Tomoaki Makino's
side were thumped 5-1, as the Japanese defender watched from the bench. The result still leaves the Geissboecke in a comfortable mid-table position.
In Belgium, Lierse SK were defeated for the first time since the beginning of February, 2-1 at home against KV Mechelen. The visitors, who finished the regular season in 7th, didn't dominate the game but were very effective in front of
Eiji Kawashima
. The Japanese goalkeeper was not at fault for either goal but Lierse slipped to last place in their play-off group.
Moving across the border and into the Netherlands,
Ryo Miyaichi
finally delivered a convincing performance after a few bleak weeks. He provided an assist in Feyenoord's 4-0 victory at Utrecht and was unlucky not to get a goal of his own, when his header hit the crossbar.
There was less good news for the other three Holland-based Japanese: after a few impressive weeks that won him a new contract,
Michihiro Yasuda
had a dreadful game and his poor defending cost Vitesse Arnhem a goal and a 1-0 defeat at the hands of ADO Den Haag.
At VVV Venlo,
Maya Yoshida
and
Robert Cullen
weren't any better. The 4-1 home defeat to NEC Nijmegen is ominous, as VVV will soon participate in a play-off group of eight from which only two teams will play top-flight football next season.
In the Greek Super League,
Daisuke Sakata
sat on the bench as Aris defeated Olympiakos Volou 2-1. There is only one game left in the regular season in Greece, with the Thessaloniki club in sixth.
In the English Championship,
Yuki Abe
came on as a substitute in the 79th minute this weekend in Leicester City's convincing 4-0 win over a strong Burnley side, another contender for a play-off place.
Abe's passing was solid and defensively he helped keep a clean sheet over a team that historically Leicester have difficulty beating.
In France's second division
Daisuke Matsui
played 89 minutes with Grenoble. The team, desperate to earn points to stay afloat, was on its way to victory but suffered an 88th minute equalizer and a disappointing 1-1 draw.
The Kyoto native played well, good offensively and relentless in defence. Matsui stated clearly after the game that he wants to be sold at the end of this season.
Finally, the spotlight fell on
Akihiro Ienaga
, who had a really good game in Mallorca's 2-2 draw with Sevilla. Being confined on the right side, he struggled a little until he slammed home a free header - his first goal in Spain.
From then on his game steadily improved and in the second half he made a couple of brilliant passes and also hit the post after some dazzling footwork. He then delighted spectators with a "sombrero" that brought a yellow card from his marker.
It was another very positive game for a young player who, once he finds consistency, seems poised to become the first Japanese to succeed in La Liga.

With contributions from Akira Araiwa (Germany and Belgium), Wout Stouters (Holland), Clément Delestrade (France and Spain), Paul Kelly (England), Nikos Filippas (Greece), and Artem Liubeznyi (Russia)
Follow Cesare Polenghi on