This week the spotlight is of course on
Yuto Nagatomo
, whose amazing season reached another landmark, as the former Cesena defender played little more than ten minutes but scored his first goal for Inter Milan.
Inter defeated Genoa 5-2, with Nagatomo scoring the fifth goal with a striker's turn and a rasping finish.
In the evening the 24-year-old full-back was a guest on a nationally football program. Asked how he coped with the love shown by Inter Milan fans, he replied in perfect Italian "Vi amo," meaning "I love you [too]."
On
Gazzetta dello Sport
online, lnter's manager Leonardo reminded the how "[Nagatomo] arrived surrounded by a lot of prejudice, but at a psychological level [as well] he went well beyond expectations."
There was less rosy news for
Takayuki Morimoto
, once again glued to the bench for the entire ninety minutes notwithstanding Catania's 3-0 defeat at Fiorentina.
In Spain,
Akihiro Ienaga
came in only in the second hal, as Mallorca was defeated at home by Valencia. The former Cerezo Osaka offensive midfielder had made headlines midweek, as his shot was tapped in by Nsue for Mallorca's precious 2-1 victory in Barcelona, against Espanyol.
Back to the weekend, in Holland the Vitesse Arnheim-VVV Venlo match saw three Japanese start in an European game. The hero of the day was
Michihiro Yasuda
, who provided an assist and was voted man of the match by
Goal.com
readers.

Maya Yoshida
and
Robert Cullen
returned home after yet another defeat, with VVV now one step closer to relegation after a rather bleak game.
On-loan Arsenal starlet
Ryo Miyaichi
has made a huge impression after a handful of games for new club Feyenoord but turned in a rather ordinary display despite playing a full game in the 1-0 win at Heerenveen.
Crossing the border into Germany and FC Koln's
Tomoaki Makino
watched from the bench as his team was defeated 1-0 on the road by Borussia Dortmund in a rather one-sided affair on Friday/
Saturday saw
Shinji Okazaki
starting for Stuttgart opposite Schalke's
Atsuto Uchida
. The first Bundesliga duel between the national team colleagues was also a direct clash between the attacking left midfielder (Okazaki) and the right-back (Uchida).
While Uchida had a poor afternoon and was replaced at halftime, Okazaki looked lively and played the full match. His best efforts came in the 79th minute when he had two shots blocked in quick succession. Stuttgart won 1-0.
Makoto Hasebe
had his fourth full game in a row for Wolfsburg, this week away to second-placed
STAR OF THE WEEK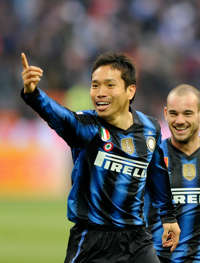 Yuto Nagatomo's goal
against Genoa could
be a huge step in the
full-back's Inter Milan
career. Leonardo
said, "Nagatomo
arrived surrounded
by a lot of prejudice
but at a
psychological level he
went well beyond
expectations."
Bayer Leverkusen. The Wolfe conceded three goals in the first half and never looked capable of a comeback.
The Japanese national team's captain skipper didn't commit any major mistakes but wasn't able to dictate play. His best spell came before the hour-mark when he shot just wide and attempted a couple of through balls shortly afterward. The defeat puts Wolfsburg just one point above the relegation zone.
Freiburg's
Kisho Yano
again saw some playing time on Sunday against crisis-club Werder Bremen when he came on 10 minutes from time. But the forward, still to score his first goal in Germany, was not able to help his team succumbing as they crashed to a 3-1 defeat.
Moving on to the French Ligue 2, where
Daisuke Matsui
played 81 minutes. His performance was positive and helped Grenoble to a 2-0 win against Nantes. The former Kyoto Sanga player was used as a winger but he also doubles-up as second striker and had a really good chance with a shot deflected by a defender.
Grenoble are now only four points away from the safety zone. They play Vannes, the team just above them, next week in a crucial game.
In the English Championship,
Yuki Abe
had a good game in which he also came close to scoring but Leicester City were facing the division leaders QPR and lost 1-0, despite a good performance. Abe did well to stifle his opponents in a very difficult away fixture.
An
Eiji Kawashima
-powered Lierse played AS Eupen but could only manage a 1-1 draw that leaves the Samurai Blue goalkeeper's club three points deep into the relegation zone in Belgium.
Finally,
Keisuke Honda
played the full 90 minutes for CSKA Moscow in their Russian Super Cup match. As a defensive midfielder, his main duty was to restart his team's attacks. He performed his duties well, but had little impact on the game, as CSKA lost 1-0 to Zenit St. Petersburg.

With contributions from Wout Stouters (Holland), Akira Araiwa (Germany), Paul Kelly (England), Clément Delestrade (France), and Artem Liubeznyi (Russia).


Follow Cesare Polenghi on