Four years since Iraq's Asian Cup title triumph, the continent's most prestigious games are once again looming on the horizon. But as Asian Cup defending champion, the Iraq team is barely as sharp and effective as last term to repeat the glory.
Having gone through suspensions by FIFA twice in the last two years, due to Iraqi government interference in football federation elections, the Iraqi team not only didn't qualify for the 2010 World Cup but has not played a competitive match since November 2009 due to FIFA suspension.
To make the matters worse, the political tensions and division have been so severe in the country that the Iraqi Federation could barely hold on to a manger; six managerial changes in the last four years have significantly slowed the progress in Iraq national team.
Now there is four months to prepare the team for Asian Cup, a task given to German coach Wolfgang Sidka, who started his reign early last month.
Despite the gloomy picture of the state of football in Iraq, Iraqi players have proved their resiliency even through the worst turmoil in their country. Thanks to their Asian Cup 2007 success, they qualified for the Confederations Cup 2009 and despite the underestimations by football analysts, the Iraq national team challenged Spain, New Zealand and South Africa.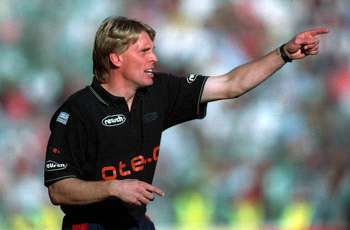 Sidka |
Has less than six months to work with his side
Then led by Bora Milutinovic, the Iraq team with its defensive organization managed to stall 2010 World Cup host, South Africa in the opening match. In the second match, Iraq displayed a competitive game to keep passing masters of Spain at bay for 55 minutes before David Villa's header rescued the eventual world champions. But in the last match, desperate for a win to qualify from the group, they came short of cracking New Zealand's defence, departing the tournament early.
The Iraqi squad is prominently shaped around what has been a winning team, consisting of stars such as Younis Mahmoud, Nashat Akram, Bassim Abbas and Ali Rehema. Iraq are no strangers to Group D opponents UAE and Iran, having played and defeated UAE on a number of occasions in the past.
Against a defensively flawed Iran team though, the Iraqi strikers will need to step up their attack to secure a win against the Asian giants, or else Iran's counter-attacks may prove to be costly for the defending champions.
On the other hand, the North Koreans have a renewed confidence following their recent qualification for the World Cup, with their players flowing into European football; they will surely expect to progress from the group stages in Qatar.
As much as Iraq would like to brag about their solid defensive structure, it will be cancelled out by North Korea's outstanding team organization; it will be Sidka and his strikers' task to find a way to break North Korea down.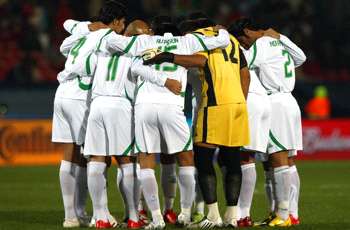 Unity |
Iraq's stars will need to band together again
The big question is: can Wolfgang Sidka be as instrumental as Jorge Vieira and lead the team to another Asian Cup trophy? Given Sidka's insignificant records during his previous club managerial reign, and given his short spell in charge of Iraq, it is very unlikely he can have much of a positive impact.
The fact is, as tight-contested as Group D will be, only two survivors will reach the knock-out stage. And from the looks of it, considering the comparatively more stable team planning by Iran, North Korea and UAE in the past few years, the Iraq team seem to be purely relying on the experience and talent of their stars to secure a spot in the knock-out stages.
As pessimistic as it sounds, getting out of the group stages at next year's Asian Cup may be the best a team in crisis can hope for.