THE RESULTS
Persema Malang 2-0 Bontang FC
PSM Makassar 1-1 Semen Padang
Persibo Bojonegoro 3-2 Persiba Bantul
Persraja Banda Aceh 1-1 Arema FC
Persija Jakarta 0-2 Persebaya Surabaya
Persijap Jepara v PSMS Medan (Postponed)



Persija Jakarta 0-2 Persebaya Surabaya
Persija Jakarta failed to take an advantage with the absence of several Persebaya Surabaya players. Former Gold Coast United striker Andrew Barisic was the hero for the Green Force by scoring two goals as their side won a clash of the weekend 2-0 against arch rival Macan Kemayoran at Sultan Agung Stadium.
PSM Makassar 1-1 Semen Padang

PSM Makassar fans will have been frustrated by their side's 1-1 draw with 10 men Semen Padang at Andi Mattalatta Stadium on Sunday. Kabau Sirah opened the score through Edward Wilson Junior on 32 minutes, but PSM equalszed two minutes later thanks to M. Rahmat's goal. An incident occurred before half-time when Semen Padang goalkeeper Jandia Eka Putra was sent-off when he handled the ball outside of the box.
Persibo Bojonegoro 3-2 Persiba Bantul
An enthralling match between Persibo Bojonegoro and Persiba Bantul at Letjend H. Soedirman Stadium resulted in five goals. The hosts had led 3-0 until the 67th minute, but the visitors pulled two goals back. However, Persibo held on to register a narrow 3-2 victory. The highlight of the game was undoubtedly a superb performance from Persibo's Iskandar, who scored two goals.
Persiraja Banda Aceh 1-1 Arema FC

Arema FC failed to grab what could have been a win against Persiraja Banda Aceh with the match ending in a 1-1 draw at Harapan Bangsa Stadium. Arema, who dominated the game from the beginning of the first half, surprisingly conceded a penalty goal from Diallo Jibril one minute before the break. In the second half, Slovakian striker Roman Chmelo turned out to be the saviour as he scored the equaliser in 56th minute.
Persema Malang 2-0 Bontang FC
An efficient performance from Persema Malang saw them run out 2-0 winners over Bontang FC at Gajayana Stadium. Things did not get of to a good start for Bontang as clinical striker Emile Mbamba scored a Persema's opening goal in the 21st minute. The entrance of Irfan Bachdim in the second half boosted Persema's attacking side, the result came on 71 minutes when Bachdim scored the second goal for Laskar Ken Arok to seal a convincing victory over Bontang FC.
Persijap Jepara v PSMS Medan
The match had been postponed until 21 March due to internal reasons.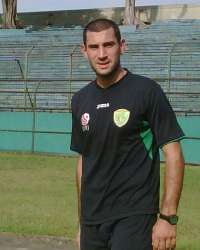 Iskandar (Persibo Bojonegoro), Striker
The young forward has impressed many pundits by his performances recently as he successfully netted five goals in the last two matches, helping the team stay in second place in the league table.
Andrew Barisic (Persebaya Surabaya), Striker
Persebaya's No. 27 ended his goal drought after scoring two goals in a match against Persija Jakarta on Monday and sent his team to win their first first away game this season.
Irfan Bachdim (Persema Malang), Striker
The Dutch-born striker made a good comeback by scoring a vital goal for Persema when he came on as a substitute after being sanctioned by his coach Slave Radovski due to his indiscipline.