COMMENT
By Daniel Edwards in Buenos Aires
One of Pep Guardiola's favourite football anecdotes involves the uniquely eccentric Argentine coach Marcelo Bielsa. According to the former Barcelona man, now at European champions Bayern Munich, before beginning his life as a trainer he was invited to El Loco's home in Rosario for what was probably advertised as a quick chat.
Eleven hours later and after sampling the best of Argentine beef at a barbecue organised by the football philosopher who is never short of words, Guardiola emerged a changed man. Pep once declared that Bielsa was "the best coach on the planet", and the influence of El Loco was seen throughout his time at Barcelona as he imposed a high-tempo, high-pressing possession game that vanquished all-comers.
So prepare yourselves, Barca faithful: your new coach is another disciple straight from the church of Bielsa.
Gerardo Martino was a stalwart of the ex-Athletic coach's Newell's Old Boys team during the most successful period in their history. The cultured midfielder lifted two Argentine titles under his mentor in the early 1990s, and also suffered the agony of a Copa Libertadores final defeat on penalties. That experience left an indelible mark when 'El Tata' decided to hang up his boots.
It would be grossly unfair to judge Martino on the Paraguay team under his tutelage during the 2010 World Cup and the following year's Copa America. Although devilishly difficult to beat, those sides were based on solid defence and taking few risks; largely because their best attacking outlet, Salvador Cabanas, had been tragically robbed from the team after being shot in the head months before South Africa.
The former America striker had previously netted six goals in qualifying as Paraguay secured third place, losing out to Bielsa's Chile only on virtue of goal difference. That side secured historic home victories over both Argentina and Brazil, establishing Martino as a hero with the Guarani.
Watching the Albirroja with Cabanas at his best, and Newell's Old Boys in the last year and a half, reveals the true essence of this humble, softly-spoken student of the game. Martino is an avid believer of that old cliche: the best defence is a good attack. His charges play an exhausting game of possession, marking well into the opposition half in order to immediately recover the ball.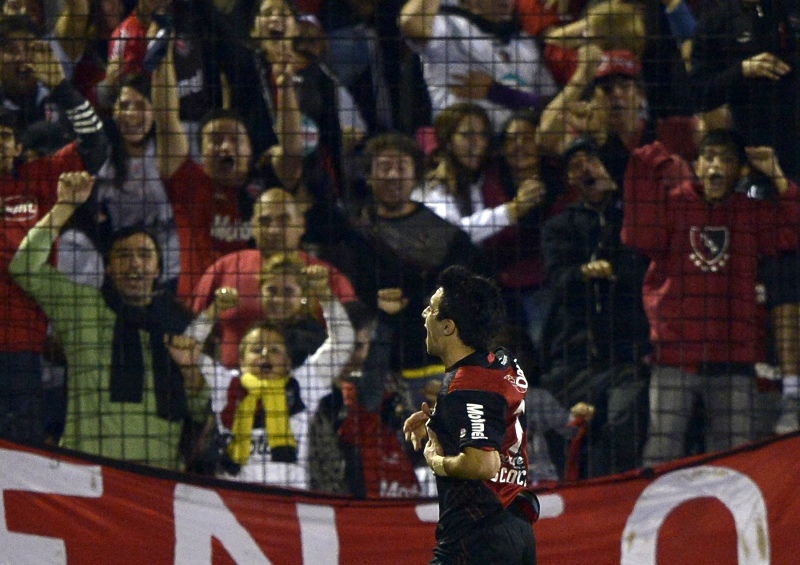 Super Nacho | New Internacional signing Scocco thrived in Newell's Barca-esque 4-3-3 set-up.
Going forward, meanwhile, Newell's utilised a 4-3-3 that could have emerged straight from Bielsa's – or indeed Guardiola's – drawing board. Ignacio Scocco, a rapid, powerful forward capable of finding goals from across the pitch, was the revelation of 2012-13 as he revelled in the centre of attack, while outside him Maxi Rodriguez provided just the right mix of physical proficiency and creative knowhow to exploit gaps in the rival backline.
Tactically, there is no doubt Martino will continue in the Barca tradition that in turn is a scaled-back form of the all-out attack adopted by Bielsa's sides. And the Argentine will also have a very useful ally in the form of countryman Lionel Messi.
Leo entered the Newell's youth system a few short years after Bielsa and Martino made themselves legends, and took his first football steps in those times of glory for the Lepra. Father Jorge has held up Martino as his favourite ever player to don the red-and-black shirt, and there is little doubt that it was on La Pulga's weighty recommendation that he was preferred over the likes of Luis Enrique and Guus Hiddink.
When Messi is fit and firing on all cylinders, Barcelona are almost unbeatable. Few people will able to motivate the 26-year-old superstar like his fellow Rosarino and family idol.
The jury will be out on Martino. Few coaches have achieved the success that he has over the last decade in South America. Three Paraguayan titles with Libertad, one with Cerro Porteno, a World Cup quarter-final and Copa America with Paraguay and this year's Final triumph back at Newell's mark him out as a man for whom winning comes as naturally as waking up in the morning.
"I coached him, although I learnt more watching him play and act as captain and team leader... a complete, admirable man"






- Bielsa praises his former charge Martino
For much of the European public, however, these achievements will mean little. This will be the first time he has grabbed the reins of a club on the other side of the Atlantic Ocean, and just like countless South American coaches before him he will be starting from scratch in the old continent. Bigger budgets, bigger prizes, bigger pressures; Martino will have to adapt, and adapt fast.
The chaotic experience of compatriot Cesar Luis Menotti, a World Cup winner with Argentina before taking over at Camp Nou, should serve as warning for Martino that succeeding in Barcelona cannot be taken for granted based on results elsewhere.
El Tata, though, is no reincarnation of the flamboyant, chain-smoking Menotti. Like Vilanova and Guardiola before him, Martino is down-to-earth and 100 per cent focused on the job at hand, generally making the headlines thanks to the virtues of his teams and not the venom of his press declarations.
This son of Bielsa, with a content Messi calling the shots on the field, has all the tools at his disposal to prove the worthy successor to Guardiola and keep Barcelona among Europe's elite.
Follow Daniel Edwards on