Former
Barcelona
coach
Gerardo Martino
has taken responsibility for the club's failure to win major honours during his one season at Camp Nou.
The Argentine, recently appointed coach of his country after leaving La Liga this summer, could only lead the Catalans to the Champions League quarter-finals and second-placed finishes in the Copa del Rey and the Primera Division.
Martino says he feels responsible for how the team fared under his tutelage but admitted that bad luck may have contributed to their failings.
"I'm completely dissatsfied with the year that has passed and I'm always thinking that I'm the man responsible," he told reporters at a press conference.
"For sure, there were justices and injustices. It's hard for me to tell which were which. But I can say, as I said when I left Barca, that I feel responsible for their really bad year.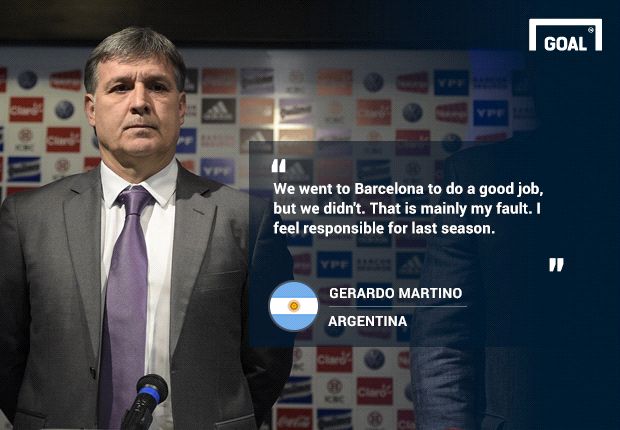 "We went to Barcelona to do a good job, but we didn't. That is mainly my fault. I feel responsible for last season."
After succeeding Alejandro Sabella in charge of the World Cup runners-up, Martino is set to link up with Barca stars Lionel Messi and Javier Mascherano and hopes to build on the relationship he forged with the pair.
"I think it's very important to have contact with the players that I will coach," he added.
"With Leo and Javier, I had contact with them during the year. The more I get to know the players, the easier my job will be.
"Leo's role here, in Barcelona, or anywhere else is the role of the best player in the world and the responsibility that brings.
"In the case of Javier, I have the feeling that his leadership has, for me, existed for some time."