By Ben Hayward | Spanish Football Writer
The summer of 2008 changed everything. Yet to convince the doubters at Barcelona and still trophyless with Spain, Xavi was weighing up his options. Many believed his flame was flickering out. Instead, it burned brighter than ever before.
Although he had been a key part of the Barca midfield which won back-to-back Liga titles and the Champions League under Frank Rijkaard, the Dutchman's final two seasons at Camp Nou had proved disappointing and Xavi was considering his next move - among them a summer switch to Bayern Munich.
For Spain, meanwhile, one disappointment after another had left the entire team under scrutiny and immense pressure ahead of Euro 2008. For Xavi, that summer seemed to be make or break, but it proved to be the start of something special.
Following failure at the 2006 World Cup, Spain boss Luis Aragones opted for a change of direction and Xavi was the man selected to pull the strings in a passing philosophy which kick-started the most successful spell in the nation's entire football history as
La Roja
claimed the title at Euro 2008.
Back at Barcelona, the midfielder faced a similar situation. Convinced by former team-mate Pep Guardiola that he was the man to orchestrate a new possession play which would change the course of football history, Xavi took up the challenge.
LIVING LEGEND
| Xavi in action for Barcelona last season
"From the first moment I saw him play, I knew he would become the brain behind Barcelona for many years to come. He plays much better than I ever did at my best," said Guardiola.
It's hard to believe, but in his early years Xavi once almost left Camp Nou because he couldn't handle the pressure of succeeding Pep, only to become the fulcrum of a side made in La Masia which won everything there was to win in four fantastic seasons between 2008 and 2012.
The veteran summed up his own playing style when he said in an interview: "I pass and I move, I help you, I look for you, I stop, I raise my head, I look and, above all, I open up the pitch. The one who has the ball is the master of the game."
He mastered it, no doubt about that. Although he appeared a fading force at times for Barcelona last season and for Spain at Brazil 2014, there is one undeniable truth: be it for club or for country, Xavi made both better when he was on the pitch.
Bothered by an Achilles injury in recent seasons, he is now not the most mobile midfielder around. But he never was. Give Xavi the ball, however, and you invariably get something better in return. He passes more than anyone else in the team, setting the tempo, the rhythm, the pulse.
"I would like to show my recognition to a fantastic player," Spain boss Vicente del Bosque said on Tuesday after the midfielder announced his international retirement. "Xavi has been key in Spain's style and in all the success we have achieved."
There is no denying that. Although he was never a great goalscorer nor a prolific provider of assists, what Xavi did was much more important. He was the man who made his teams tick - and Spain will miss that.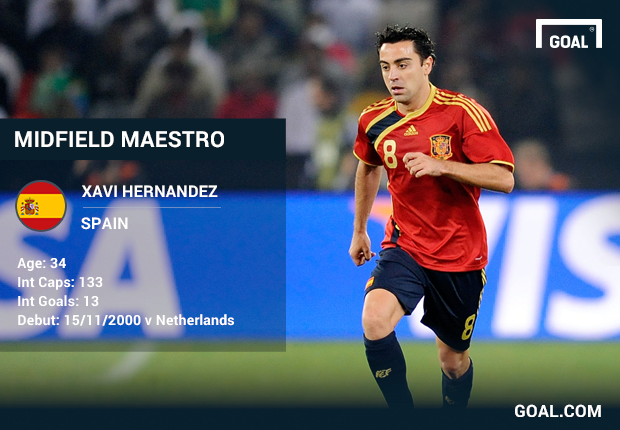 "We have lost a unique player in the national team and it will be difficult to find another one like him," Del Bosque added.
But Xavi leaves Spain after a period of spectular success, having won back-to-back European Championships in 2008 and 2012, plus the World Cup in 2010. Ultra-competitive by nature and almost omnipresent on the pitch (with 113 appearances for Spain and a record 723 first-team games for Barcelona), Xavi was almost as important off it.
"He has given us great support in the dressing room over the last six years," Del Bosque explained. "We'll miss him so much - on and off the pitch."
Xavi will now concentrate on club football after being persuaded by Barca boss Luis Enrique to stay another season at Camp Nou. But his legacy at international level will be long-lasting.
"I have decided to leave the national team - my time has come to an end," the midfielder announced on Tuesday. "It has been a marvellous time over so many years and with so many successes. I'm grateful to everyone at the Federation."
But it is Spain and Barcelona that should be grateful to Xavi, the man who defined an era for club and country in a period which will be fondly remembered by football fans across the world. Short in stature, not the fastest nor the strongest, he has proved an atypical talent in the modern game and as football's physical demands become ever greater, we may never see his like again.
Follow Ben Hayward on