Spain 2008-2012 are the most successful international football team of all time. No side has ever won successive European Championships with a World Cup sandwiched in between. Spain's star man was Xavi.
Although he didn't hit his very peak until the age of 28, for the best part of five seasons the pint-sized schemer was undoubtedly the best centre midfielder on the planet.
Perhaps no player has ever managed to dictate possession like Xavi did during this time, as Barcelona and Spain consistently monopolised 60-70 per cent of the ball. His pass success rate in games regularly reached the high nineties, including the perfect 100 per cent mark on occasion.
Incredible numbers when you consider what a creative player Xavi was. He is the only player to have ever registered assists in two separate European Championship finals. He was a genius at recognising patterns on the pitch, at seeing how the play was evolving two or three moves ahead. His decision-making was always spot on - when he had to keep the ball and play short, snappy triangles he would do so, but when there was an opening for a through ball, he would execute a killer pass with pinpoint precision.
"I would like to show my recognition to a fantastic player," Spain coach Vicente Del Bosque said after he announced his international retirement on Tuesday. "We have lost a unique player in the national team and it will be difficult to find another one like him.
"Xavi has been key in Spain's style and in all the success achieved. We'll miss him so much on and off the pitch."
Teams just couldn't get the ball off Xavi – having the midfielder in your team guaranteed territorial dominance, and during the era of tiki-taka, this ultimately led to record-breaking success for club and country. In addition to three major international honours, Xavi has also won seven Liga titles and three Champions League crowns among countless domestic and continental trophies. Very few in history can boast of such a volume of silverware or of so many masterclasses on the biggest stage - the thrashings of Manchester United at Wembley in 2011 and Italy in Kiev in 2012 being just two.
His legacy is secure and not just because of what he has won. Xavi shone in a footballing era that was hijacked by athletes – this is perhaps his most impressive achievement. Players today are - in most cases - athletes first and footballers second. Unlike the past, where teams were built around skilful stars, the desire to become faster, fitter and stronger has led to many coaches refusing to trust small playmakers like Xavi.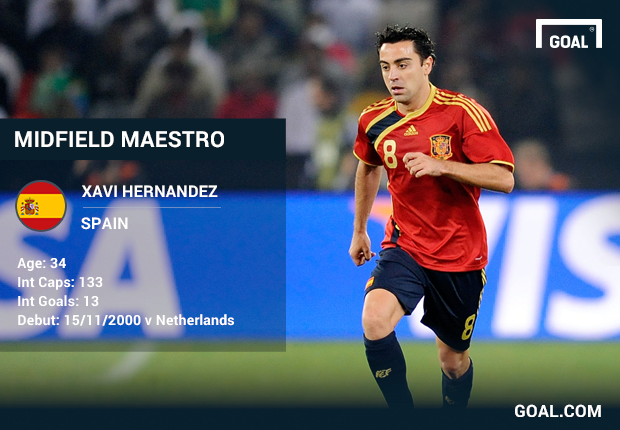 To be a good centre midfielder is to be able to run, run and run some more, like a programmed robot. How refreshing, then, that there was a player like Xavi, who, for a while, managed to halt this trend. He was part of Spain and Barcelona teams that - until they went too far with their passing philosophy and became somewhat sterile - played beautiful, technical football, Xavi combining with fellow superstars Andres Iniesta and Lionel Messi.
So where does Xavi rank among the greatest centre midfielders of all time?
In order to debate this question, it is important to define the position. A centre midfielder is not a defensive anchor man, who merely sits in front of the defence to protect the backline – such as Claude Makelele. Nor is it an attacking midfielder or trequartista – such as Zinedine Zidane.
Naturally, there is often a subtle line to be drawn between such players. For example, would you call Wolfgang Overath a centre midfielder or an attacking midfielder? Or both? There is never going to be a consensus over a player's exact position, but a centre midfielder certainly must be able to play in the centre of a straight 4-4-2, the deep positions of a 4-2-3-1 (or the old 4-2-4), or the non-attacking role of a three-man midfield (4-3-3, 5-3-2, 3-5-2, 4-5-1 etc).
A centre midfielder is a player who occupies the middle-of-the-park, and whose job it is to win, control and direct the play. Just as Xavi did throughout Spain and Barcelona's reign of dominance.
Naturally, there are many things to consider when assessing a player's career - ability, trophies, legacy, longevity and the big occasion being just a handful - and it is never easy comparing footballers from different eras.
But below is a selection of some other great centre midfielders from the past. Have your say in the comments section at the bottom of this page and let us know who you think was the best of all time in Xavi's position by voting in our poll.
Rainer Bonhof (West Germany):
Boasted one of the hardest shots in the history of the game, scoring numerous piledrivers from distance. Bonhof was a machine for club and country in the 1970s, winning trophies galore with West Germany and Borussia Monchengladbach.
Mario Coluna (Portugal):
Brilliant midfield general and captain of the great Benfica side featuring Eusebio that won two European Cups in the 1960s. He also skippered the Portugal team that reached the semi-finals of the 1966 World Cup.
Edgar Davids (Netherlands):
'The Pitbull' hunted down adversaries, tore the ball off them with crunching tackles before launching lightning attacks. He was a key member of Marcello Lippi's two successful Juventus spells and also helped Louis van Gaal's great, young Ajax side win the Champions League.
Didi (Brazil):
Voted best player at the 1958 World Cup, the ex-Fluminense, Botafogo and Real Madrid star was the inventor of the 'dry leaf' free kick, so-called because it would dip and swerve in unpredictable directions. Dominated the centre of midfield in almost every big Brazil game he played in at the World Cup.
Falcao (Brazil):
The world's best centre midfielder at the beginning of the 1980s. Samba flair mixed with a European brain, he was the lynchpin of the great Brazil side at the start of that decade. He also led Roma to a historic Scudetto.
Gerson (Brazil):
The successor to Didi, and arguably just as good. A superstar at World Cup 1970, controlling the midfield in every game and being man-of-the-match in the final victory over Italy in which he scored a screamer from outside the area.
Lothar Matthaus (Germany):
Legendary midfielder who won a record 150 caps for Germany and was at the top of European football for 20 years. A complete midfielder who was perfect both offensively and defensively, he was the star of West Germany's 1990 World Cup success.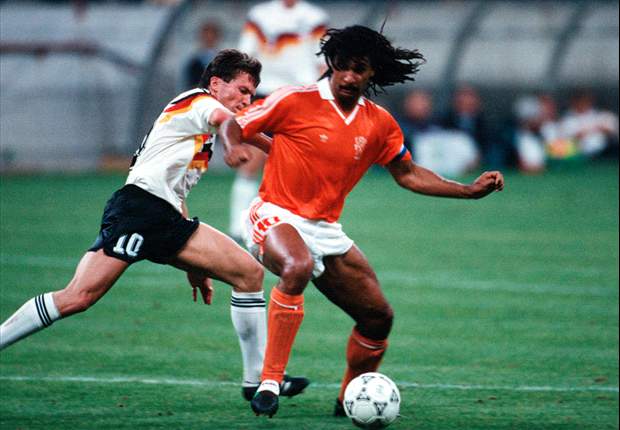 Get ready Ruud
| Matthaus prepares to launch into a tackle against Holland at Italia '90
Johan Neeskens (Netherlands):
An unsurprisingly complete midfielder of Johan Cruyff's 'Total Football' Ajax and Netherlands sides of the early 1970s. A fearsome battler with a winning mentality, he was also a constant attacking threat and scored many goals.
Wolfgang Overath (West Germany):
Was so good that the great Gunter Netzer only won 37 caps for his country. Overath was a genius on the ball, a masterful creator of chances with a beautiful left foot. The best player at World Cup 1970, he was inspirational as his country won the tournament on home soil four years later.
Andrea Pirlo (Italy):
The best centre midfielder on the planet between 2003 and 2007, Pirlo dictated games for Milan and Italy then like Xavi later did for Barcelona and Spain. He also enjoyed a late renaissance in his thirties to cap off an incredibly long career at the very top.
Frank Rijkaard (Netherlands):
Equally brilliant at centre back, Rijkaard was part of the great Van Basten–Gullit–Rijkaard trio of the late 1980s and early 90s who conquered Europe. Physically, mentally and technically, Rijkaard was the complete package.
Jean Tigana (France):
The engine of the wonderful France team that won Euro '84, Tigana was part of arguably the best international midfield Europe has ever seen along with Alain Giresse, Jean Fernandez and Michel Platini.