Goal is publishing extracts from Luca Caioli's new book, Neymar: The Making Of The World's Greatest New Number 10, which charts the Barcelona forward's spectacular rise from prodigious youngster at Santos to Brazil footballing icon.

In the below extract, Spain coach Vicente del Bosque speaks of his admiration for the 22-year-old.

I like Neymar. He is one of those players who you do not see very often. He is heir to the Brazilian footballing tradition that was starting to fade.
It is not that common nowadays to see a footballer who is able to take someone on on his own and dribble with flair and nimble footwork. He is an important player because when a team finds itself having to play against an overly defensive team, with too many players behind the ball, he can open things up and sort things out.
Not just that he runs around players and scores goals, but that he creates risky situations for the other team or gets free kicks near the area. He is ambidextrous, he is a
goleador
, always in the right place, open on the left side; he is able to get out of tricky situations on that side. I am not saying he cannot play in another position but that is his best position. Just like Messi, who started on the wings and then moved to a fake number 9 position. This is the job of the manager: all players can play in different positions, but all players have their ideal position.
Messi vs Neymar
For the time being, it is too soon to be making comparisons. Messi is extraordinary. He has been at the top of the best player tables for the last few years. Since starting at Barcelona almost 10 years ago, he has been consistent and progressive. Every year he has achieved more awards, more records and new titles.
To turn a match around you need a well organised team behind [a player like Messi or Neymar] to be the best and to release their full potential. In that sense, they are quite similar.
We will need time to get to know Neymar, to understand if he can adapt to Barcelona and whether he wants to be joint front-runner with Messi or try and make history. Messi and Cristiano Ronaldo have done it and I believe they are a good example for world football.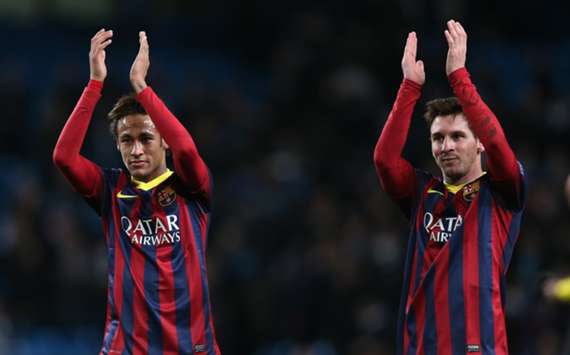 Barcelona buddies |
Neymar has not yet reached Messi's level, says Del Bosque
Ronaldo vs Neymar

Cristiano is all power, speed, left-footed and right-footed shots, headers, penalties, free kicks. He is an 'animal'.

He is less creative than Neymar and Messi and is less confident in close-quarter dribbling. He needs room to play. He does not have the repertoire of Neymar, who is lighter, but is still awe-inspiring.

At Manchester United, Ronaldo gained a huge amount of experience and, since joining Madrid, he has always played at the highest level. Neymar is a football artist and Spanish football needs players like this.

Neymar vs Messi at World Cup
Whether they like it or not, they are better the better the team is [around them]. If Brazil win, Neymar will come off stronger and Messi will be downbeaten, and if Argentina win, the opposite – even though I don't think these two players need to win the World Cup to confirm their status.
They are players who, when the rest of the team are out of ideas, get the ball and do something magical. They are special players.
Brazil or Argentina to win the World Cup?
Argentina are playing very well; they have a good chance of winning. They have international players and Messi.
The Brazilians are the favourites, however. [Because of] the setting and because they have an aggressive squad, which is compact with flashes of brilliance. From the midfield to the wings, they are very strong.
They have Dani Alves and Marcelo, who are unique. Two centre forwards who are solid and a well-equipped centre midfield ... With two 'animals' like Hulk and Fred up front and Neymar, who is the perfect counterbalance.
Luca Caioli's book, Neymar: The Making Of The World's Greatest New Number 10, is published by Icon Books and is out now.
Follow Luca Caioli on