OBITUARY
By Ben Hayward | Spanish Football Writer
At times like this, football fades into insignificance. Tito Vilanova's tragic passing at the age of just 45 puts everything else into perspective at Barcelona and beyond. The Catalan club have had their problems in recent weeks and months, but all those troubles will eventually be forgotten. Tito, however, will not be.
Gone too soon, too sudden and far too young, Tito was and will remain a symbol of bravery and heroism at Camp Nou. A man who played a pivotal part in the success of the club's greatest ever side and who led Barca to La Liga with a record 100 points while simultaneously disputing the match of his life off the pitch as he battled cancer. Sadly, it was a game he could not win.
A talented midfielder who came through the youth ranks at
La Masia
, Tito spent two years at Barcelona B but carved out a career in the lower leagues with Figueres, Lleida, Badajoz, Elche, Mallorca and Gramanet, while also featuring in the Primera during a spell at Celta Vigo in the mid-1990s.
By that time, a younger man was making his mark in Barcelona's midfield. Pep Guardiola looked up to Tito as a youngster at the Catalan club and the two developed a fantastic friendship which continued through their playing days and after that.
Vilanova returned to Barca after retirement and coached the youth teams at Camp Nou, which included the likes of Lionel Messi, Gerard Pique and Cesc Fabregas, winning two titles at national level with the
Cadete B
side. Despite that success, Tito was told he was surplus to requirements in 2003 by, of all people, Sandro Rosell, but he would be back.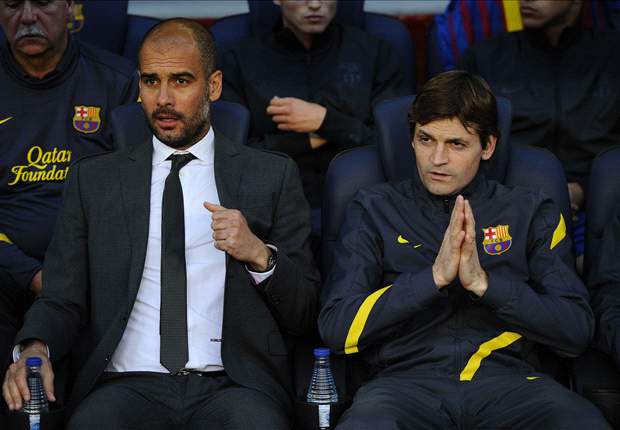 The perfect partnership | Pep and Tito made history together at Barcelona
After leaving Barca, Vilanova briefly coached Palafrugell FC in Spain's fourth division, before short spells at Figueres and then Terrassa (as a sporting director).
In 2007, he found himself back at Barcelona for a third time after a call from Guardiola. Pep had been asked to coach Barca B and wanted Tito as his assistant. The former Barca captain trusted Tito and the two men shared similar views on the game. Pep admired Vilanova's analytical mind and felt he could lean on the knowledge and expertise of his long-time friend.
It worked wonderfully. Guardiola had firm beliefs of his own, but was less sure of himself in those early days. Vilanova was his sounding board for ideas, but also offered tactical solutions of his own. A superb strategist later dubbed "the encyclopedia of football" by Andres Iniesta, Tito worked quietly behind the scenes, studying rivals and planning meticulously for forthcoming fixtures.
After a successful season at Barca B, president Joan Laporta told Guardiola he would be ideal as a replacement for the outgoing Frank Rijkaard. "You don't have the balls to do it," Pep replied.
But Laporta did and promoted Pep - along with Tito - to the first team. What followed was the most successful season in the Catalan club's history: a tremendous treble of Liga, Copa del Rey and Champions League trophies.
The
Blaugrana
then made it six out of six by adding the Spanish Supercopa, the Uefa Super Cup and the Club World Cup over the following months and the side became known as "the Barca of the six cups". A lasting legacy of both Pep and Tito and, poignantly, Vilanova's son Adria (now a youth-team player at the Catalan club) tweeted a picture of his father celebrating with that team on Sunday with the message: "I saw the Barca of the six cups. Greats!"
IN NUMBERS
Tito Vilanova at Barcelona

2
Vilanova came through the youth system at La Masia and featured for two years at Barca B: 1988-1990.
14
Tito won 14 out of a possible 19 trophies as Pep Guardiola's assistant between 2008 and 2012.
60
During his season as coach in 2012-13, Barca played 60 games (won 43, drew nine and lost eight).
100
His only trophy came in La Liga, but was won with a joint-record 100 points.
158
During Tito's tenure, Barca scored 158 times, including 60 by Lionel Messi alone. They conceded 70.
In those early years, Vilanova shunned the limelight and was happy to stay behind the more media-friendly Guardiola. But all of that changed in a Spanish Supercopa clash at Camp Nou in 2011, when Jose Mourinho poked the then assistant coach in the eye.
Tito took time out that same season (2011-12, Guardiola's final campaign in charge) as he underwent surgery to remove a tumour in his throat and was subsequently treated for cancer. But he felt sufficiently strong to replace Pep when the former Barca boss said he would leave for a sabbatical in 2012. There was, however, a word of warning from his friend. "Life has handed this kid such a hard test," Guardiola told the media. "You don't know how much he suffered. But he got over it."
Vilanova led Barca to La Liga in 2012-13 with a total of 100 points to equal the record set by Jose Mourinho's Real Madrid the previous season, but he missed two months of the campaign after suffering a relapse of his throat cancer in December 2012 and was forced to step down last summer.
It hadn't been part of the plan, but routine tests highlighted his need for rest and a more rigorous treatment of the disease. So Tito left to fight the disease away from the spotlight, although never far from the hearts of fans and everyone else at Barcelona.
In October, Barca dedicated a message of support to their former boss in a spectacular mosaic before kick-off in the
Clasico
against Real Madrid which read "Força Tito", and the Catalan coach was back at Camp Nou in January to watch his beloved team.
But his condition worsened weeks later and he was unable to attend a
Mundo Deportivo
gala in February, where he was to receive the award for best coach.
"Tito is an example to the world of sport and to the world in general," Jupp Heynckes said as he presented the prize to Barca's sporting director Andoni Zubizarreta, adding: "You're a champion of sport and in life."
It summed up Vilanova and the 45-year-old's brave fight which ultimately ended in defeat - a painful loss that makes football seem so trivial right now. Tito, a man who lived and breathed Barca, also united football fans in Spain and across the world with his valiant fight. He'll be sorely missed.
Follow
Ben

Hayward on