Barcelona
star
Xavi
insists the club's spectacular cycle of success is not showing signs of coming to an end.
The
Blaugrana
have come in for criticism from some quarters this season after struggling to hit the heights of their performance level under Pep Guardiola's tenure as head coach.
Xavi, however, insists the squad boasts an array of players who are entering the best years of their career - although he admits it is unlikely the side will ever return to the level they enjoyed under Guardiola.
"No, absolutely no. I don't think so [that the cycle is over]," he told the
Daily Mail
. "We have an excellent generation of players. Since [Johan] Cruyff changed the history and philosophy of Barcelona, over the last five years, that philosophy has gone 'boom'! It's really exploded and we have made history.
"But Barcelona can carry on winning trophies. We won't suddenly be down here [on the floor]. This is a spectacular crop of players. Look at the ages of the players: [Cesc] Fabregas, [Lionel] Messi, [Andres] Iniesta, [Dani] Alves, now Neymar, Jordi Alba and [Gerard] Pique — they are all around 26, 27, 28, 29 years old. That's a great generation of footballers.
"The period with Guardiola was unique. Under him we were 'ding, ding, ding!' Ringing the bell all the time, the football was so good. The key point is if you try to compare what we are doing now to that fantastic time under Guardiola, you are going to lose comparisons.
"That was the greatest period ever, but if you look at what Tata Martino is doing and the patterns of play, the concept and the idea of how we want to play is there."
Chelsea boss Jose Mourinho recently claimed the current Barcelona side are the worst in recent seasons, but Xavi believes the Portuguese simply does not enjoy the Camp Nou outfit's playing style.
"Mourinho has a different style. He plays in a more defensive style and I respect that. But it's to be expected that he doesn't like our football. He has never liked Barcelona's style. Not just now but even five years ago," he said.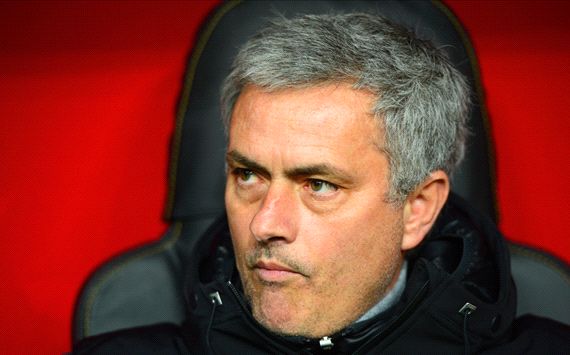 Moody Mourinho | Xavi says the coach has never liked Barca's style of play
Barcelona take a 2-0 lead into their Champions League last-16 second-leg clash with Manchester City next week and Xavi admits he was surprised at the way in which Manuel Pellegrini's side approached the first leg at the Etihad.
"We were expecting they would want to have more of the ball. The way they set up surprised us a little too. They weren't defensive but they were sitting back," said the Spain veteran.
"Pellegrini's teams want the ball and to take the game to the opposition. He normally likes to play football, open up the game down the wings and press high up the pitch. In a way, this time they did neither. They have players for a style more like Barcelona so it was a bit of a surprise.
"They have players like Yaya Toure, [Samir] Nasri and now [Jesus] Navas and [Alvaro] Negredo who are top-quality footballers who play the game the right way. And Pellegrini is a fantastic coach, with the way in which he wants to play football right from the back.
"For example, he has brought in Demichelis. He has been criticised but he can bring the ball out well from the back in order to get the team playing football. He has plenty of good footballers to play a passing game. But it's another thing when they come up against Barca as we have seven or eight players of our own who hardly ever give the ball away."
Barca were thrashed 7-0 on aggregate by Bayern Munich in last season's competition, but Xavi believes the difference in physicality between the two squads was the reason they struggled to contain the Bavarians.
"The difference between the squads isn't huge. The big thing for me was the physical gap. We didn't reach our standards but we were pushed aside. Now the gap isn't so big but the problem is when we face another team like that, they are physically superior.
"Why? Look at me! Look at Iniesta, Alba, Fabregas. It means we always have to play so much better to win these big games."
Finally, admits he would relish the chance to coach Barcelona in future, although he insists he has no plans to retire any time soon.
"I'd like to remain in football forever. It would always have to be with Barcelona. That's where my heart and feelings are. But that [coaching] is for the future. Right now, I love to play football always, always. When you're a kid playing, you enjoy having the ball, don't you? All I ever want to do is have the ball at my feet, bossing the game.
"I've been brought up with that style, it's my football education. I can't see any other way to play."