COMMENT
By Ben Hayward | Spanish Football Writer
Spain are already the best. In Recife on Sunday night, however, the best became better still in a sumptuous showing of fluid football.
It was an elite exhibition of midfield mastery which undid Uruguay and left everyone wondering if anyone will be able to live with the world and European champions at next year's summer showpiece in Brazil, let alone this Confederations Cup. And it all happened without Xabi Alonso.
Vicente del Bosque's much-maligned double pivot was abandoned in Alonso's absence, the Real Madrid midfielder recovering from surgery on a groin injury which will leave him sidelined for around two months. But instead of suffering without one of the world's finest footballers, Spain shone and it remains something of a mystery how they didn't have more to show for their dominance than just a 2-1 win courtesy of a Diego Lugano own goal and Roberto Soldado's smart finish.
There was more fluidity in the football, better link-up play and a natural balance in the team; Xavi, Andres Iniesta and Sergio Busquets already form the game's most magnificent midfield at Barcelona and on Sunday they showed they do not need Alonso. Nor, it seems, do Spain.
The roles were clear: Xavi made the Spain side tick with a masterclass of passing and recycling of possession in midfield; Iniesta skipped past players with grace and ease, orchestrating many moves with his silky skills and close control; Busquets was perfectly positioned to break up attacks, begin new ones and feed his team-mates with intelligent and dynamic distribution in tight spaces. Together at Barca, the three have been doing this since Pep Guardiola promoted Sergio to the first team in 2008. The understanding of roles is total and ahead of those three, with Cesc Fabregas dropping deeper to combine and connect, Pedro's pace offering an altogether different threat and Roberto Soldado slotting seamlessly into the side with a fine finish and some clever link-up play of his own, Alonso was not missed at all on Sunday.
SUAREZ BEATS CAVANI IN REAL REHEARSAL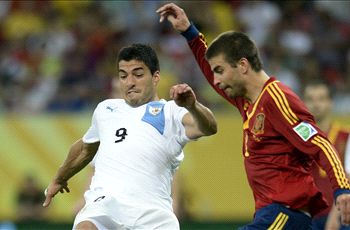 THE URUGUAYAN VIEW

Before kick-off, Uruguay's clash was billed as a chance for both Edinson Cavani and Luis Suarez to show off their talents to watchers from Real Madrid. Ultimately, though, it was the Liverpool star who left the best impression. An outstanding free kick in the dying minutes of the game served as consolation for the South Americans, and pushed Luis above his attacking partner who suffered an indifferent, frustrating match chasing shadows out wide.

In truth, there was little the Napoli star could do as the Celeste were passed off the pitch by Spain. The key defects in Oscar Tabarez's team were to be found in midfield and defence, and though three changes improved matters after the break there is a lot of work to do before Uruguay can be competitive in Brazil.

Daniel Edwards | Uruguay Expert

The double pivot plan has long been questioned, of course, despite Spain's success. During the 2010 World Cup in South Africa, it was Busquets who was singled out as
la Roja
lost their opening group game to Switzerland, but Del Bosque defended the midfielder by claiming he wished he had been a player like Sergio. And he has long defended the double pivot, too. "Our team has been based around Xabi Alonso and Busquets," he said just last week.
Indeed, Alonso alongside Busquets in a deeper role has worked well for Spain. With said system, Del Bosque's side have claimed the World Cup and the European Championship back to back, yet there has long been a feeling that the team could perhaps be better still and more dangerous in attack with an extra man further forward. And so it proved on Sunday as Spain played probably their finest football in the Del Bosque era to sweep aside Uruguay in a performance which should have brought many more than two goals instead of ending with a scoreline which does not begin to tell the story of the game.
The champions' peerless performance raises a relevant question: Do Spain need the double pivot? Del Bosque is an advocate of playing with both deep-lying midfielders because he believes it offers added stability in tight knockout games at the very highest level. And Spain's impressive defensive record in the last two tournament wins would appear to back up that thought process (Spain conceded only twice at the World Cup and the same number at the Euros). Against superior nations at the Confederations Cup such as Brazil and Italy, and again next summer, the system is likely to return. But will Xabi Alonso?
Sunday's showing suggests Spain can still look solid with only one midfielder playing deep. Alonso, although a tireless worker and a tough tackler, is not a defensive midfielder anyway and while his remarkable range of passing remains an asset to the team, the all-Barca trio of Xavi, Iniesta and Busquets seems a more natural fit without the Madrid man. And if Del Bosque does decide on a more defensive double pivot, the brilliant Javi Martinez may be a better bet than Xabi anyway, due to his superior pace and extra mobility.
Alonso (32 in November; 107 caps and 15 goals for
la Roja
) has been a fixture in this successful side over the years and will almost certainly have a part to play in Brazil next summer, yet his style seems suited more to Madrid than Spain's short passing philosophy. In his absence on Sunday, Del Bosque's side pressed persistently and impressed from start to finish. Greater tests await, but if they can match that intensity and stay solid against even stronger sides, Xabi will not be needed in a starting slot next summer.
For this team to evolve once again and become the first European side to claim a World Cup in the Americas, something special will be required from
la Roja
in 2014. A year earlier, and inadvertently due to Alonso's absence, they may just have found it. Great news for Spain, then, but a shabby scenario for the man they left behind.
Follow Ben Hayward on