By Paul Macdonald
Spain have produced an abundance of confident, creative midfielders in recent years, and the emergence of Isco as a genuine talent has proven not only that the production line in Iberia shows no signs of relenting, but that an expensive move away from Malaga seems the natural progression for the midfielder.
ISCO'S CAREER STATS

TEAM
YEAR
APPS
GLS
Valencia
2009-11
7
2
Malaga
2011-13
81
17
Lured from Valencia in 2011 to be given a key role in the burgeoning project promised under arriving Malaga owner Sheikh Abdullah Al Thani, Isco's ability to instantly secure an integral role in the side, as well as make his debut for the senior Spain squad, has singled the 21-year-old out as a prime transfer target for Manchester City, Paris Saint-Germain and Real Madrid.
Malaga, with an air of grim inevitability, are already preparing for a bidding war this summer: "If he leaves Malaga it will be to a big club and it will be to the benefit of the coffers at Malaga," said club director Francisco Aguilar. "Clubs that want him will have to meet his buy-out clause."
That clause, increased to €35 million with a shrewdly-prepared new contract in January as
City prepared to meet his former buy-out fee of half that price
, won't keep the wolves from the door.
Three clubs with more than adequate 'coffers' are PSG, Madrid and City, who head those willing to meet the valuation. Manuel Pellegrini, City's impending new manager who presided over Isco's development from Valencia graduate to Champions League competitor, would dearly love to be reunited with one of the finest representatives of his coaching sensibility.
He has already blossomed under the Chilean, the same coach that nurtured the very best from Juan Roman Riquelme, and encouraged expression from Santi Cazorla and Borja Valero to great effect.
A continued relationship could be inevitable, as Goal revealed last month
. In the vein of the finest film director and leading man partnerships, it would be an advantageous position for all parties.
THE VIEW FROM SPAIN

ANDER BILBAO, GOAL SPAIN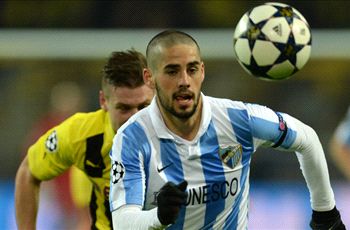 "
Isco
is currently playing at the European Under-21 Championship, so in the immediate term nothing is going to be said about his future. At the moment, the player is focused on playing with the Spanish national team and any decision will be taken after that.
"It is well known
Isco
feels very comfortable with Manuel
Pellegrini
. Moreover, the arrival of Jesus
Navas
to Manchester City could be another reason for the player to decide to go to England.
Malaga
's economic problems remain, and even if they are confident of a decision against their ban from Europe, it is an ongoing case, hastening Isco's desire to move on."
Isco is one of six key summer targets for City as they prepare to rebuild under Pellegrini, with Edinson Cavani, Thiago Alcantara and Diego Novaretti having been lined up alongside the already-secured Fernandinho and Jesus Navas
.
But Real Madrid must commence the post-Jose Mourinho era with a rebuilding process, and there is a minor clamour to have a Spaniard at the heart of their resurgence.
Juan Mata, once a product, now a Chelsea regular, inexplicably slipped through their youth set-up. David Silva was auctioned by Valencia, but City acted quicker than Madrid in securing his services. There is a feeling that Florentino Perez doesn't want another domestic target to evade his radar so easily. There is definite interest, but without a Mourinho replacement in place, Madrid remain somewhat in a state of flux.
PSG are currently en vogue when it comes to lavish expenditure,
and their interest piqued after sending scouts to watch the player in action during a 2-1 victory over Getafe in May
. Given the French club's outlay on Ezequiel Lavezzi, and latterly Lucas Moura, their penchant for attacking talent concurs completely with what Isco can offer.
A move is almost certain, with Malaga's brief foray among football's established order appearing to be over; in more ways than one, their dramatic elimination from the Champions League at the hands of Borussia Dortmund felt like the denouement for an expensively constructed team.
Expulsion from Europe next season due to financial irregularities, coupled with the increasingly erratic behaviour of Al Thani, who seems ready to abandon the project, will mean that the mass exodus which commenced last summer will head into overdrive.
Yet despite the spurious decision-making and egregious business model, the Andalusian club have secured a significant return on their investment with the new contract which was a clear and intelligent investment, rather than a commitment to any sort of long-term future at La Rosaleda from Isco.
The desire of the player is somewhat relative to his rapid rise and in contrast to his club's fall. Valencia, despite developing a talented player, were financially bound to sell when a €6m (£5m) bid arrived for a player that had featured only seven times for the first team. This has been his breakout season, under the European gaze. Given that, and the vitriolic situation at his current employer, loyalty is somewhat a passing concern. His time is now, and when the move arrives, he will almost certainly accept.
And why not; the platform (as well as remuneration) available when the bids eventually arrive will catapult him into A-list territory, launching headlong into an increasingly competitive list of diminutive creators that has become Spain's modus operandi. But among his alumni, few can claim to have had a more impressionable season than Isco.
The Golden Boy, then, in more ways than one. The award of the same name is bestowed by journalists to whom they deem to be the most promising emerging talent. Isco was the 2012 selection, joining luminaries such as Wayne Rooney, Lionel Messi, and last year's winner, Mario Gotze. Esteemed company.
But also aspirational company. The offers will inevitably arrive, and Malaga, as shown with the departures of Nacho Monreal, Jose Randon, and significantly Cazorla, aren't in the business of playing hard to get. Isco has his pick. Let battle commence.
Follow Paul Macdonald on Twitter