COMMENT

By Charlie Scott
On October 4 1987, a 19-year-old by the name of Fernando Hierro made his debut for Valladolid. Within two years of that milestone, he was part of the Real Madrid first team. In his first six seasons at the club he, or '
El Mariscal
' as he came to be known, missed just 19 league matches, and the 14 years he spent at the Santiago Bernabeu were some of the most successful in the club's history as they secured five league titles and three Champions League trophies.
It has been 25 years since Hierro made his first start in La Liga, and now there is a new 19-year-old kid on the block: Raphael Varane. As soon as Madrid announced the signing of the youngster from Lens in the summer of 2011, comparisons began to be made between the young Frenchman and the club's former star centre-back.
Even before Varane had stepped out onto the Bernabeu pitch, the Spanish media were getting hot under the collar about the potential of the centre-back, to such an extent that in one of his first interviews as a Madrid player he was asked if he thought he could be the 'next Hierro'.
The youngster gave an early sign of his ability to evade challenges both on and off the pitch by dodging the question and instead diverting the attention on to the magnitude of his transfer.
"It's impressive to be compared with Hierro," Varane admitted shortly after this move. "This is a great club and I am very proud to be part of this great team."
Despite the hype surrounding his move, it was thought that the then 18-year-old would be loaned back to a Ligue 1 side in order to ensure he continued to develop as a player rather than being thrown in to the Spanish giants' first-team squad.
IS VARANE EUROPE'S BEST YOUNG DEFENDER?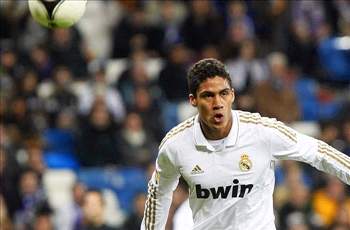 Varane has all the tools to become a great centre-back, possessing speed and a superb range of passing.

He is a more complete player than

Kyriakos Papadopoulos

of Schalke, and along with David Alaba of Bayern Munich, I think Varane is the most talented defensive prospect in Europe.

He has all the qualities a modern centre-back needs, and in my opinion, in two or three years, could emerge as the top defender of his generation.

Inaki Angulo | Goal.com Spain
However, in pre-season training ahead of the 2011-12 season Jose Mourinho clearly saw enough to rule out a temporary switch for the youngster before going on to hand him a place in his first-team squad ahead of the new campaign.
One of the key men in bringing Varane to the Spanish giants was Real club legend Zinedine Zidane. Working alongside Mourinho, the former France captain ensured the transfer was completed as his former club recruited a player he described as "possessing an incredible future ahead of him".
Hierro himself echoed this sentiment in September: "I love Varane. He is a guy with a great future and calmness."
While Varane may not boast the same goalscoring instincts as Hierro - the former Spain defender remains his national team's fourth top goalscorer - it is the "tranquility" that emanates from his play that has led to the lofty expectations of the club's fans and coaching staff. Since his move to Madrid, particularly this season, he has proved himself to be collected when appearing against the likes of Borussia Dortmund and Manchester City.
Despite Mourinho's best efforts to remind the public, it is easy to forget that Varane played 15 times for Madrid last season. This should not be taken as a sleight at the youngster, though. That he has immersed himself within one of the most talented groups of individuals and looked right at home while doing so should be applauded.
"Varane debuted with us last year, he did not make his debut this year. His performances are a surprise for those that have not been paying attention to this team, but for us, it's little surprise at all"



- Jose Mourinho

Didier Deschamps rewarded the teenager's form with a call-up to the France senior squad in August, and although he did not make it off the bench for their friendly against Ukraine it seems only a matter of time before his first cap for
les Bleus
arrives.
Over the last year both Mourinho and Zidane have likened Varane's ability to that of Laurent Blanc, the ex-France international and World Cup winner, with the former stating his belief that his charge can even surpass the legendary centre-back in time.
"Varane has the same intelligence, the same calmness on the ball and the same presence as Blanc on the pitch," he told
France Football
in 2011. "But with all due respect to Blanc, Varane is much faster. For now, he is still a kid. But I think when he reaches maturity at 26-27 he will be better than Blanc."
Comparisons with former Madrid or France players like Hierro and Blanc were always inevitable, but these labels can often cause players undue pressure and can cast a shadow over their careers. However, with Varane, there is a sense that he will not succumb to such a fate. He has been touted as Hierro's heir for over a year now and there have been no signs of it phasing him one bit.
With shades of Blanc and Hierro in his game, one thing is certain - Real Madrid have a huge talent on their hands, and, if they nurture that talent properly, they could be in possession of one of the world's leading centre-backs in the not too distant future.