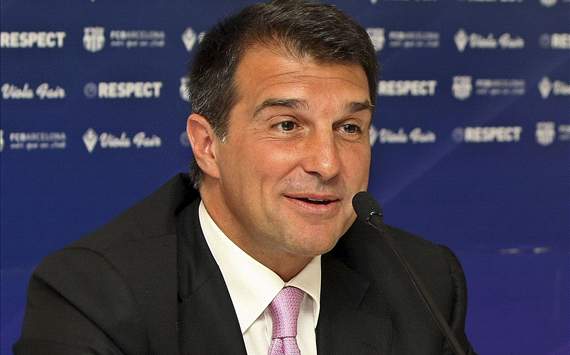 Former
Barcelona
president Joan Laporta is rumoured to be preparing a bid to return to the top role at the Catalan club - and he has received the backing of Spanish porn star Maria Lapiedra.
Lapiedra, as it happens, is romantically involved with Laporta, according to reports, and the MP in the Catalan parliament previously earned ridicule for bizarrely including her as a backer as he looked to further his political career.
Not content at stopping there, though, Lapiedra's latest venture sees her star in a music video promoting Laporta's return to Camp Nou titled 'Laporta, mi hombre', which translates to 'Laporta, my man'.
The adult actress is joined by three Barca fans in the video, who serve no purpose other than embarrassing themselves in the background in full club kit.
The lyrics, according to the
Dirty Tackle
football blog, include:
"The man who brought glory and honor and victory, prestige and value.
The man who punched the Whites with that 6-2 win.
The man who moved my bed, with Catalan fury, manhood and love."
Laporta was president of Barcelona for seven years between 2003 and 2010 and oversaw the club's rise back to prominence, appointing Champions League-winning coaches Frank Rijkaard and Pep Guardiola.
He was under pressure to leave his role as early as 2008, however, before Rosell, who had previously advised and run with his rival, was elected two years ago.