ANALYSIS
By Ben Hayward | Spanish Football Editor
History is repeating itself. Two years on, Athletic Bilbao and Barcelona meet again in the final of the Copa del Rey. The country's two most successful cup sides will play out the showpiece in late May in what promises to be a memorable occasion.
There is only one problem: currently, no venue has been decided for the Copa's climax. And, as it turns out, that's quite a big problem indeed; both Barca and Athletic want to play the final at the Santiago Bernabeu - but Real Madrid do not and will do everything in their power to avoid the fixture from taking place at their famous fiefdom.
Athletic favour a final at the Bernabeu because it is one of just two grounds which will allow the side's supporters to travel in their numbers for the showpiece event. The other is Camp Nou, which is not a neutral venue.
Two years ago, thousands of Athletic fans were left disappointed as the club received an allocation of just 18,720 seats for the game at the Mestalla - their first final appearance in 24 years.
Barcelona were given the same amount of seats and scores of frustrated fans from Catalunya were unable to make the short trip down the coast to support their side, either.
So Barca, who lost last season's showpiece to Madrid at the Mestalla, do not favour a third trip to Valencia in four years, either.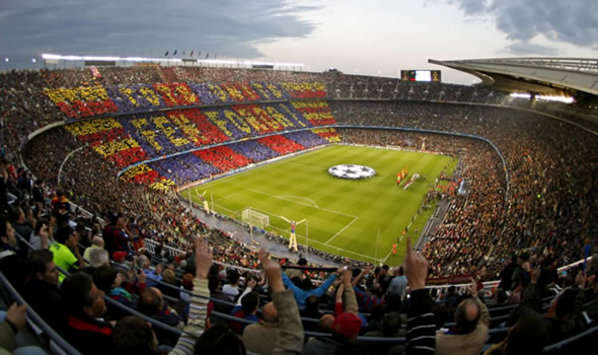 Big enough, but not neutral ... | Barca's Camp Nou is a possible venue for the final


Valencia president Manuel Llorente has told the Spanish Football Federation [RFEF] that he is happy to house the two teams again this year, while Atletico Madrid's Vicente Calderon has been mooted as an another possible venue. That, however, seems less likely still because the Calderon's capacity is slightly lower than that of the Mestalla - plus, the ground is set to host a Coldplay concert just days before the Copa concludes.
That, then, leaves just one option: the Bernabeu. Madrid's magnificent home can house just over 80,000 fans, satisfying the demands of both sets of supporters, while it is also a neutral venue and is essentially equidistant for both bands of travelling fans.
Rational reasoning and pragmatic planning it may be, but none of those arguments will find favour in the capital.
For Madrid remember the last time that Athletic and Barca met in a final at their famous home, in 1984, when the Basques claimed a narrow victory in a spectacle spoiled by a violent brawl following the final whistle; they recall that in 2004, their Catalan rivals refused to cede Camp Nou for their own Copa clash against Zaragoza - forcing them to play at Montjuic; and, as a proud club from Castile, they cannot bear a repeat of the anti-Spanish sentiment from the 2009 showpiece, when nationalist supporters of the two clubs booed the Spanish anthem before kick-off.
The normal thing would be to play the final at a neutral venue. The Bernabeu would be a good ground for the final, but I can understand the reluctance of Real Madrid





- Barcelona coach Pep Guardiola

But most of all, they don't want Barca celebrating a trophy on their patch, like in 1997, when the Catalans beat Betis 3-2 at the Bernabeu and the Blaugrana blasted their club anthem from the speakers of Madrid's sacred stadium.
Barca, of course, will be firm favourites to claim the trophy and such a situation has Madrid fans filled with fear as many Catalans have already taunted their Real rivals with claims that they will descend on Madrid's famous fountain, Cibeles, to celebrate yet another title, having eliminated Mourinho's men en route to the final.
There was similar concern in the capital in 2010, as the Catalans closed in on a Champions League final appearance at the Bernabeu. But they were utimately denied, much to Real's relief, by Inter - and by Jose Mourinho himself, in his last match before moving to the Spanish side.
In his pre-match press conference ahead of Inter's semi-final second leg against Barca, Mourinho mused that for the Catalans, winning the Champions League at the Bernabeu was an 'obsession' which meant more to them than the trophy itself. Provocative he may have been, but he had a point; Barca fans were indeed desperate to rub it in - right under Madrid fans' noses.
They couldn't, of course, as they didn't make the final. And they are unlikely to be able to this time, either, as Madrid stubbornly resist, citing planned stadium improvements and security risks.
For us, the Bernabeu would be perfect because it would allow us to take as many fans as possible to the final. We we want as many of them as possible to come to the match and support us





- Athletic Bilbao captain Andoni Iraola

Barca have offered Camp Nou as an alternative, but many of their fans are wary after seeing how Madrid suffered defeat at home to Deportivo La Coruna in the 2002 final at the Bernabeu, while Athletic believe that such a choice would give the Catalans an unfair advantage in a game which should in theory be played at a neutral ground.
However, if Athletic and Barca both want 30,000 fans in the stadium for the final, Camp Nou looks like the only other option. So by refusing to cede the Bernabeu, Madrid are arguably facilitating yet another trophy for the Catalan club. But even that is seemingly a favourable alternative to seeing Barcelona celebrating in their own back yard. Again.
Ultimately, politics plays its part in football, too. So when the venue for this year's Copa del Rey final is announced by the RFEF on Monday, don't be surprised if it's not in Madrid. And if it is, expect all hell to break loose.
Follow Ben Hayward on