SPECIAL
Compiled by KS Leong

As part of our monthly series, Goal.com compiles the statistical data, expert analysis, and progressive season records in La Liga on two of the best players in the world, Lionel Messi and Cristiano Ronaldo.



* La Liga: Matches were called off on the opening weekend of the season due to a players' strike and those games have been rescheduled for 21 Jan 2012



August/September Head-to-Head: Matchdays 1-5



vs

Sporting Gijon
October 2, El Molinon



RESULT
Sporting 0-1 Barcelona


INDIVIDUAL MATCH STATS




| | |
| --- | --- |
| Minutes played | 94 |
| Goals | 0 |
| Assists | 0 |
| Shots | 5 |
| Shots on goal | 2 |
| Passes | 74 |
| Passes completed | 64 |

GOAL.COM PLAYER RATING


6.5
'Was as determined as ever but mainly a frustrated performance from the maestro. Was awarded so little time on the ball and was well marshalled by the Sporting players. Showed glimpses of his brilliance but did not get a true hold on the game.'




vs

Espanyol
October 2, Cornella-El Prat



RESULT
Espanyol 0-4 Real Madrid


INDIVIDUAL MATCH STATS




| | |
| --- | --- |
| Minutes played | 94 |
| Goals | 0 |
| Assists | 2 |
| Shots | 7 |
| Shots on goal | 2 |
| Passes | 48 |
| Passes completed | 41 |

GOAL.COM PLAYER RATING


8.0
'Caused the home side all sorts of problems and was unlucky not to open the scoring when his long-range drive was pushed onto the post early on. Great awareness to find Higuain for his opening goal and unselfish play to assist Callejon for Madrid's third.'

TICS



vs

Racing Santander
October 15, Camp Nou


RESULT
Barcelona 3-0 Racing


INDIVIDUAL MATCH STATS




| | |
| --- | --- |
| Minutes played | 92 |
| Goals | 2 |
| Assists | 0 |
| Shots | 7 |
| Shots on goal | 4 |
| Passes | 70 |
| Passes completed | 61 |

GOAL.COM PLAYER RATING


8.5
Top of the Match
'Once again, the Argentine was in superb form and clearly the best player on the pitch. He took both goals well and showed some excellent individual pieces of skill to wow the crowd. A joy to watch.'




vs

Real Betis
October 15, Santiago Bernabeu



RESULT
Real Madrid 4-1 Betis


INDIVIDUAL MATCH STATS




| | |
| --- | --- |
| Minutes played | 77 |
| Goals | 0 |
| Assists | 2 |
| Shots | 4 |
| Shots on goal | 1 |
| Passes | 33 |
| Passes completed | 24 |

GOAL.COM PLAYER RATING


7.0
'Showed electric pace and dribbling power down the left hand side throughout the match but his final ball let him down on more than one occasion. Did manage to provide assists for Higuain and Kaka, but should have scored in the first half with a glancing header that went past the post.'



vs

Sevilla
October 22, Camp Nou



RESULT
Barcelona 0-0 Sevilla


INDIVIDUAL MATCH STATS




| | |
| --- | --- |
| Minutes played | 98 |
| Goals | 0 |
| Assists | 0 |
| Shots | 8 |
| Shots on goal | 2 |
| Passes | 90 |
| Passes completed | 63 |

GOAL.COM PLAYER RATING


7.0
'The tricky Argentine always looked his side's most dangerous yet his contribution to the game will be remembered for the late missed penalty. Had a personal duel with Varas going on for the 90 minutes and for once, the goalkeeper won.'




vs

Malaga
October 22, La Rosaleda



RESULT
Malaga 0-4 Real Madrid


INDIVIDUAL MATCH STATS




| | |
| --- | --- |
| Minutes played | 90 |
| Goals | 3 |
| Assists | 0 |
| Shots | 5 |
| Shots on goal | 4 |
| Passes | 67 |
| Passes completed | 55 |

GOAL.COM PLAYER RATING


9.0
Top of the Match
'Scored a brilliant first-half hat-trick, which included a sublime improvised back-heeled effort and a run and drive from the edge of the box. Could have earned a penalty and also came close with two free-kicks. An oustanding return to goalscoring form.'



vs

Granada
October 25, Los Carmenes


RESULT
Granada 0-1 Barcelona


INDIVIDUAL MATCH STATS




| | |
| --- | --- |
| Minutes played | 93 |
| Goals | 0 |
| Assists | 0 |
| Shots | 4 |
| Shots on goal | 1 |
| Passes | 84 |
| Passes completed | 69 |

GOAL.COM PLAYER RATING


6.5
'Not his best game. Lovely skill on the edge of the box early on as he cut both ways and then curled a nice angled shot just wide. Later should have scored but saw his effort cleared off the line. Still tied with Kubala on 194 Barca goals.'




vs

Villarreal
October 26, Santiago Bernabeu






RESULT
Real Madrid 3-0 Villarreal


INDIVIDUAL MATCH STATS




| | |
| --- | --- |
| Minutes played | 92 |
| Goals | 0 |
| Assists | 0 |
| Shots | 2 |
| Shots on goal | 1 |
| Passes | 53 |
| Passes completed | 44 |

GOAL.COM PLAYER RATING


5.5
'Needed two goals to reach 100 for Madrid but never came close. Saw one early effort pushed wide by Diego Lopez for a corner, then made the wrong decision later on as he chose to send the ball out wide to the left on a quick break instead of finding better-placed team-mates on the right. Quiet by his standards.'



vs

Mallorca
October 29, Camp Nou





RESULT
Barcelona 5-0 Mallorca


INDIVIDUAL MATCH STATS




| | |
| --- | --- |
| Minutes played | 93 |
| Goals | 3 |
| Assists | 1 |
| Shots | 8 |
| Shots on goal | 4 |
| Passes | 87 |
| Passes completed | 74 |

GOAL.COM PLAYER RATING


8.5
Top of the Match
'Back to his brilliant best after an off-colour performance against Granada. Scored a first-half hat-trick as he converted a penalty and two other fine finishes. Came close to his 200th Barca goal with a free-kick in the second half and a late effort which went just wide.'




vs

Real Sociedad
October 29, Anoeta



RESULT
Real Sociedad 0-1 Real Madrid


INDIVIDUAL MATCH STATS




| | |
| --- | --- |
| Minutes played | 93 |
| Goals | 0 |
| Assists | 0 |
| Shots | 4 |
| Shots on goal | 2 |
| Passes | 40 |
| Passes completed | 29 |

GOAL.COM PLAYER RATING


5.0
'Ineffective. Only attacking moment of note was a speculative shot in the first half that was easily saved by Bravo. Was also petulant in his demeanour and was lucky not to be booked after kicking out at opposition players out of the sight of the referee.'
| | | |
| --- | --- | --- |
| | | |
| | | |
| --- | --- | --- |
| 470 | MINUTES PLAYED | 446 |
| 5 | GOALS | 3 |
| 1 | PENALTIES | 0 |
1
ASSISTS
4
32 / 13 (40.6%)

TOTAL SHOTS / ON GOAL

22 / 10 (54.5%)

405 / 331 (81.7%)

PASSES / COMPLETED
241 / 193 (80%)

16
FOULS SUFFERED
8
7.40
GOAL.COM
AVERAGE RATING
6.90
13
2011-12 LA LIGA GOALS
10
19

2011-12 COMPETITIVE GOALS

12
E

XPERT ANALYSIS


KS Leong | Goal.com International Associate Editor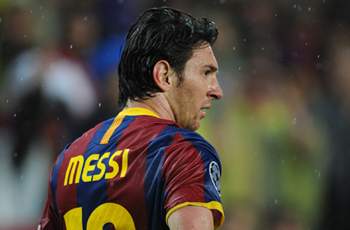 October was a roller-coaster month for Messi. His saved penalty against Sevilla and a three-game goal drought (two in La Liga and one in the Champions League) prompted cries of crisis in the media. But was there really a crisis?

There hasn't been a dramatic dip in his performances, but it's no coincidence that his lack of goals for the month corresponded with Barcelona's own struggles to find the back of the net, bar the 5-0 win over Mallorca. The absence of Cesc Fabregas and Andres Iniesta was a major factor. Cesc, in particular, formed a lethal partnership with Messi in the opening few games of the season and that was how Leo racked up a phenomenal number of goals and assists in September.


Without the duo, the Argentine just had too much of the burden to carry on his own, even more so with David Villa and Pedro not in dazzling scoring form. It just goes to prove that despite Messi's otherworldly individual brilliance, he does need a solid team of attackers around him to be at his best, especially when opponents tighten up in defence.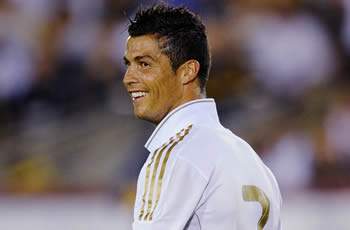 Ronaldo, like Messi, also had an inconsistent month. But fans would have noticed a change in his game: his passing rate has increased and his shooting figures decreased, leading him to chalk up more assists than he has goals.
There are rumours that the rest of the squad have requested the Portuguese to help out his team-mates more in attack. Whatever the case, Jose Mourinho has moulded the team into a real unit instead of just a collection of individual stars and CR7, like everyone else in the dressing room, has had to oblige. He seems happy enough at the moment to contribute when he acknowledged after scoring a hat-trick against Malaga that "some days you provide assists, other days you score".
He did have poor games in the last two matchdays of the month, and perhaps his frustration at not finding the back of the net with the frequency that he is accustomed to is starting to show after he lashed out at an opponent against Real Sociedad. It is a good sign, however, that he is passing and assisting more, but remains hungry as ever to to get on the scoresheet.
Who was better in October? Who was more consistent? Who was more productive? Join the debate on
goal_intl
and leave your tweets with the hashtag #goalh2h. Goal.com will publish the best comments in our poll result article on November 4.