COMMENT
By Ben Hayward
Four ferocious, furious, frenetic, frenzied fixtures brought the last Spanish season to a crazed, commotion-charged climax. Derby days dominated the calendar in an intense 17-day period at the end of April and beginning of May, defining domestic and continental competitions as Real Madrid and Barcelona fought it out in controversial circumstances in a fervour-fuelled fortnight of fascinating football. Now, barely three months later, the Clasico is back.
The Spanish season starts in sheer scriptwriters' style with Sunday's Supercopa and what could be described – as Argentines have dubbed the momentous meeting between Boca Juniors and River Plate – as a Superclasico.
In the red-and-blue corner, sit the champions of Spain and Europe, a team described by many as not only the best of its generation but also the greatest ever. And in white, the Copa del Rey winners – Mourinho's men – who would seem to have a near impossible task ahead. Beating Barca once is hard enough as it is, but defeating the dominant double-winners over two games becomes a feat of formidable proportions.
This time, however, Madrid will feel like the favourites - and so they should.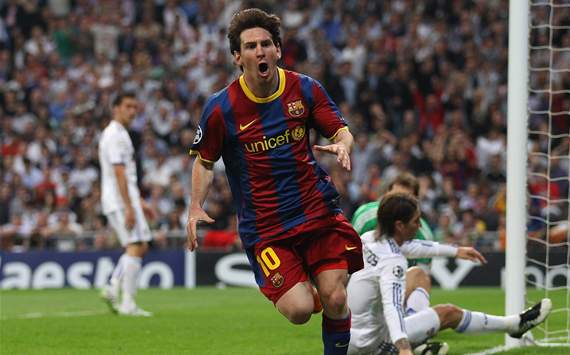 Messi business for Madrid | Leo killed off Real's European hopes with a brilliant brace
Having lost out to Barca in the two biggest competitions last term, the capital club quickly set about building a team to catch the Catalans in 2011-12. Changes were made institutionally; Zinedine Zidane was brought in as sporting director as Jorge Valdano – an estranged element in Mourinho's Madrid – predictably departed. The former Chelsea man then assumed complete control, becoming a British-style manager instead of a mere coach – although that was an open secret even last year anyway.
Mou's second seasons are invariably more successful than his first, as the Portuguese prints his authority and his methods on both players and club. On top of that, however, signings were brought in quickly; new players have been given time to gel with their team-mates and settle in to the side, with the exception of Turkey midfielder Nuri Sahin and his compatriot, utility man Hamit Altintop, who have been injured for the club's campaign in pre-season.
BARCELONA
&
REAL MADRID
| Results in pre-season
| | |
| --- | --- |
| | Result |
| Hadjuk Split | D 0-0 |
| Internacional | D 2-2 |
| Bayern Munich | W 2-0 |
| Man Utd | L 2-0 |
| Chivas | L 4-1 |
| Club America | W 0-2 |




| | |
| --- | --- |
| | Result |
| LA Galaxy | W 4-1 |
| Chivas | W 3-0 |
| Philadelphia | W 2-1 |
| Hertha Berlin | W 3-1 |
| Guangzhou | W 7-1 |
| Tianjin Teda | W 6-0 |
The others have all featured heavily, however, with Madrid marching to seven straight summer successes, albeit against largely second-rate opposition. In that time, Mourinho's men have shown hunger and desire, while the coach has tried out players in different positions; flexible Fabio Coentrao has featured as a central midfielder, a winger and a forward, for example, when he was supposed to be a defender.
Meanwhile, Mourinho's meticulous preparations and insatiable will to win have been transmitted to his troops. Be it Leicester City, Chivas or Ghuangzhou, Real were determined to triumph. And they did – seven times.



"For me it's the most important trophy of the summer and the least important of the official season - but we want to win it."

- Jose Mourinho
Barca coach Pep Guardiola is equally competitive, but the Catalan club looked less impressive in pre-season, winning just two out of six games and surprisingly going down 4-1 to Chivas, a team brushed aside 3-0 by Madrid.
Guardiola has a smaller squad at his disposal, too, and that has been further depleted by the sales of Bojan Krkic, Jeffren Suarez and Oriol Romeu. Only one new player has come in so far, although Arsenal's Cesc Fabregas is set to follow Chile forward Alexis Sanchez to Camp Nou in the next couple of days. Cesc's move has yet to be made official, although he could be unveiled in time for the Supercopa's second leg on Wednesday. Sanchez could feature in both, but the Chilean's participation in the summer's Copa America means he is yet to make his Barca debut.
BARCELONA SUMMER SIGNINGS


Alexis Sanchez (€26m, Udinese)
Cesc Fabregas (€40m, Arsenal, to be confirmed)

Messi was also involved in the Copa America and, having been left out of the last two Supercopa first legs by Guardiola, is likely to feature this time as Barca look to capitalise on his talismanic presence at the Santiago Bernabeu, scene of his peerless performance last term.
Messi bagged a brace at the Bernabeu in the Champions League semi-final first leg and 53 goals in all last season, the same number as Madrid's Cristiano Ronaldo, but while the Portuguese has been almost ever-present this summer and will be chomping at the bit as he searches for his 100th Real strike, Leo is likely to be some way short of full fitness in the first leg match.
REAL MADRID SUMMER SIGNINGS


Fabio Coentrao (€30m, Benfica)
Nuri Sahin (€10m, Borussia Dortmund)


Hamit Altintop (Free, Bayern Munich)


Jose Callejon (€5m, Espanyol)


Raphael Varane (€10m, Lens)



For Barca, the one shining light has been Thiago Alcantara. The midfielder has proved nothing short of a sensation in pre-season, picking up where he left off following his starring role in Spain's Under-21 European Championship triumph in Denmark by netting four goals in the club's campaign this summer.
Thiago has largely deputised for the injured Xavi, who pulled out of Spain's midweek defeat to Italy and will not be fully fit for the first leg. Defender Gerard Pique also limped off in that match and Sergio Busquets, who has filled in at the back this summer, is also struggling ahead of the first Clasico clash. Another defender, Gabi Milito, has departed to join Independiente, while captain Carles Puyol is still sidelined and will not play in the Supercopa series.



"We miss Puyol - badly. We hope to have him back with us very, very soon. But when there is a title at stake, there are no excuses."

- Pep Guardiola
All of that is worrying for Guardiola, while Mourinho appears far better off at this stage. Sergio Ramos is fighting to shake off a knock, although he has been called up, while Sahin and Altintop miss out - but the rest are healthy and the Portuguese boasts an astounding array of talent from which to choose as he looks to strike the first blow against an already bloodied Barca.
Mourinho is keen for his side to win the physical battle against a Camp Nou outfit he sees as technically brilliant but lightweight in terms of strength and conditioning. That is likely to force the Catalans into a game they are not keen to play, with Pepe patrolling the midfield as he did in last season's meetings to great effect - until his dismissal in the Champions League semi-final first leg.
Hungry for revenge, hounding their high-profile opponents and hitting the Catalans hard in the tackle and on the break, Madrid look the best bet for this Supercopa. Only Barcelona's brilliance can deny them. Right now, however, that seems unlikely.
Follow Ben Hayward on