The 2010/11 La Liga season beckons. With all 20 clubs undertaking significant modifications to their squads - from newly promoted Hercules and Levante making some impressive additions, to Mallorca and Valencia being forced into make-overs due to financial difficulties, to the usual duo of Real Madrid and Barcelona fighting it out in the transfer market - finding out who is lining up for who this campaign can be a bit tricky.
Below, we break down how each one of La Liga's clubs are likely to line up when their full squad is available, along with a star rating out of five for each department of the first XI.
Please keep in mind that the line-ups below are just speculative starting XI's and any potential transfers will have to be taken into consideration.
ALMERIA (4-2-3-1)

Diego Alves
Michel – Pellerano – Acasiete – Jakobsen
Bernadello – M'Bami
Piatti – Corona – Crusat
Kalu Uche
Subs: Esteban, Acasiete, Carlos Garcia, Jose Ortiz, Juanma Ortiz, Valeri, Goitom
Team Rating
Goalkeeper:

Defence:

Midfield:

Attack:
ATHLETIC BILBAO (4-4-2)

Iraizoz
Iraola – San Jose – Amorebieta – Koikili
Susaeta – Javi Martinez – Orbaiz – Gabilondo
Fernando Llorente – Muniain
Subs: Raul Fernandez, Ustaritz, Ocio, Gurpegi, David Lopez, De Marcos, Toquero
Team Rating
Goalkeeper:

Defence:

Midfield:

Attack:
ATLETICO MADRID (4-4-2)

De Gea
Ujfalusi – Godin - Alvaro Dominguez – Filipe Luis

Reyes – Tiago – Raul Garcia – Simao

Aguero – Forlan
Subs: Asenjo, Perea, Antonio Lopez, Fran Merida, Assuncao, Jurado, Ibrahima
Team Rating
Goalkeeper:

Defence:

Midfield:

Attack: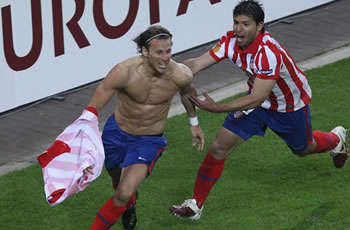 BARCELONA (4-3-3)

Valdes
Dani Alves – Puyol – Pique – Abidal
Xavi – Busquets (Mascherano) – Iniesta
Pedro – Messi – Villa
Subs: Pinto, Milito, Maxwell, Adriano, Keita, Jeffren, Bojan
Team Rating
Goalkeeper:

Defence:

Midfield:

Attack: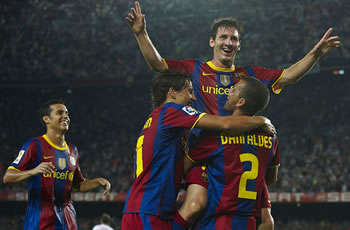 DEPORTIVO LA CORUNA (4-2-3-1)

Aranzubia
Manuel Pablo – Lopo – Colotto – Morel
Pablo Alvarez – Juca
Juan Rodriguez – Valeron – Guardado
Adrian
Subs: Manu, Ze Castro, Laure, Desmartes, Antonio Tomas, Riki, Lassad
Team Rating
Goalkeeper:

Defence:

Midfield:

Attack:
ESPANYOL (4-2-3-1)
Kameni
Mattioni – Forlin – Victor Ruiz – David Garcia
Baena – Javi Marquez
Luis Garcia – De la Pena – Datolo
Osvaldo
Subs: Cristian, Chica, Galan, Sielva, Verdu, Sergio Garcia, Ivan Alonso
Team Rating
Goalkeeper:

Defence:

Midfield:

Attack:
GETAFE (4-2-3-1)
Ustari
Miguel Torres – Cata Diaz – Marcano – Mane
Boateng – Victor Sanchez
Arizmendi – Parejo – Gavilan
Colunga
Subs: Codina, Rafa, Kas, Borja, Casquero, Albin, Del Moral
Team Rating
Goalkeeper:

Defence:

Midfield:

Attack:
HERCULES (4-4-2)
Velthuizen
Pamarot – Paz – Sarr – Paco Pena
Rufete – Abel Aguilar – Fritzler – Sendoa
Portillo – Nelso Valdez
Subs: Calatayud, Pulhac, David Cortes, Kiko, Tiago Gomes, Hidalgo, Tote
Team Rating
Goalkeeper:

Defence:

Midfield:

Attack:
LEVANTE (4-4-1-1)

Munua
Javi Venta – Ballesteros – Rodas – Del Horno
Valdo – Xavi Torres – Sergio Rodriguez – Juanlu
Nacho Gonzalez
Stuani
Subs: Reina, Cerra, Nano, Pallardo, Xisco Munoz, Ruben, Xisco Nadal
Team Rating
Goalkeeper:

Defence:

Midfield:

Attack:
MALAGA (4-2-3-1)
Arnau
Jesus Gamez – Welligton – Rosario – Mtiliga
Apono – Fernando
Eliseu – Baha – Duda
Quincy
Subs: Galatto, Malagueno, Manu Torres, Benachour, Sandro Silva, Edinho, Luque
Team Rating
Goalkeeper:

Defence:

Midfield:

Attack:
OSASUNA (4-4-2)

Ricardo
Echaide – Miguel Flano – Josetxo – Monreal
Juanfran – Fernando Soriano – Vadocz – Camunas
Pandiani – Aranda
Subs: Riesgo, Roversio, Sergio, Punal, Nekounam, Calleja, Medina
Team Rating
Goalkeeper:

Defence:

Midfield:

Attack:
RACING SANTANDER (4-2-3-1)
Tono
Pinillos – Torrejon – Henrique – Cisma
Lacen – Colsa
Munitis – Bakirciouglu – Serrano
Tchite
Subs: Coltorti, Francis, Christian, Diop, Tziolis, Bolado, Nahuelpan
Team Rating
Goalkeeper:

Defence:

Midfield:

Attack:
REAL MADRID (4-2-3-1)
Casillas
Sergio Ramos – Carvalho – Pepe – Marcelo
Xabi Alonso – Khedira
Oezil – Canales – Ronaldo
Higuain
Subs: Dudek, Arbeloa, Albiol, Lass, Pedro Leon, Angel Di Maria, Benzema
Team Rating
Goalkeeper:

Defence:

Midfield:

Attack: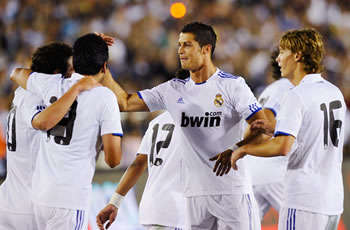 REAL MALLORCA (4-4-2)

Aouate
Ratinho – Nunes – Ramis – Ayoze
De Guzman – Marti – Joao Victor – Chori Castro
Cavenaghi – Webo
Subs: Lux, Corrales, Ruben, Pina, Tuni, Alhassane Keita, Nsue
Team Rating
Goalkeeper:

Defence:

Midfield:

Attack:
REAL SOCIEDAD (4-4-2)

Claudio Bravo
Carlos Martinez – Ansotegui – Labaka – Mikel Gonzalez
Xabi Prieto – Aranburu – Sarpong – Sutil
Joseba Llorente – Tamudo
Subs: Zubikarai, Esnaola, De la Bella, Elustondo, Diego Rivas, Griezmann, Viguera
Team Rating
Goalkeeper:

Defence:

Midfield:

Attack:
REAL ZARAGOZA (4-2-3-1)
Leo Franco
Diogo – Contini – Jarosik – Obradovic
Bertolo – Gabi
Jorge Lopez – Ander Herrera - Lafita
Ikechukwu Uche
Subs: Doblas, Pavon, Babic, Ponzio, Edmilson, Braulio, Marco Perez
Team Rating
Goalkeeper:

Defence:

Midfield:

Attack:
SEVILLA (4-4-2)

Palop
Dabo – Alexis – Fazio – Fernando Navarro
Jesus Navas – Renato – Zokora – Capel
Luis Fabiano – Kanoute
Subs: Varas, Escude, Konko, Romaric, Cigarini, Perotti, Negredo
Team Rating
Goalkeeper:

Defence:

Midfield:

Attack: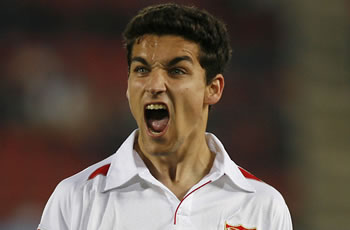 SPORTING GIJON (4-2-3-1)
Juan Pablo
Sastre – Botia – Gregory – Canella
Eguren – Rivera
Carmelo – De la Cuevas – Diego Castro
Nacho Novo
Subs: Cuellar, Ivan Hernandez, Jose Angel, Ayoze, Barral, Sangoy, Bilic
Team Rating
Goalkeeper:

Defence:

Midfield:

Attack:
VALENCIA (4-4-2)

Cesar
Miguel – Ricardo Costa – Dealbert – Mathieu
Joaquin – Albelda – Ever – Mata
Soldado – Aduriz
Subs: Moya, Bruno, Maduro, Manu Fernandes, Feghouli, Vicente, Chori Dominguez
Team Rating
Goalkeeper:

Defence:

Midfield:

Attack:
VILLARREAL (4-4-2)

Diego Lopez
Angel Lopez – Gonzalo – Marchena – Capdevila
Cani – Borja Valero – Senna – Cazorla
Nilmar – Rossi
Subs: Juan Carlos, Musacchio, Oriol, Bruno Soriano, Cristobal, Altidore, Montero
Team Rating
Goalkeeper:

Defence:

Midfield:

Attack: