REAL MADRID

Iker Casillas
- 6.5 - Not the best performance he'll have at Real. Did well getting the ball out quickly when Real were chasing the game for long stretches.
Alvaro Arbeloa
- 7 - Good solid forward work and defensive work. Very well timed tackles and passing looks to have improved a great deal over recent weeks.
Sergio Ramos
- 7 - Made some superb passes but hesitated at times, which allowed Osasuna some unnecessary chances.
Albiol
- 6.5 - Bad mistake for the first goal. Hesitated and poked the ball into the path of the striker. Did well to cover for others going up the pitch much later in the game.
Marcelo
- 7.5 - Made some superb forward runs and took his goal very well. Looks better going forward every game but his defensive side still needs a little work.
Gago
- 6.5 - A relatively quiet game but showed plenty of energy and passion. Never seems to play a pass more than ten yards, which is always a good sign.
Xabi Alonso
- 7 - As above. Made some very crisp and clean passes. Seemed flustered when he found himself in some good attacking positions.
Esteban Granero
- 7 - Ran up and down the right wing very well. Covered when Arbeloa went forward and is just as capable as anyone of delivering that final killer ball.
Kaka
- 6 - Not the best game he will ever have. Clearly saw some good runs but was never able to thread that final ball through.
Gonzalo Higuain
- 7.5 - Moved around well and created a lot of space for other players late on. This was vital in the chances leading up to the third goal.
Cristiano Ronaldo
- 8.5 - Superb. Looked the most dangerous player on the pitch. Two very good goals and always seems like something will happen when he picks it up.
Subs:
Guti
- 6 - Brought an air of calm to proceedings but squandered a couple of late chances.
Karim Benzema
- N/A
Juanfran
- N/A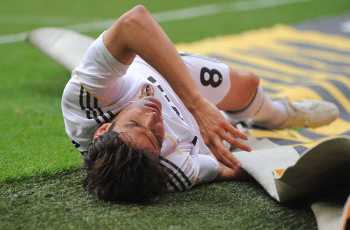 OSASUNA

Ricardo
- 8 - Superb performance. Made a number of vital saves at key times in the game. Very unlucky to be on the losing side.
Azpilicueta
- 6.5 - Struggled to get forward because Marcelo made so many different runs. Did well to cope but was caught out late on, which provided the space for the cross for the third Real goal.
Sergio
- 7.5 - Very good defensive display. Made some vital interceptions. Reads the game very well and can communicate that to all around him.
Roversio
- 6.5 - Struggled in the first half and looked a little unfit late on, which caused his substitution. Plenty of energy and aggression.
Monreal
- 7 - Made one or two vital tackles and did his best to get up the field when he could.
Ruper
- 6.5 - Has to be calmer in front of goal. Had two or three chances to shoot but sent them high or wide on each occasion.
Javad Nekounam
- 7 - Solid. Fills in the gaps when everyone else is flying around like a maniac. A hard job for anyone playing Real.
Juanfran
6 - Not the most triumphant return to his former stadium; the winger is generally capable of a lot more than this.
Camunas
- 7.5 - Made a real nuisance of himself out on the flank. Created a lot of chances for his team and seems to be a competent passer of a football.
Krisztian Vadozc
- 7 - Took his goal superbly. Was calm when he needed to be and buried the ball past Casillas when his side needed him to step up.
Aranda
- 7.5 - Did very well leading the front line. Read the mistake from Albiol and set up the second goal. Unlucky to be taken off late on.
Subs:
Masoud
- 6 - Looks to have plenty of pace and energy but needs to work on his tactical awareness. Missed an easy and vital pass late in the game.
Miguel Flano
- N/A
Javier Calleja
- N/A