Kick Off: Sunday, May 2, 2010. 19:00 CET
Santiago Bernabeu, Madrid

Strong Belief
After a Clasico defeat that winded Real Madrid, the Primera Division title looked distant, but events over the last three weeks mean that Manuel Pellegrini's side can be a little more confident of coming down Barcelona's blind side to pinch their crown late on.
While the Catalans have suffered setbacks against the likes of Espanyol and in Europe against Inter, los Blancos have clicked back into the winning groove. The Bernabeu club may not be picking up three points with the avalanches of goals they were achieving before their loss to the Blaugrana, but at this tardy stage of the campaign, substance is more important than style.
Against Zaragoza at La Romareda last weekend, Real were certainly pushed. Raul struck a vital opening goal early in the second half, and though Matteo Contini of the hosts was dismissed, Adrian Colunga popped up to level. With time running out, the much-maligned Kaka was taken from the bench to score a fine winning goal – one that could be instrumental in the future of the Spanish championship.
"We have great odds of winning La Liga," last week's match-winner told his side's official website last week. "This squad believes it can win the title. A one-point cushion isn't much of a lead and we trust we can overtake it by winning our last four games.
"Every game will be intense because there is something at stake for every team in the final stages of the championship. That's what makes Osasuna a dangerous side. We regard our match against them as a final. It will be an important and decisive game."
Los Blancos cannot afford one more slip, but they will be confident of picking up three points on Sunday.

All But Safe
While Real Madrid are gearing up for a grand finale, Osasuna will be pleased if the end of this campaign is low key. For a period the Pamplona club were haunted by relegation, but eight points in their last five games seem to have alleviated any serious danger to los Rojillos, who now lie seven points clear of the drop zone with just four games remaining.
Last week's point against Athletic Bilbao at home was another important step towards safety, and though there wasn't a great deal of aesthetic pleasure to be gained from their scoreless draw against the Basques on Monday night, coach Jose Antonio Camacho certainly wasn't grumbling about the outcome.
"The match was very competitive and difficult for two very powerful and very close teams, as we had expected. The point is good, because it adds to our total with one day and less to play," he told the press after the game. "The important thing is that with 39 points, we're not doing too bad. For now, we are on the right track."
Forty points is generally regarded as being the symbolic mark of safety, and even if los Rojillos don't expect to pick up the one mark they need in the capital on Sunday, they will be confident they can find it against Deportivo La Coruna, Espanyol or Xerez further down the line.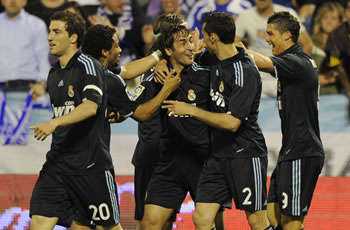 FORM GUIDE

Real Madrid
WON 2-1 Zaragoza (Liga, April 24)
WON 2-0 (h) Valencia (Liga, April 18)
WON 2-1 (a) Almeria (Liga, April 15)
LOST 2-0 (h) Barcelona (Liga, April 10)
WON 2-0 (a) Racing Santander (Liga, April 4)

Osasuna
DREW 0-0 (h) Athletic Bilbao (Liga, April 26)
LOST 2-0 (a) Mallorca (Liga, April 19)
DREW 2-2 (h) Malaga (Liga, April 14)
WON 2-0 (h) Zaragoza (Liga, April 11)
LOST 3-0 (a) Valencia (Liga, April 4)
TEAM NEWS

Real Madrid

There has been bad news for los Blancos on the injury front over the past week. Raul has been ruled out for the remainder of the campaign, while it's likely that Rafael van der Vaart won't play again this season either. Pepe remains a long-term casualty.
Christoph Metzelder has trained without problems, while Royston Drenthe has been able to jog lightly. Guti has had a muscle problem and has been reduced to gym work, rendering him doubtful for the weekend.

Probable Starting XI:
Casillas; Arbeloa, Ramos, Garay, Marcelo; L. Diarra, Alonso, Gago; Kaka; Higuain, Ronaldo

Osasuna
Only a couple of changes are expected in los Rojillos' squad compared to the one that drew with Athletic Bilbao last Monday. Nacho Monreal comes back into the defence while it is likely that Iranian ace Javad Nekounam will return to the starting XI after missing the last three games due to injury.
Osasuna don't have any suspension issues.

Probable Starting XI:
Ricardo; Azpilicueta, Miguel Flano, Sergio, Monreal; Juanfran, Nekounam, Punal, Camunas; Pandiani, Aranda
PLAYERS TO WATCH

Real Madrid

Kaka
is sure to take much of the spotlight this weekend as it is very likely that he will take up a creative station in the side due to Rafael van der Vaart's injury. The Brazilian is widely considered to have underperformed this season for los Merengues but he has been left with a great responsibility in the closing weeks of the campaign. He could be the man to lead them to glory, and his goal against Tenerife last week has certainly increased his favour around the Bernabeu.

Osasuna

Javad Nekounam
is a pivotal player in Osasuna's squad, and he has been sorely missed over the last three games. The Iranian, who is a veteran of nearly four years with los Rojillos, will look to get his side a foothold in the middle of the park. A clever defensive player, when he gets the ball he tends to use it intelligently, and both of these attributes will be key come Sunday.

PREDICTION
There should be no problems forecast for Real in this encounter. Perfect at home aside from their Clasico aberration, the capital club will have enough attacking intelligence to be able to break down their opponents, who probably won't offer a great deal more than stubborn resistance. This should prove a routine home win.

Real Madrid 2-0 Osasuna
Think you can do better than our expert? Place a bet now on the match with Goal.com's official betting partner Titanbet.