BRAZIL
Julio Cesar: 6 – Dealt well with most of what came at him, but was often left to field only long range efforts. When his defence was finally breached he had little chance to keep out Drogba's header.
Maicon: 7.5 – His run down the right helped to force Brazil back onto the front foot after a period without the ball. It was emblematic of his game, as he got up and down the right with great fluidity. He looked as surprised as everybody else when he miscontrolled a pass late in the first half.
Lucio: 7 – Enjoyed a constant battle with Didier Drogba, which he won more often that not. Looked a little less comfortable when other Ivory Coast attackers ran at him, but cannot be held responsible for their late consolation.
Juan: 6 – Had plenty to do thanks mainly to the runs of Dindane, but having seen him off he failed to react to Drogba's excellent run which put Ivory Coast on the scoresheet late on.
Bastos: 6.5 – As is normally the case with Brazilian full-backs, he seemed to be much more involved in play when his side had the ball. Will undoubtedly be a key part in Brazil's play as the tournament progresses.
Felipe Melo: 8 – Battled superbly in midfield to break up countless Cote d'Ivoire attacks as they got on top in the first half. Less involved when Brazil got on top, but then that's not really in his job description.
Gilberto Silva: 7 – Continues to work well alongside Felipe Melo in the dual-pivot position in midfield and was kept especially busy during the first half.
Elano: 7 – Had been reasonably quiet in the danger zone before timing his run to perfection to slot home Brazil killer third. Picked up an injury soon after and Dunga will hope he gets to call on the Galatasaray star again sooner rather than later.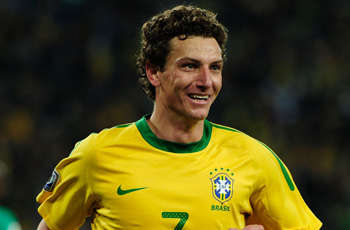 Kaka: 7
– Had a hand in two goals, most significantly Elano's clincher, before uncharacteristically getting involved in the pushing and shoving late on. Was still unlucky to see red though.
Robinho: 7.5 – Heavily involved in Brazil's rare attacks early on as he gave them plenty of forward thrust. His club future may be unclear, but he's a key part of the Selecao XI.
Luis Fabiano: 7.5 – There are huge question marks over his second goal (like was it one handball or two?) but he looked like the man of old as he clinically finished on both occasions. If he continues like this he could be in for a big, big tournament.
Subs:
Dani Alves: 6 – Came on for the injured Elano, and but for one shot at goal from range was rarely involved in any real sense.
Ramires: NA
COTE D'IVOIRE
Barry: 5 – There were probably question marks over the keeper on all three goals, though it would be hard to apportion outright blame in any of the cases. Either way, it wasn't really his night.
Demel: 5.5 – Got forward pretty well early on but was nowhere to be seen as Kaka danced past him on the way to setting up Brazil's third.
K Toure: 6 – Looked strong early on, but not entirely at ease when Fabiano ran at him. Will hope to be a more commanding presence in the Elephants' now crucial final group game.
Zokora: 5.5 – Appeared to freeze somewhat when Fabiano took him on and was pulled out of position for Elano's strike.
Tiene: 5.5 – On Brazil's third goal he failed to go with the run of Elano, whom he had kept reasonably well contained until that point.
Eboue: 6 – Fought pretty hard throughout, but was never going to get the better of Brazil's fluid midfield.
Y Toure: 6 – Patrolled the centre with real calm, but was unable to stop the flow of Brazil attacks once they got into their stride.
Tiote: 5.5 – As much as he tried to get into the game, he was always going to find it hard down a flank comprising the talents of Maicon and Elano.
Dindane: 5.5 – Gave Juan plenty to think about in the first half, but didn't have too much success in getting beyond the centre-half and was replaced soon after Fabiano's second.
Kalou: 5.5 – Always looked lively and played many a handy throughball, but they were often either slightly too long or were not met with the run necessary. Replaced after Brazil's third.
Drogba: 7 – Showed no signs of concern over his broken elbow when causing trouble for Lucio practically throughout. Had more success when he peeled off onto Juan, a position from which he scored a neat consolation.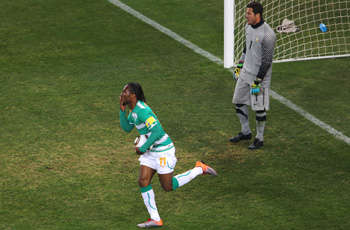 Subs:
Gervinho: 6.5 – One magnificent break led to Drogba's goal. Could he have started?
Keita: 4 – Put in a nasty challenge on Bastos after replacing Kalou, for which he could easily have seen red instead of yellow. Then he completely embarrassed himself in tangling with Kaka and performing a 'diving swan' reaction.
Become a fan of Goal.com International on Facebook! Just click onto Facebook.com/Goal to join the beautiful game's leading fan community...