ROMA
Julio Sergio: 6 – Made a wonderful early save from Capelli, little knowing the full-back was offside. Could do little about Tiribocchi's goal, but did show a few nerves at times, particularly at crosses.
Cassetti: 7 – Somehow ended up in the centre forward position to head home Roma's second, whilst he was calm and assured for the most part when in more familiar surroundings at right back, dealing reasonably well with Valdes.
Mexes: 6 – Not a barnstorming display, but did show all his experience late on to repel prolonged Atalanta pressure.
Burdisso: 8 – Made several important interventions as Atalanta gave the home side a run for their money after going two down. Really showing all of his know-how of late, and he's one of the main contributors to Roma's 23-game unbeaten run.
Riise: 6 – Was unfortunate that his sliding challenge on Ferreira Pinto resulted in Tiribocchi firing home, but not at his recent high level for the most part.
Pizarro: 7 – Magnificent battling performance as usual from the Chilean master, and was particularly important when putting his foot on the ball after Atalanta got back into the game.
De Rossi: 6.5 – This one won't rank amongst his better displays of the season, but his passion for the club shone through late on as he worked hard in front of the back four to keep Atalanta out.
Perrotta: 6 – Worked hard on the right, but didn't have the creative edge that he can sometimes make the difference with.
Menez: 6 – Looked as lively as ever, but didn't quite have the last pass or the finish in his armoury at the right moments for Roma.
Vucinic: 6.5 – Won the lottery early on when his pot-shot from distance was allowed to trickle over the line by Consigli. Withdrawn at half-time due to a niggle.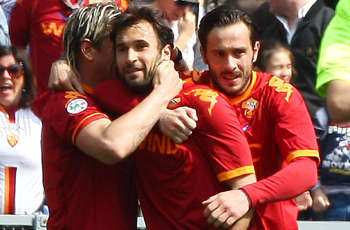 Totti: 6.5 – Steadily getting back to somewhere near full fitness, but he looked that yard or two short at times. Even then, he's a pain in the neck for any defence, particularly a shaky-looking Atalanta.
Subs:
Toni: 5.5 – Saw 45 minutes as a replacement for Vucinic, but could have done better than simply encourage Roma to play longer in the second period. His shooting boots will need to be found before the season's out if the Giallorossi are going to retain top spot.
Taddei: NA
Brighi: NA
ATALANTA
Consigli: 5 – His absolute howler gave Roma the early advantage. He looked generally more safe thereafter, but Atalanta were always playing catch up after his error.
Capelli: 7 – A 23-year-old with fantastic maturity and poise, he kept his side in it more than once in the second half.
Bianco: 6.5 – An improved showing on his recent form, but found it difficult coping with the trickery of Menez and Totti.
Pellegrino: 6.5 – Decent showing from the returning centre-back, finding Toni an easier prospect than many have since January.
Manfredini: 5.5 – Wasn't having things his own way as a stand-in left back, so much so that his foul on Menez resulted in a yellow card and a knee injury which forced him off before half-time.
Ferreira Pinto: 6.5 – Always a danger for the visitors, and it was his run which led to Tiribocchi's goal.
De Ascentis: 6 – Battling display in the middle and made some decent bursts into the centre, but couldn't always get his foot on the ball when Atalanta needed it most.
Padoin: 5.5 – Could have done more to help get Atalanta on top early on, but came into the game more as Roma retreated and he found more space.
Valdes: 6.5 – Showed few of his usual dynamic runs, but he won possession to set up Tiribocchi's goal and went past four men later on as he looked to cross for an equaliser.
Amoruso: 5.5 – His movement was generally good, but his performance was not one of a man who could really have made the difference for the Orobici.
Tiribocchi: 7 – Caused Roma a fair amount of problems long before he scored in his home city. He is undoubtedly Atalanta's ace in the pack in their vain-looking attempts to stay in the top flight.
Subs:
Radovanovic: 6 – An early replacement for Manfredini, he filled in manfully for the remaining hour.
Doni: NA
Volpi: NA
Become a fan of Goal.com International on Facebook. Just click onto Facebook.com/Goal to join the beautiful game's leading fan community...